The Poco X5 Pro Has a 108MP Camera and Color-Accurate Screen
Poco, a sub-brand of Xiaomi, has announced the X5 Pro which it bills as employing a winning combination of excellent visuals via a high-end AMOLED display and "advanced" camera capabilities.
Since Poco is a more affordable line of smartphones, buyers shouldn't expect the same high-end experience as a top-of-the-line Xiaomi camera, though Poco does seem to be including quite a number of those flagship-level features in areas that matter most to a content creator. In contrast to the Poco F4 GT which didn't put the camera and content creation capabilities front and center, the X5 Pro does.
The Poco X5 Pro is billed as an excellent handheld for making or viewing photos and videos. The company says that the 6.67-inch "Flow" AMOLED screen provides 100% coverage of the DCI-P3 color gamut and has 10-bit depth along with support for Dolby Vision. Additionally, the company says that it also has 1920Hz PWM dimming that is designed to protect eyesight when reading as well as giving a better experience when using it at night, including as part of the experience of taking photos in low light.
Supporting that display is what Poco describes as a "flagship-level" 108MP sensor. Poco says it is capable of delivering high-resolution imagery and can capture "minute detail and color" even in dark areas. The camera also supports up to 4K video capture and the company says it has various modes that make vlog creation more accessible.
Additionally, the 5,000mAh battery supports up to five and a half hours of video shooting per charge, and Poco indicates that for streaming or general photography tasks, the phone should last "all day." If a charge is needed, the X5 Pro supports 67W turbo charging which can get the battery 30% charge in seven minutes.
Powering the X5 Pro is the Snapdragon 778G 5G chipset which Poco says allows improved perfomrance speeds over previous generation smartphones: overall photography is up to 69% faster while night mode processes 38% faster. The company is also releasing the standard Poco X5 which swaps out the Snapdragon 778G 5G chip and replaces it with the 695 chipset while also using a less expensive — and less color accurate — display and battery with only 33W fast charging capability. The camera system appears to be unaffected, however.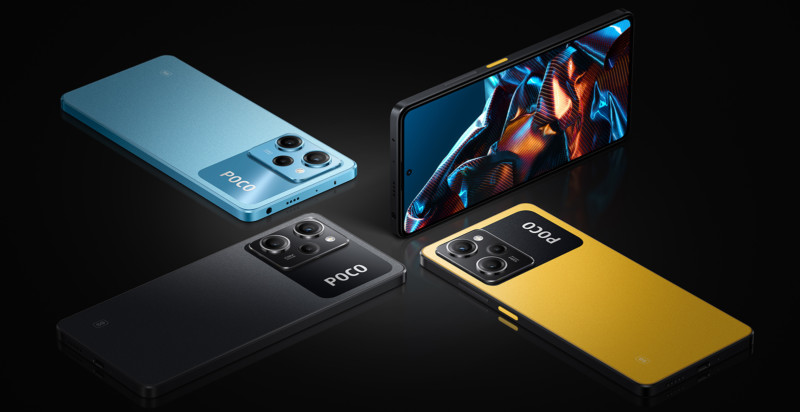 The Poco X5 Pro 5G will be available in three colors: Black, Blue, and Yellow in two storage and speed variants. Poco X5 5G will come in three colors: Green, Blue, and Black. Pricing and availability depend on market, and Poco did not provide further details for a North America release.