Poco X5 Pro Review: Plenty of Pixels Bleeding Everywhere
Can a mid-range smartphone that focuses more on gaming also deliver something worth capturing with its cameras? The Poco X5 Pro acts like it's up for the job, only to then force a lot of compromises.
Xiaomi's sub-brand doesn't really shy away from staking a claim or two. Slogans like, "a camera to win" feed off the gaming performance the X5 Pro is designed to deliver. Poco considers what the phone has as a "flagship camera system" with "superior image quality." Much of that is about numbers, namely the 108-megapixel sensor that it believes marks a considerable upgrade over its predecessor.
I never got to try the previous X4 Pro, so I have no basis for comparison, but I do have a sense of what Poco can do from a device like the F4 GT. Rather than expecting a lot, I went into the X5 Pro looking for the silver linings.
Design and Build
Poco uses a design language that is very different from Xiaomi and it's easy to understand why, given the target audience. This phone is flashy and my yellow review unit could stand out in a crowd. The color reminded me a little of the fabled Nokia Lumia 1020, though that had more of a safety yellow tone compared to Poco's mustard shade.
The 6.67-inch AMOLED display (2,400 by 1,080) is flat, something mobile gamers would likely appreciate, as might some photographers seeking a better grip. It has a 120Hz refresh rate, which isn't always common in mid-range phones, and has support for Dolby Vision and HDR10+. Again, not surprising considering the intended audience. Peak brightness hits 900 nits, but 500 nits is the more common ceiling. As bright as that is, it's actually dimmer than the previous X4 Pro.
This phone runs on a Snapdragon 778G processor with either 6GB or 8GB of RAM. Storage options vary between 128GB and 256GB, without a memory card slot to expand it further. The Adreno 642L GPU isn't all that special, though should be good enough to treat this phone as the gaming device it's supposed to be.
Poco X5 Pro: Camera Features
For Poco, throwing megapixels at any perceived problems in output seems to have been the general strategy. The 108-megapixel Type 1/1.52 image sensor with f/1.9 aperture is the centerpiece of it all. It's the same Samsung ISOCELL HM2 sensor — the smallest 108-megapixel available — that Xiaomi has used before in a few of its phones. The 24mm equivalent shooter defaults to 12 megapixels by way of 9-to-1 pixel binning. While there is phase detection autofocus, there's no optical image stabilization.
The 8-megapixel ultra-wide (14mm equivalent) uses Samsung's ISOCELL 4H7 sensor with f/2.2 aperture. There's no telephoto lens here, with Poco instead opting for a paltry 2-megapixel macro shooter using an OmniVision 02B10 sensor with an f/2.4 aperture that can capture subjects from 4cm away. The front camera goes with a 16-megapixel OmniVision OV16A1Q sensor (19mm equivalent) with an f/2.45 aperture and fixed focus.
Poco X5 Pro: Software Features
Maybe it was too much to ask for a mid-ranger like this, but there's no way to shoot in RAW on the Poco X5 Pro. Instead, the 108MP Ultra HD mode basically stands in as the only way to shoot at a higher resolution with pixels you can work with later on. The fact those smaller pixels do a poorer job gathering light still gives you no other recourse. Look no further than the Pro mode, where there are manual controls without the option to switch to RAW, only 108MP. This is a shame because the mode offers other goodies, like focus peaking, exposure verification, timed bursts, and sliders for saturation, contrast, and sharpness. You even get a histogram and old school film filters to shoot with.
Several of Xiaomi's modes find themselves in the X5 Pro, including Night, Long Exposure, Tilt-Shift, and video modes like VLOG. Look through the settings, and you find that picture quality has three options (high, standard, low). You also have the choice to customize the feature layout and set color for the interface. The volume buttons set a timer by default, but you can also have it act as the shutter or (digital) zoom in and out. A couple of others aren't bad: smart suggestions will automatically ask if you want to scan a document or QR code once they're in frame.
The main photo mode has optional artificial intelligence (AI) and HDR settings available at all times. The AI will assess a scene and capture it based on what's in the frame. I chose to leave it off, as the mode already tends to lean toward saturated colors and cooler tones. HDR does an okay job dealing with highlights and shadows.
Poco X5 Pro: Image Quality
Main Camera
There's no doubt the X5 Pro captures vibrant images and it manages to do so in a variety of conditions. Despite a tendency to saturate colors, especially reds and blues, shooting in daylight or brighter settings can yield pretty good results. I also liked to see Poco get some of the Xioami filters emulating old school film, like KC64, V-250, H-400, and FC400, among others.
Unfortunately, it is a case of "good from far, far from good." Pinch-to-zoom to peep pixels and you immediately see the flaws in how the software processes elements in the image. Overzealous sharpening in the foreground comes at the expense of bleeding pixels in the background. It won't be easy for people to notice when viewed without a crop, but once you start zooming in, the messy imperfections become obvious, something that permeates the entirety of the camera array.
At night or low light, the camera shows some potential, only with a more subdued approach to color and saturation. When on, HDR is on auto, meaning it kicks in when the software thinks you need it. Shooting in Night mode pretty much bakes it in, as you have no way to determine how much of the effect you want. Results vary, and are okay for a mid-range device, but not necessarily anything to get excited about.
Shoot at the full 108 megapixels and the results don't really deviate. As is generally the case with this many pixels on a sensor this size, the more light you have, the better odds you get for capturing something better. Unsurprisingly, this mode struggled in low-light and night situations, but was worth using in brighter settings. Unfortunately, cropping in is rarely worth it because the pixels just melt into each other leading to awful, unusable images.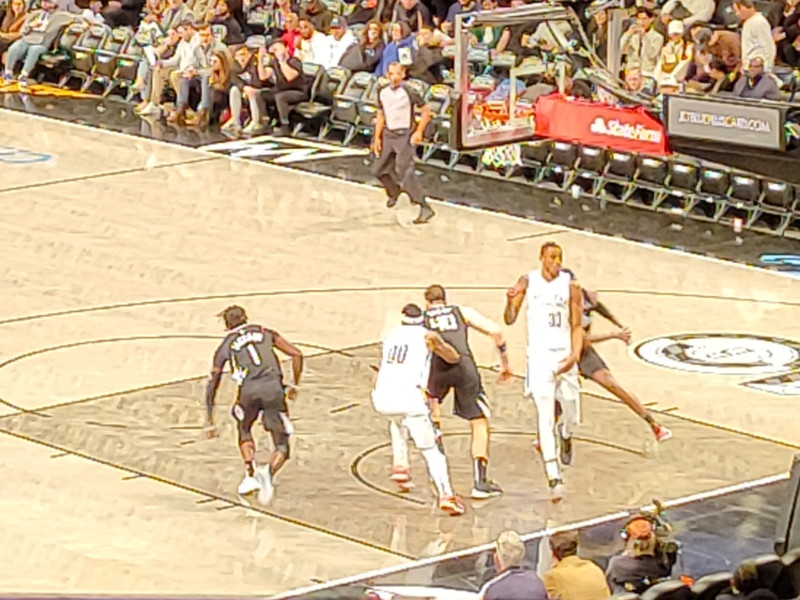 While there is no telephoto lens, there is a 2x zoom that uses the 108-megapixel sensor to crop in and retain some detail. It's a pretty seamless transition Poco improved further via a software update, making it feel like you have a lens that isn't actually there. Being a crop, though, you're at the mercy of smaller pixels using less of the actual sensor, which is one reason why results lack detail.
Ultra-wide and Macro
The above is usually the case with the other two lenses as well. The ultra-wide neither has the sensor nor the aperture to be especially effective in low-light, further exacerbated by the way the software processes each shot. Frayed edges and tighter pixels in the middle make for average shots, though you will find they turn out well enough in good lighting. Low-light shots aren't great, though Night mode does let you shoot using this lens.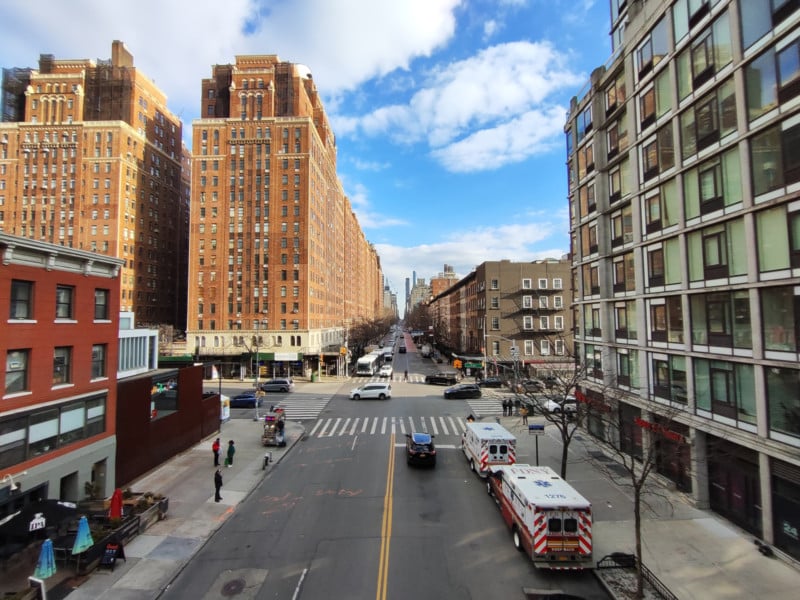 Macro reminds me of some of the throw-in modes I've seen on other phones, which is to say that it looks good to have on a spec sheet, only to find shooting in it derives little value. That's how Macro shoots with the X5 Pro. Prone to noise and almost too precise in required distance to the subject, it's hard to come away with a detailed shot worth the effort you put in to set it up.
Video Features
Video maxes out at 4K at 30 frames per second (fps), though you can also shoot in 1080p (30fps or 60fps) and 720p 30fps. Slow motion lets you do 1080p at 120fps or 720p between 120, 240, or 960fps. Short Video and VLOG are made for social media, with a variety of extra settings and features to make clips stand out creatively. Time-lapse rounds out the overall video package.
All told, footage will come out looking better than you might expect. I suspect part of the reason for that is that there isn't as much processing going on. Colors and dynamic range don't look overdone the way they do on still images. Daylight and bright settings will always bring out the best in these modes, though low-light shooting might also give you surprising results.
Poco X5 Pro: Finding a Place
Mid-range phones aren't supposed to provide "flagship camera systems" that match what premium handsets can deliver. The X5 Pro is no exception, despite Poco's marketing painting just that kind of picture. It's basically a numbers game, where equipping the phone with a 108-megapixel sensor is meant to place it on a different level than other mid-rangers. The results clearly suggest otherwise.
Look at this as a gaming phone that happens to have an okay camera, and the calculus changes. What's odd is Xiaomi could've helped by adding better software processing to enable Poco to make a stronger case for camera performance.
Are There Alternatives?
It's hard to see the Poco X5 Pro outperform the Google Pixel 6a, which is one of the best mid-range shooters you can get your hands on. Rather than strip the camera system bare, Google has been fairly generous in what it includes in its cheaper phone. You don't get all those extra megapixels, but you do get consistently good results in low-light, plus the ability to shoot in RAW.
I also found the Poco FT G4 shot better than the X5 Pro in most scenarios. Less saturated, and capable of producing better-than-expected results, even after zooming in, it holds up well against a phone that's supposed to be the better option.
Should You Buy It?
No, unless you're into gaming and aren't as interested in the broader camera system. Starting at $299 for the 6GB/128GB variant, it's considerably cheaper than so many others on the market, better serving those who don't expect much when they point and shoot.