Photographer Captures Beauty from Iceland to the Edges of the Earth
Pelican Pro photographer and filmmaker Benjamin Hardman was so drawn to arctic landscapes, he traded in his life on the warm shores of Australia to live in Iceland, one of the harshest environments on Earth. In his documenting of the cold weather landscapes that he loves, Hardman has taken a more simple approach to sharing what life is like outside of the well-known photography spots in the arctic.
---
Full disclosure: This article was brought to you by Pelican
---
Growing up in Australia, Hardman had never been exposed to a life in the cold. That all changed in 2013, when the photographer booked a ticket to explore Iceland. The country's volcanic terrain, glaciers, and dramatic landscapes immediately drew Hardman in. It wasn't long after that he packed up his belongings and made the move to Iceland.
"I don't recall ever hearing much about Iceland as an Australian from the other side of the planet," Hardman tells PetaPixel.
"I had seen pictures of the incredible waterfalls and northern lights, and I wanted to see that beauty for myself. On my first day in Iceland, I saw the Glacier Lagoon and the south coast of Iceland. That was the first time I ever saw a glacier and big mountain peaks, and that experience changed the course of my life. I felt very connected to what I was seeing. When I returned home, I couldn't stop thinking about Iceland, and I knew that I had to move there. I wanted to study Icelandic and engrain myself in the culture, so I applied for a student visa."
After arriving in Iceland, Hardman spent every free moment outside of school exploring the island nation's most well known locations, as well as those that he would learn about from the locals that he would meet.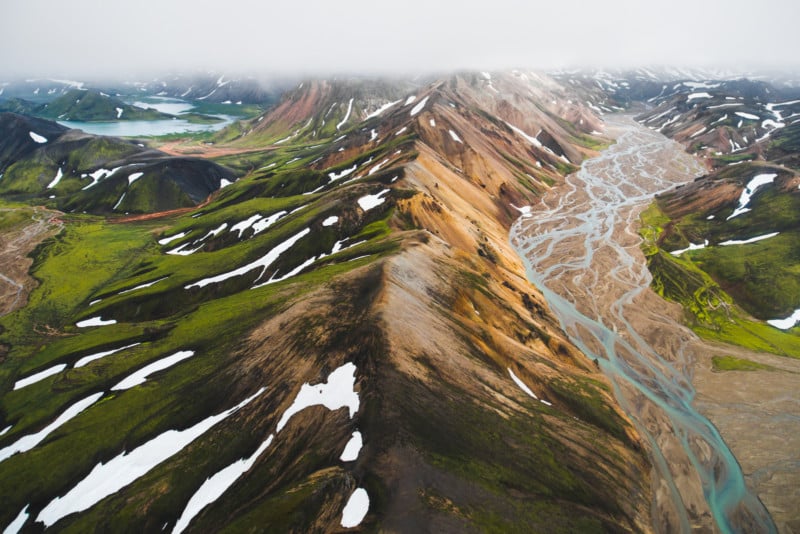 "As opposed to just visiting, living in Iceland has given me a completely different perspective on the incredible landscapes. When you visit, you are trying to quickly cram in as many sights and photographs as possible, but when these views are in your backyard, it provides the luxury of being able to explore at a slower pace. This has allowed me to find unique, off the beaten path locations that I was able to photograph over and over again, just waiting for the right moments."
Hardman says that he has spent years dedicating his entire summers looking at Google Earth to find new locations that looked interesting and then driving to them, with his Sony A7rIV camera always near.
"When on an Icelandic road trip, I need to be prepared for anything," Hardman says.
"Summer in Iceland isn't like summer in a lot of locations. Wind, rain, sleet, hail and snow can come at any time, and with very little warning. When I moved to Iceland, I learned very quickly that protecting my valuable camera gear at all times, as well as myself, isn't a suggestion, it's a requirement. I take the Pelican 1510 Carry-On Case everywhere with me and it has been a huge upgrade from carrying my equipment in my camera bag in chaotic weather. Knowing my equipment is safely stored at all times gives me absolute peace of mind and prevents me from potentially missing the shot due to a camera malfunction."
Hardman says that Iceland is one of the best places in the world for a photography road trip, thanks to the farmers needing to find their sheep. Because of this, there are gravel roads that weave all throughout the countryside, even in locations that seem like there wouldn't be a road. Hardman stresses that if you have the right car for the Icelandic wilderness, you can travel to incredible, rarely visited locations.
"Of all of the incredible locations that Iceland has, perhaps none are as enchanting to me as the highland regions," Hardman says.
"It's really where I've been able to shine because there's just so much landmass, there's so many things to see and photograph. There are seemingly unlimited compositions for unique abstract images and drone photography. Most of these places had been photographed from the air countless times before, but until recently, you were limited to zooming past in an airplane. I feel I can be much more creative using a drone and framing the scene in a certain way. Instead of having to quickly react, like I would in an airplane, I can just wait for the light and nail the perfect conditions and framing that I am looking for. In my opinion, Iceland is a true paradise for a drone photographer."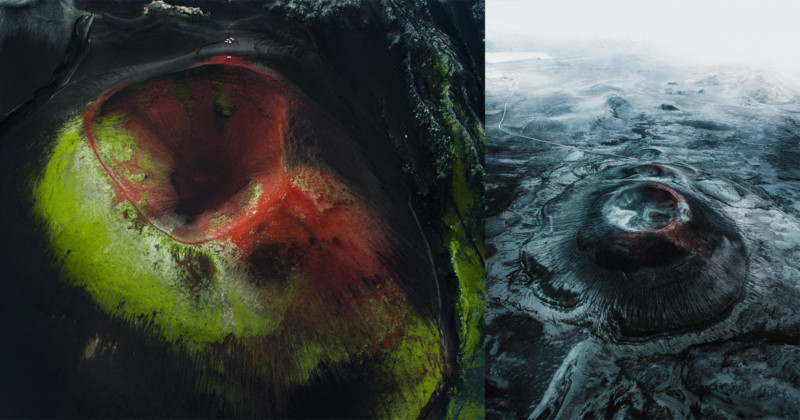 As often is the case, the most beautiful photography locations can also be the most challenging. Iceland's weather is not only unpredictable, but exceptionally harsh when a storm develops. Hardman recalled one of the scariest storms that he ever encountered.
"I was helping to guide a ski expedition, and I always bring my camera gear with me, as I like to take photos of the adventure. We had set up a base camp in the backcountry mountains, and the trip had gone exceptionally well. On our final full day before we left, we noticed that a storm was predicted to come in, but not until the day after we left. Not worried about it, we went to sleep that night and awoke to a chaotic scene. The hurricane force winds and blizzard-like snow was destroying our tents and tossing all of our gear everywhere. We hurriedly packed up and skied back to our cars for over three hours, even though we weren't very far at all. Once back to our cars, it took nine hours to drive five kilometers. It was the most intense storm I had ever experienced."
Luckily for Hardman, he had kept the majority of his camera gear behind in his Land Rover Defender. However, the older vehicle is notorious for having less than adequate weather sealing, so when he opened his car door, Hardman was greeted with a shocking sight. "The wind and snow was so powerful that it broke through the door seals and coated the inside of my car with a thick layer of snow," he describes. "When I travel, especially in these harsh arctic conditions, I always keep all of my photography and video gear in my 1510 Carry-On Case and Pelican 1610 Case and my memory cards in the Pelican 0915 Micro Memory Card Holder. With the amount of snow that penetrated my vehicle, I honestly believe I would have lost some incredibly valuable gear or memory cards full of photos if I had my invaluable camera equipment in backpacks instead. I am seemingly constantly on an intense adventure, so I really rely on my Pelican cases to protect my camera gear, as photography and filmmaking is not just a hobby for me, it's also my livelihood."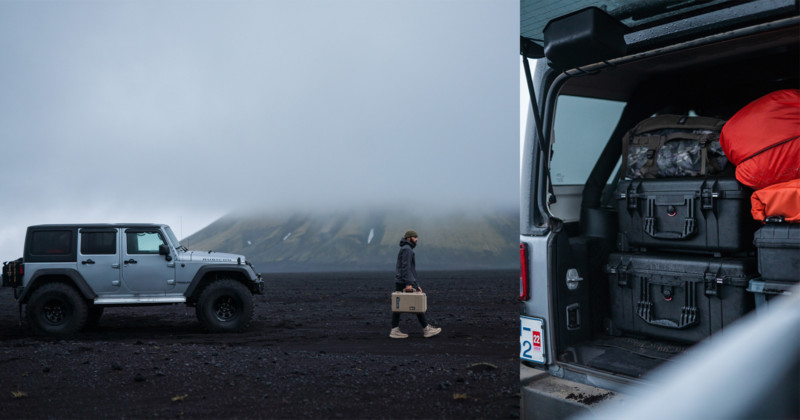 With a newfound passion of photographing cold weather environments and a centralized home base in Iceland, Hardman began to explore other locations in and near the arctic circle. His favorite locations that immediately impressed Hardman were Greenland and Svalbard, a remote Norwegian archipelago located between mainland Norway and the North Pole. Being one of the world's northernmost inhabited areas, Svalbard is a truly wild location made up of glaciers and a frozen tundra that are home to polar bears, Svalbard reindeer and Arctic foxes.
"For me, Svalbard is the wildlife goldmine for my photography," Hardman states.
"I am lucky enough to teach photography on expedition ships, so I have a lot of opportunities to photograph the often hard to find wildlife. The incredible thing about Svalbard is that every view is just as beautiful as the last, so we often don't have set itineraries. We will just get on the ship, pick a direction, and start moving. Everyone would love to see a polar bear, but you can never be certain what you're going to come across and what the weather is going to do. For me, those make for the most exciting encounters, especially if we are off of the ship and on a smaller Zodiac boat. These small boats enable us to get closer to shore while also allowing the photographers to capture dramatic photos of the arctic wildlife at eye level."
Even with all of the wildlife encounters Hardman has experienced in his photography career, one in particular continues to stand out in his mind.
"A few years back, I was on one of my earliest expeditions in Svalbard when we came across a young polar bear mating couple. We were photographing a beautiful frozen fjord when we saw the two bears in the distance. We happened to be in the right place at the right time as the two young bears walked right by our zodiacs," he recalls.
"Suddenly, we were face to face with these two beautiful young bears, at a safe distance of course, observing their behaviors as they played with each other, before jumping in the water and diving down and popping back up back on land. To this day, that might have been one of my favorite wildlife photography experiences. It was the first time I had ever photographed with a prime wildlife lens, and it made all the difference. A friend of mine on the trip had a Pelican case with two 500mm f/4 lenses, and he was kind enough to let me use one of them. From that day forward, I recognized the importance of using a high quality wildlife lens, which has only improved my photography over the years."
"In my opinion, Svalbard and Greenland are two of the most incredible places on earth, especially for photographers." Hardman continues. "In Svalbard, not only is it one of the few places where you can find polar bears and other arctic wildlife, but, just like Greenland, the untouched, ice-filled landscapes will leave you speechless."
Clear from one pole to the other, Antarctica is also a place that Hardman feels a special connection to. In Antarctica, the photographer chooses to experience the remote and rugged terrain in a vastly different way than most visitors. While the waters around the Antarctic peninsula are teeming with state of the art expedition ships, Hardman explores the area in an old, three masted, wooden tall ship.
"It really gives the adventure a completely different feeling," Hardman says.
"Instead of being a guest on a large, modern vessel, being on this old ship for weeks feels like being thrown into a time machine. It's challenging. It's demanding. I am not going to lie, it downright sucks when you are exposed to the elements of the Drake Passage. But for some reason, it just feels right. To sail to Antarctica feels like the natural way to do it."
Hardman describes how the voyage makes him feel like he is documenting a window into history, which is often overlooked in the technologically fueled world of today. "When I get to Antarctica, my experience is shaped by what I've done by sailing through the Drake Passage. Seeing land, and taking my first steps on Antarctica's cold shores, feels like a huge achievement. I feel that I've earned that experience, as opposed to just being handed it."
The photographer can't help but imagine the feelings that the early explorers had as they navigated the unknown terrain in the same type of ship that he finds himself on. He also says, despite the decades that have passed, he is witnessing almost the same views that they did countless years ago. "It's such a mind-blowing experience for me," he says. "Not only am I living on the same type of ship that they did, but the landscapes are as beautiful as they were back then. No buildings. No streets. No litter. No noise. The entire experience is very eye-opening, and I feel that it makes me appreciate the beauty of our world even more than if I was on a modern day, luxurious ship."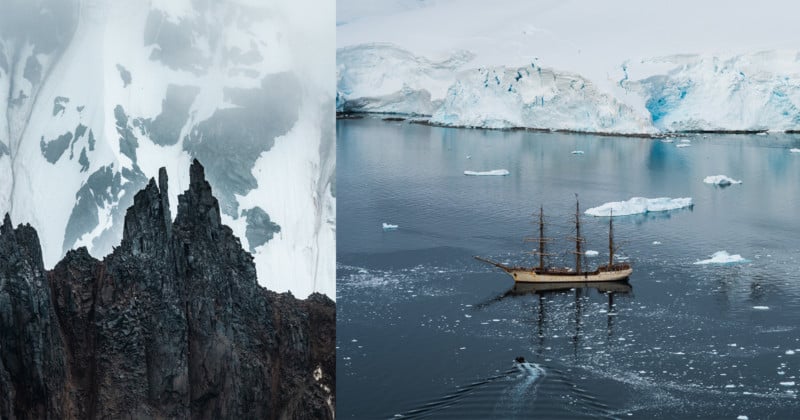 Hardman says that in calmer weather, he will often keep his 1510 Carry-On Case outside, on the top deck of the ship. He explains that there is always something to photograph from the ship in the Antarctic peninsula, so keeping his gear where he will most likely use it has allowed him to capture photos that he may have missed if he had to continuously haul his gear in and out, up and down the steep, narrow stairways. Being that the case is watertight, he never has to worry about his camera gear being damaged by the ocean spray and rain that is often found in the Drake Passage.
On all his trips, but especially his excursions to Antarctica, Hardman focuses on telling visual stories, whether they be in the form of photos or video.
"For years, I would take 20,000 photos and then get home and use 100 of them," Hardman describes. "These days, I try to limit the number of photos I take. I try to envision the scene in my head that I want, and just focus on achieving the desired result in as few exposures as possible. This leaves me more time to add video to my visual storytelling. Once I've achieved the set of photos that I am after at that moment, whether it's an encounter with wildlife or a beautiful landscape, I will then move to telling the story through video. I have been enthralled with the way some of my favorite cold weather locations yield stories through motion pictures. I like to try to convey the emotion of what life is like for the animals that live in these harsh environments. Or other times, the environment itself, without the wildlife, has a story to tell."
With his work including more video, Hardman says that changing mindsets and shooting styles between the two can be difficult at times.
"I think photography often has less logistics and you can be more spontaneous. For a photography adventure, I can pack all of my gear into my Pelican 1510 Carry-On Case and be confident that I will come back with an engaging visual story. But for me, video is a more physically and mentally demanding task. The 1610 Case has become my main storage box for my cinema video setup. It's a fair size larger than my 1510, but it needs to be, as a cinema video setup is considerably more equipment. It has plenty of space and wheels, making it possible to haul heavy equipment from my house out to my vehicle and into the field."
Hardman recently put that cinema video setup to use, as he has spent the past three years filming for the new Netflix series, Life on Our Planet. His main job was capturing aerial clips throughout Iceland. The 1610 case is so sturdy, Hardman uses it as the takeoff and landing pad for his drones.
"Seeing how a big budget natural history production operates really changed the way I create," Hardman says of the Our Planet crew. "They have to get the shot, no matter what. I think that mentality shaped the way that I shoot video now. Every single time I take a video clip, I make an effort to achieve the same level of focus and detail as one photo that I might consider portfolio worthy. I apply that same creative thought with composition, light, color, and expression of whatever it is I'm shooting, but I consider how I can make this interesting with movement for a 10 or 15 second video. So I still apply the same photographic concepts to video, but I have to analyze in the moment questions like 'how does this shot start? What story am I taking the viewer through for those 15 seconds? And how does this shot link to the next shot?'"
"As opposed to photographs, I feel I need to apply more creative storytelling to cinematography, and I approach it with the same finesse as abstract fine art photography." Hardman continues.
"And I think that's what is incredible about the Our Planet shows. They make viewers question how it is possible to get a video clip like the ones they are seeing. I can tell you from doing it for the last three years, it's literally just grinding for endless hours, working through trial and error storytelling approaches, and trying to figure out how you can get the impact of one photo across a 20-second video clip."
Like every artist, Hardman has had the occasional bouts of fighting to find inspiration, even though he lives in one of the most beautiful locations on earth. The cure for that often comes from simply remembering where his passion lies.
"I have found that, over a decade of documenting these wild places, that focusing on the niche of photography that I love has helped me share a deeper perspective of these locations that I feel connected with. I feel that has been the key to keeping my creativity always evolving. Even if I am tired, or the weather is harsh, I never get bored of capturing the stories of solitude and adventure in these remote locations, and that has translated into being able to have a successful career in doing what I love, all while living in one of the most unique and fascinating places in the world"
More from Benjamin Hardman can be found on his website, Instagram and YouTube.
---
Full disclosure: This article was brought to you by Pelican
---
Image credits: All photos by Benjamin Hardman.