Making Easy Money With Print Sales Using Saal Photo Portal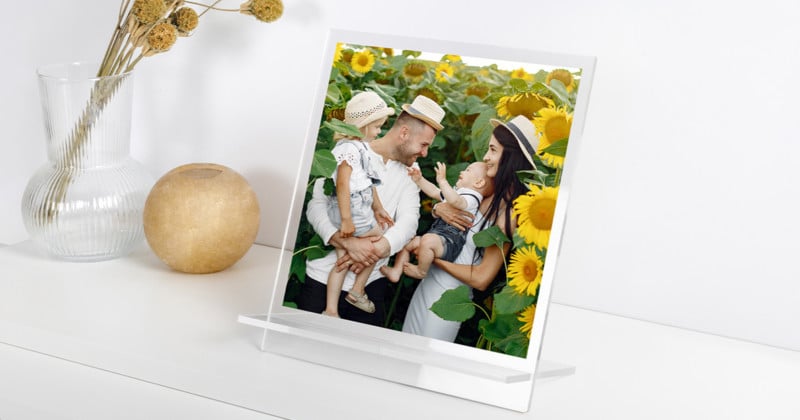 As working professional photographers, most of the images we make are captured using digital cameras, so it is likely that only the absolute tiniest fraction of the images we take ever make it to physical print. This is fine for images of our lunch or of the concert we're about to go see, but for the important moments we manage to capture, there should be something more.

Full disclosure: This sponsored story is brought to you by Saal Digital.
While still under the shadow of COVID lockdowns and restrictions, one of the best ways to continue generating revenue as a photographer when we're not able to shoot is by print sales. As a professional photographer print sales can be a massive part of your business, especially in the wedding and portrait markets. This is why it is incredibly important to ensure you have everything set up to make it as easy to sell and deliver prints for your clients, and Saal Digital can help make that happen since the setup for the business side is easy, and they handle all of the delivery options for you.
If you have done your job right, your clients will love to see their images printed on a large scale and hanging on their walls. So the next logical step is to create an account with Saal Digital, and start setting up the price lists and options so your clients not only know you have prints as an option, but they can choose and order items on their own through a custom built gallery.
Why Should You Print Anyway?
When you ask why you should print your photos, there are a lot of things to consider. There's a great line from the 2017 movie Kodachrome where the photographer Ben Ryder says "We're all so frightened by time, the way it moves on, and the way things disappear. That's why we're photographers. We're preservationists by nature. We take pictures to stop time, to commit moments to eternity." While that may just be a line from a movie to most, the message holds true. As photographers, we are capturing moments that matter, documenting important moments in the lives of people so they can revisit them, preserve them, and pass them on for generations, and the best way to do that is with physical prints.
Most digital images show up on an Instagram (or other social media) feed for a fleeting moment before spending the rest of their digital life buried and never seen again. Printed images from Saal Digital have a much different lifespan, and by adding print options to your services, creatives can open up an impressive new stream of income which if done properly, can become an entirely new, primary business.
What's The Next Step?
Now that you've decided to add prints as an option in your business model you need to figure out the strategy to encourage your clients to take that next step, and you can do that by mentally preparing them before you have even taken the first photograph. When you first meet with your clients, you'll want to encourage them to think about locations in their home where they could hang a new portrait, and the type of image they would love to see hanging there. Once you've planted this seed, your clients will be thinking about the prints they would like before the session has even started. If you fill them in on sizes you offer, and costs affiliated early, they will have the value already in their minds and will likely already have their minds made up about purchasing a print before you have even started shooting.
If you manage to provide the client with the image types they have in their minds at this point, they will be much more likely to make an order when you send them the links to the galleries hosted on Saal Digital. If you have a studio or meeting space where you can have sample images of everything you offer on display, this will also help encourage your clients to place an order. Besides, having some of your best work on display can be motivating and inspiring to both you and your potential clients.
Remind your clients why ordering prints can help fill their homes with beautiful imagery, and help them keep their most cherished moments in life at the top of their minds. This is something that is lost frequently with the speed and consumption rates of images and videos on social media. A high-quality print can act as a family heirloom that can be passed down from generation to generation. Once you have reminded your clients of this and they understand the power of print in preserving their memories and legacy, this is when they will want more information on the printing options and pricing.
What To Provide
Just like a professional print lab, it is in your best interest to offer a wide variety of choices to offer to your clients. This can include everything from gigantic wall-art pieces and elaborate albums to simple keychains and coffee mugs.
Regardless of your selections and offerings, remember to keep your prices profitable. A general rule of thumb for creatives is to charge somewhere between two and eight times the cost of goods sold (with four times being a bit of an industry average). Applying a blanket profit rate may not be applicable across every offering, but it is a great place to start and ensures that if you include print options with every service, you are guaranteed to have a profitable photo session.
Since most photographers are famous for struggling with the business side of their craft, especially when it comes to pricing and negotiating sales, Saal Photo Portal makes it easy to build out the pricing and then let your clients do the work for themselves. Yes, you can encourage them along the way, but with the pricing and offerings being so easy to build out in the back end of the application, you can fill out the settings and then forget about it until it's time for the client to make their orders.
Additionally, with each portrait session, you can provide your clients with "Print Credits" to be used as an incentive for the client to order prints sooner rather than later. Offering these discounts with every package will not only incentivize your clients to order prints through you rather than taking the digital images elsewhere after the fact, but will also help build your client's perceived value of the products you offer, and they plan to buy since you are saving them some money on the investment.
Leveraging Saal Digitals Gallery and Print Ordering Portal can help you automate this process by covering automated emails, gallery links, and even direct ordering with as many (or as few) options as you would like. This process along with encouraging your clients to make an order before you have even started the shoot will help you boost your income without having to spend additional time on advertising, and can even lead to print sales being the largest part of your profits.
For more information visit the Saal Digital Photo Portal Page here.
---
Full disclosure: This sponsored story is brought to you by Saal Digital.