8 Great Gifts for Photographers in the 2022 Holiday Season
Maybe snow hasn't drifted down to your window sill yet but no doubt the tingly sensation of the holidays is quickly creeping up on us. Adding a little eggnog to your coffee in the morning might give you the right amount of fuel for wrapping presents and cooking hams. As we rev up for this warming and giving season, we are here to make the shopping part of this as easy as possible for you.

If you are in the market to either treat yourself or treat some loved ones to tools and gear in the photography field, then this is the guide for you! Here we go with 7+ products to buy this holiday season — the perfect
gifts for photographers
.
Every journey is a story waiting to be told; a thousand little moments hidden between a beginning and an end. This is for you and your thousand moments. Tell your story with the new OM SYSTEM OM-5, featuring class-leading IP53 dustproof, splashproof, and freezeproof design. Get closer, see more from afar, and let computational photography features like Live ND inspire you to try new things and see your surroundings in a new light. Pair it with the lightweight and weather-sealed M.Zuiko 12-45mm F4.0 PRO and you'll have the ultimate portable camera system, ready for your adventures. Go tell your story.
All you need is a picture to make a special, unique, and high-quality gift. Saal Digital's Photo Gifts are a great idea to surprise your loved ones with your best photos, while meeting the quality standards you expect. You can choose from a wide variety of options such as Mugs, Puzzles, Metal Boxes, Photo Plaques, Photo Bricks, and many more! Designing and ordering are very easy and can be done in minutes from the comfort of your computer, phone, or tablet.
An emotional, simple, and high-quality gift.
SAVE $100 on the best-selling Tokina 11-18mm f2.8 for Sony E-mount mirrorless APS-C digital cameras. Engineered from the ground up, the new atx-m 11-18mm f2.8 sets the new standard for compact, fast aperture super wide-angle lenses. Get yours today for only $499 during the Tokina Holiday Instant Savings. Ends January 8, 2023.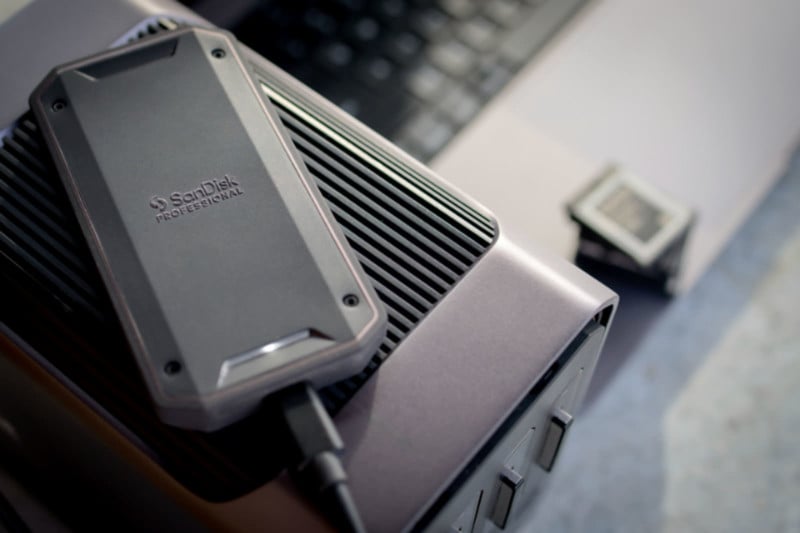 The PRO-G40 SSD from SanDisk Professional is a simple, flexible solution that enables your loved ones or favorite colleagues to unlock creativity and get the job done. Available in up to 2TB, this drive is perfect for those capturing, editing, rendering, and transferring large amounts of high-quality video and photo content. It features compatibility with both Thunderbolt 3 (40Gbps) and USB 3.2 Gen 2 (10Gbps) for added versatility to efficiently collaborate across devices. Its pro-grade enclosure with IP68 dust/water resistance, up to 4000-pound crush resistance, and up to 3-meter drop resistance help withstand the elements in just about every location.
Enjoy big savings this season on Westcott's lineup of lighting gear and accessories. Pair these savings with Westcott's unmatched U.S. customer service, and you've got a winning combination.
$75 Instant Savings on Westcott FJ400, the most feature-rich strobe, including the best color consistency, 500+ full power shots, and included accessories.
$90 Instant Savings on Westcott FJ200, the fastest recycle time among any 200ws strobes, along with a round-head design for filling light modifiers perfectly.
Save up to $50 on all Westcott Rapid Box, and save $50 on most Rapid Box Switch Light Modiifers, featuring the fastest setup times combined with the most durable materials.
Save $30 instantly on the most complete Ring Light Kit. This kit features multiple mounts for cameras and phones, a light stand, and a beautiful large Bi-color ring light with power and color temperature adjustments. The most Complete Ring Light Kit for $150.
Looking for a quick building backdrop system? Big savings on all Westcott's 5′ x 7′ X-Drop Backdrops.
SAVE $150 on the Ultimate Carbon Fiber Tripod Bundle. The SLIK VARI-CF 703 includes (3) foot options, (3) Center Column options, (3) locking leg positions, an accessory port, a stainless steel hook, and a carrying case. Light and small enough to travel anywhere, while strong enough to support over 17 lbs of gear thanks to its machined aluminum collar. Giving you multiple ways to set up your tripod for just about any photo or video situation. Now only $399 after instant savings.
The K&F CONCEPT Black Diffuse Filter can make your digital images look more cinematic. They are made of aviation aluminum alloy and high-end craftsmanship to ensure high-quality pictures while increasing scratch resistance.
---
Full disclosure: This article was brought to you by OM SYSTEM, Saal Digital, Tokina, SanDisk, Westcott, SLIK Tripods, and K&F CONCEPT.
---
Image credits: Header photo from Depositphotos