Twitter vs. Flickr: A View Count Comparison for Photographers
Last week, Twitter announced that they were adding view counts to tweets on Twitter. I thought I'd use the announcement to very unscientifically compare the number of views one of my photos received on Twitter vs. Flickr.

While some might call this an "apples vs. oranges" comparison, and Flickr is admittedly more of a photography-centric social network, I find that I engage with photographers on both platforms, even if I also engage with more non-photographers on Twitter.
A few notes on my unscientific test. Interestingly enough I have about the same number of followers on both platforms. As of this writing, I have 50,211 followers on Twitter and 53,363 followers on Flickr. I've been active on both platforms for well over a decade. I joined Twitter in 2006 and Flickr in 2004. I use both networks daily, although I'd say I've been much more active on Flickr over the years.
At 24 Hours
After almost 24 hours of posting the two exact same photos at the same time (on a Thursday evening) on both networks, the results were in.
Twitter views: 5,010
Flickr views: 2,496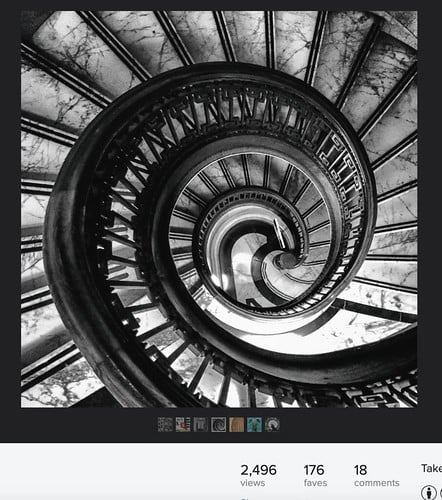 Oddly, Twitter generated almost exactly 2x as many views as the exact same photo on Flickr.
There are other metrics to look at as well.
Likes on Twitter: 75
Favorites on Flickr: 176
Comments on Twitter: 9
Comments on Flickr: 18
The Twitter photo also got six retweets (Flickr doesn't have retweets).
I'm not sure exactly what any of this means other than while my photo got 2x the number of views on Twitter, it also got 2x the amount of engagement on Flickr (as measured by likes and comments).
I didn't do anything special to promote either of the two photos myself other than engage in the comments on each as I normally would. Other than posting a link in my Flickr group American Photographer, I didn't post anywhere else on either link. I also put the photo into the pool in American photographer and added it to other groups as invited on Flickr (I would normally do this anyways).
I should also add that I don't know exactly what constitutes a "view" on either platform. I'm assuming that both platforms apply the term as liberally as possible and it's meant to mean any time your photo was seen anywhere on either site on a computer, tablet, or phone screen.
At 48 Hours
A day after the 24-hour mark, the photo hit Flickr's popular Explore page where Flickr each day prominently features 500 photographs from the site. This caused this photo's view count to rocket higher on Flickr.
As of the morning of the two-day mark, the view count comparison stood at:
Flickr views: 14,860
Twitter views: 5,995
I do regularly have photos featured in this popular area of Flickr. Since I've been using Flickr, in fact, 963 of my photos have been featured in Explore.
---
About the author: Thomas Hawk is a photographer and blogger based in San Francisco. The opinions expressed in this article are solely those of the author. Visit his website here and his Flickr photostream here. This article was also published here.