The Best Photos from the World Cup And The Stories Behind Them
Getty Images, the world's best-known photo agency, has handpicked its most exciting pictures from this year's World Cup in Qatar with the photographers sharing the stories behind them.
The soccer tournament, won by Argentina, was arguably the biggest sporting event of 2022, and Getty Images sent more than 50 photographers and operations staff to cover it.
They also had 20 picture editors across the world editing photos in real-time to make them available for publication within seconds of them being taken.
Below are 10 astonishing images from Qatar with the stories behind them told by the photographers who captured them.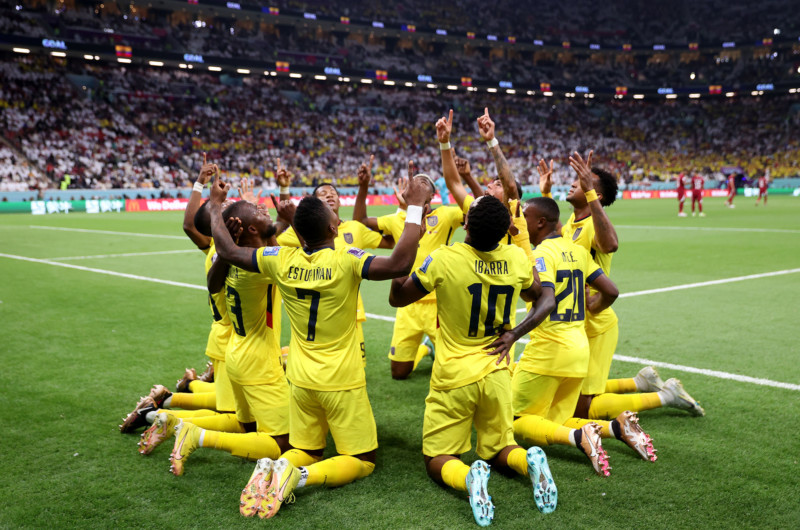 Michael Steele: "This image was from the opening game of the World Cup scored by Enner Valencia of Ecuador against host nation, Qatar. You can make all kind of plans photographing football, but it mainly comes down to luck and being in the right place as happened with this picture. Before this moment, Valencia, the goal scorer, was fouled by the Qatar goalkeeper which made a great frame. He then fell to his knees right in front of me after converting the penalty and lead the celebrations with the whole team looking towards the heavens. This was very early in the game and a nice moment to capture – and pretty rare the whole team is involved with a goal celebration in this way."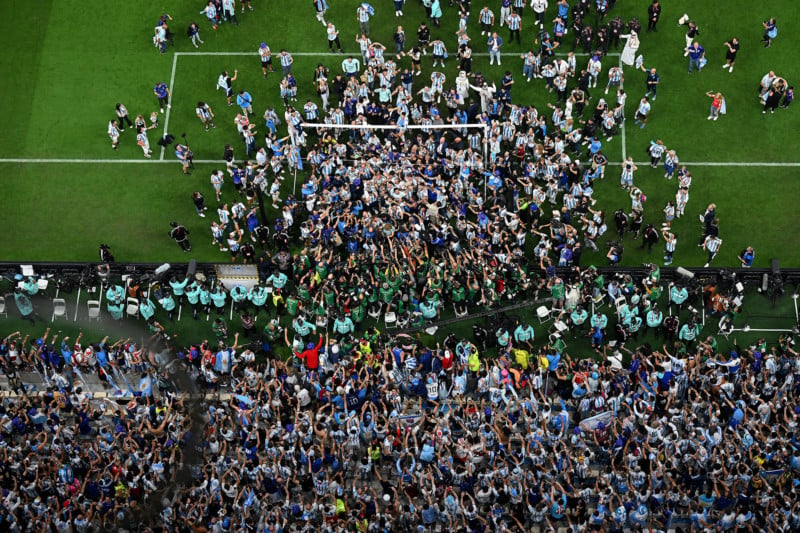 Matthis Hangst: "It was the moment I was hoping for to end the great story of this Final. I was assigned to cover the match from the catwalk. A position in the roof of the stadium that offers a unique birds view on the field of play. I was up there, equipped with my harness, safety lanyards and helmet to cover one of the most amazing football finals ever. We all had the famous image in mind from the World Cup 1986, when Maradona was carried through the stadium on shoulders. We hoped for something similar. We had to wait a long time as Messi spent time with the family after the ceremony but then it happened. I shot this frame with Messi surrounded by fans and photographers to show the gravity of the moment."
Catherine Ivill: "Throughout the tournament, everything about Morocco has been brilliant to photograph. The passion from both the team and the fans is incredible. After every match they won, the team would throw their head coach into the air, he seemed to get higher every game. People often think that once the final whistle blows then we as photographers have finished, but there is so much that happens after so it's important to keep shooting so you can capture moments like this."
Elsa: "The quarterfinal match between the Netherlands and Argentina was closer than I thought it would be. After extra time, two 15-minute extra time sessions, it went into penalty kicks. Throughout the match, it was very chippy. Both sides were going after each other aggressively and there were a lot of yellow cards issued throughout the match – not just on the field but on the benches too. I was working with a team of seven and we had a plan as to what each of us had to do if we went into penalty kicks.
I was shooting from an elevated position and had a remote camera set up in front of me that was initially framed on the goal. During the penalty kick, I adjusted it to where the teams were standing. I triggered the camera with a foot pedal so while I was shooting the actual kick, I fired the camera on the teams at the same time. I like to show both sides when it comes to reaction pictures. I call it happy and sad. This was a hard-fought contest and I knew that the reaction would be great. I wanted to show both teams reactions to tell the story in one frame."
Dan Mullan: "After 90 minutes of normal time, and another 30 minutes of extra time, Croatia and Japan couldn't be separated. So, a penalty shootout was the only way to decide a winner. As it turned out the Croatian goalkeeper Dominik Livakovic would be the star of the show, saving three penalties and putting Croatia through to the next round. The moment in this picture is Livakovic celebrating as his teammates run from the half way line to join him and jump into his arms. The emotion on his teammates faces tells you everything you need to know about this match."
Justin Setterfield: "Youssef En-Nesyri of Morocco leaped above the Portugal keeper to score the winning goal and knocked Portugal out of the competition. I shot this goal with my hand-held camera, which in turn triggered the remote camera behind the goal, resulting in this image. It's tough with the remote cameras to get things perfectly placed, but in this instance it's a really unique angle to see En-Nesyri looking right at the camera and Portugal's keeper, Diogo Costa, in his rearview and the defender falling mid-air."
Clive Mason: "Not overly sure why this happened but I'm glad it did. I'm sure fans of Belgium or Morocco would know for sure why but it was a great few seconds when the crowd all turned on their phone lights and lit up in the background. Shooing on a long lens with a wide aperture, the bokeh created by the many pinpoints of light, created the effect. I just had to be patient and wait for someone or something to be close enough to the lens to create the effect. Luckily for me, Youri Tielemans was wandering past and in profile, I thought it made a lovely frame."
Clive Mason: "My second match at the World Cup was the meeting between Australia and France and having been in the perfect position the night before for a goal celebration, I didn't really expect to get another really nice celebration picture that quickly. Little did I know that against all odds, Australia would open the scoring against the reigning world champions and Craig Goodwin would run straight at me screaming with delight as French keeper and captain Hugo Lloris was left on his knees in the background to gather the ball. As we all know, the result swung back in the favor of the French but it's a nice celebration frame that I was happy to be in a position to capture."
Julian Finney: "This was an awkward moment when the goalkeeper came out to clear his lines while colliding with his own defender and an Argentinian player. It's one of those moments where all three players made an attempt to play the ball but in the end, they all clashed and left a few sore heads afterwards. Taken from the tribune, it's a very clean angle shooting on a 500mm lens which shows the moment nicely with arms and legs at many different angles."
Maja Hitij: "I was positioned more in the middle (near the tunnel) to cover the trophy lift. The place was packed with photographers and other guests, but the position was quite central to the trophy, which was still not given to the team. So, when Messi received his player award, it was the first time he passed the FIFA World Cup winners trophy, so he stopped for a bit, before going to a stage to pose with his Golden Boot award and kissed this so wanted trophy."