9 Tips For Photographing Wildlife In Winter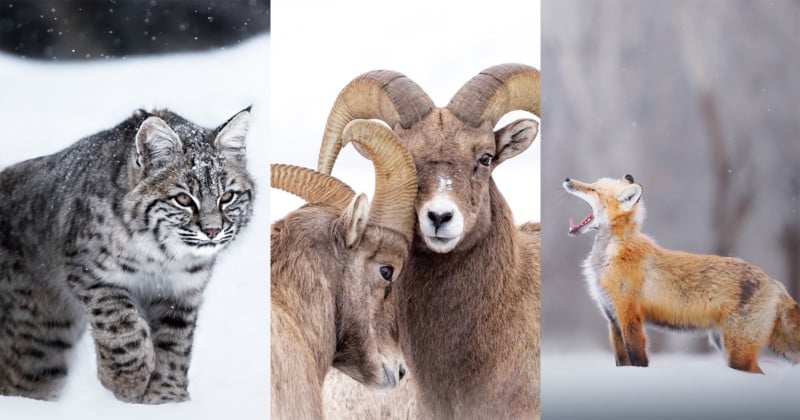 Most photographers would agree that wildlife photography is challenging, even in pleasant conditions. OM SYSTEM Ambassador and Colorado-based photographer Arthur Leforestier, however, enjoys the challenge and rewards that come with photographing wildlife in harsh winter environments. Capturing compelling images of wild animals in the cold winter months requires careful planning and creative photography, and Leforestier shares with PetaPixel what he has learned throughout his career.
---
Full disclosure: This article was brought to you by OM SYSTEM.
Read PetaPixel's review of the OM SYSTEM OM-1.
---
Leforestier, also known as Lefo, says that the most challenging aspect of photographing wildlife in the winter is, obviously, the frigid temperatures. Wyoming, one of his favorite locations to photograph after the snow has arrived, often has temperatures as low as -40 degrees Fahrenheit. The photographer appreciates the challenge, as he says it makes the rewards all the more meaningful.
"You can only spend so much time outside, and even when it's not that cold, like 0-20 degrees, it still poses some challenges," Lefo says. "There is less maneuverability when you are out looking for animals, as there is often plenty of snow on the ground. If the snow doesn't prevent you from getting to where you want to be, at a minimum, it will slow you down."
"For me, the ability to create very simple, compelling, and intimate images makes all of the pain and discomfort worth it," he continues. "Snow is an amazing element, both on the ground and in the air. It gives you a lot of creative opportunities and helps eliminate distracting elements, helping you tone down a scene that might be really bushy in the summer or full of bare branches in the fall. This minimalist landscape allows you to focus on your connection with the animal, which can lead to more beautiful and dynamic images. There is nothing like photographing wildlife in the dead of winter. Outside of bears, the wildlife really seems to be more active in the late fall and winter months. For me, this is the prime time for compelling wildlife images."
At a Glance
Camera Management
Camera management is important to capturing compelling wildlife images in any environment, however, it is critical in cold, winter weather. As advanced as camera technology has become, photographers will often find the limitations of their gear in harsh conditions. Lefo relies on the advanced weatherproofing of the OM SYSTEM OM-1 camera to keep him photographing wildlife, even in blizzard like conditions.
"The OM-1 is freeze proof, dust proof and water resistant, which is absolutely critical to have in the extreme cold weather environments I often find myself in," Lefo describes. "If you want to capture dynamic wildlife images in the winter, you need to have a camera that isn't going to malfunction, or worse, break under the stress. Being weather sealed and freeze proof keeps the sensor and the internal components safe from freezing moisture, which can lead to a fogged up sensor and lens element. As most photographers know, if you find yourself with fogged up elements, they can take a substantial amount of time to clear, which might cause you to miss some incredible wildlife moments."
Many photographers do not take into account the environment that they are in before they find themselves in the cold winter air. Lefo explains that one of his most common mistakes when he began photographing winter wildlife was capturing blurry images that came with a fogged up front lens element.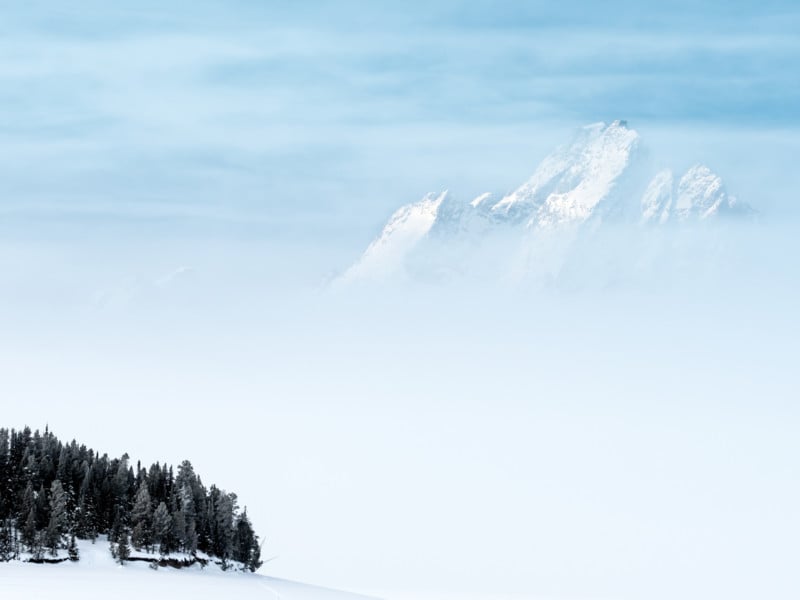 "Often, I would be driving and see an animal along the side of the road, just seemingly waiting for me to photograph it," he describes. "I would quickly pull over and grab my camera. What I failed to consider is that I was taking a lens from an environment that was very warm, and within a split second, introducing it to an environment that was below freezing, or even in the single digits. While the sensor and inside lens element on the OM-1 are sealed, the front of the lens is exposed. While it's impossible to completely avoid this situation, I have found that removing the lens hood, which helps insulate the heat for longer, will help the lens acclimate to the colder climate quicker. Just doing this small step has helped me get sharper images right out of the car."
Battery management is always a struggle in the cold, says Lefo. No matter the battery, it will not last as long in cold environments as it will in warm conditions. He explains that the best way to combat this is to simply be prepared.
"When you go on a winter wildlife photography expedition, bring as many batteries as possible, and make sure they are all fully charged. In addition, I always have a battery in my pocket, as insulated and close to my body as possible, which helps to keep it warm. Sometimes, you might leave your bag behind as you set out to look for animals. If you suddenly find your battery on red, you might miss the shot that you have been waiting for if you need to run back to your car to get a new one."
"For me, the OM-1 battery is the best I have used in my career," Lefo says. "Even in extreme cold environments, I find that I am able to shoot on one battery for a remarkable amount of time. I know for a fact that extended battery life has saved me on numerous occasions, which helped me get some of my favorite winter wildlife images. No matter which camera you have, it's vital to make sure you have enough batteries easily accessible to last for hours, as you never know how long your encounters might last."
Take Time To Study The Subject
Lefo says there are two types of wildlife photographers: methodical and spray and pray. While he stresses that there is nothing wrong with either of these approaches, it's important to not always be hyper focused on one.
"We have a reflex to start to shoot a ton of photos as soon as we see an animal, which can be good and bad," Lefo explains. "It's great to get a quick feel of the situation and the light that you have to work with, while also getting guaranteed photos of the animal, just in case the moment doesn't last long. After I take a few test shots, however, I will put my camera down and reassess the situation. Where is the animal and where am I in comparison to the animal? I try to put the animal at the front of my thought process. I believe that the best wildlife images come from interactions with animals that do not impede their daily habits or disrupt their intended course of actions. So if an animal is trying to cross the road, I make sure to not get in front of it to get a shot. I simply let it cross and wait to see what its intention is. I then take into account my surroundings and try to anticipate what the animal is going to do."
"I have found that learning about the animals that I intend to photograph is very helpful because when I learn about their behaviors and patterns, it helps me know what to look for to get the shot I want. For instance, moose like to bed down in the daytime when it is warmer, but they tend to be active during the colder parts of the day. So I know if it's over 40 degrees, I most likely won't be able to find moose, but if I head out in the late afternoon or early morning, I will have a much better chance. While some wildlife photography is indeed luck, an equal amount of importance is knowing the animals' behaviors and anticipating their moves."
Composition
Good composition is the first thing most photographers learn, but also, one of the hardest aspects of the art to master under fleeting, stressful situations. Lefo recommends getting low, especially at eye level, which will help create dynamic images that have more simplicity and intimacy, especially if the animal is glancing at the camera. He also notes that being low will also help make the animal feel more comfortable as they are staring slightly down at the photographer. If the photographer is standing, especially with other people around, it can be disruptive to the animals.
When Lefo takes a step back to analyze the situation after his initial test shots, he often finds ways to improve his composition. He will look for a different angle that gives him a cleaner, more dynamic background, especially if he is able to add a touch of color to the white foreground.
"Distant winter mountains will often have a touch of blue hue in the early morning light," he says. "During the afternoon golden hour, I will get more orange hues in the background which can add a bit of warmth to my images. The great thing about winter photography is that you aren't taking away from the simplicity of the scene by adding this color, unlike autumn, which can have a lot of distracting colors and elements that take away focus on the animal."
Lefo will look for ways to be closer to the animal than the animal is to the background.This can usually be accomplished with telephoto zoom lenses, and for Lefo, that is the M.Zuiko ED 150-400mm F4.5 TC 1.25x IS PRO. This telephoto compression can help him isolate the animal and create an eye-catching bokeh with vibrant colors.
Exposing The Images
Even with the mostly white environments that winter provides, getting the correct exposure for your photos can be tricky. This is mostly due to many animals being dark, and much of the winter world they live in being very bright, which can lead to an excess of contrast. Lefo says that the first way to avoid this contrast is to not shoot during mid day, especially under a clear sky when the sun is at its brightest. He prefers days with softer light that either a thick cloud cover or a slight haze could create. In addition, any day with snow falling will come with clouds and help to limit the jarring contrast between the bright snow and the dark animal.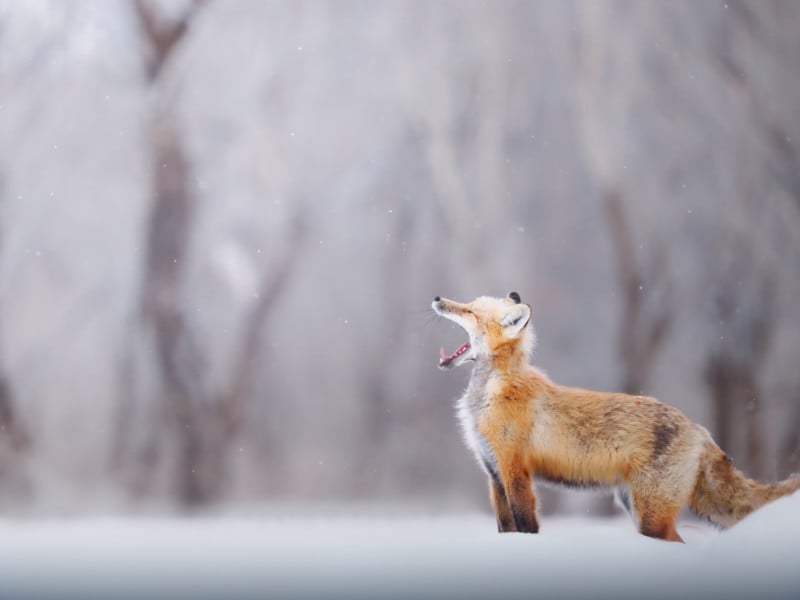 "Even in well lit winter environments, you will be constantly deciding whether to expose for the background or the subject," Lefo says. "If I am going for very minimalistic wildlife in the snow scenes, I find overexposing works best. The good thing about snow is that it's all white, so it makes it easy to blur and blend the surroundings in post processing to give it a slight 'dream-like' feel. This is especially true when taking images from a lower angle, which gives you a lot of white snow in your foreground, which will help seamlessly blend the foreground and background together"
Even with the simplicity of winter wildlife photography, Lefo is always mindful of the elements surrounding the animal. "I like to keep in mind the details outside of the animal that matter," he says. "If there are certain details in the scene that are important, I don't want to have them be too under or over exposed. Usually, I find that overexposing slightly works best for the animals and the details, without hurting the white snow. There is such a thing as overexposing too much though, so it's a delicate balance. Underexposing on days that tend to be brighter can be more effective at capturing all of the details in the image. It can help eliminate the harsh light, and emphasize the shadows. There is no right answer. Part of photography is imperfection, but it's important to remember that it's ok to be imperfect as moments with wildlife are fleeting. Don't over think your exposure so much that you miss the shot. Those imperfections usually can be fixed in editing. But having an idea of what you might do with the image in post processing is helpful in how you expose your photo in the field."
Lefo says that even though the bright scenes that winter wildlife photographers encounter can be simple to expose for, it's easy to forget the other parts of the exposure triangle that may be useful.
"I use my ISO as my driver. The shutter speed is usually not a problem, because the scenes are so bright with the snow and, in most cases, you won't be deep in a dark forest environment. But I always remind myself to make sure that my shutter speed is always fast enough to capture movement, especially if it happens quickly. I prefer to use fast aperture lenses, as they deliver smooth silky bokeh while giving me the ability to keep that shutter speed fast in case of sudden movements. I love the M.Zuiko ED 150-400mm F4.5 TC1.25x IS PRO. It's my go to lens for winter wildlife photography. It gives me 300mm to 800mm 35mm equivalent at a fast f/4.5 aperture, and, if I need to, I can zoom to 1,000mm equivalent at aperture f/5.6. Even at f/5.6, I can accomplish extremely fast shutter speed in daytime, while also really separating the subject from the foreground and background with beautiful bokeh. The wide focal range allows me to go from shooting a telephoto landscape to getting up close and personal with an animal's face in just a few seconds. Additionally, the low aperture on the full focal range allows me to use a fast shutter speed, ensuring a sharp image. For winter wildlife, I feel it's critical to find your own 'go to' lens that provides similar speed and focal range attributes. While photographing wildlife in winter, you want to minimize the need to change lenses, as that can cause you to miss the photo and potentially expose your sensor to the harsh elements."
Use Your Camera's Built In Intelligent Features
While not as well known for his landscape photography, Lefo likes to slow down and capture images that showcase the beautiful locations that he visits, without the animals.
"Most of my landscapes actually come on my wildlife photography adventures," he says. "I will often find myself photographing animals and turn around and see a beautiful scene in front of me. In most of these cases, I will quickly enter into the OM-1's High Res Shot Mode via a custom button to capture it."
In the OM-1's High Res Shot Mode, the camera's sensor is shifted in half pixel increments, over multiple exposures, and then combined in camera into a single high resolution image, with less noise, greater dynamic range and color information.
"High Res Shot Mode works best for scenes with no movement, so landscapes are ideal," Lefo explains. I have also been able to capture photos in High Res Shot Mode on very still wildlife, such as owls in a tree. Most of my favorite photos, whether landscape or wildlife, were taken when I wasn't on the lookout for that specific scene or animal. Just keeping an open mind and letting your eye adapt to what is in front of you will yield better results than being disappointed in what you didn't find. Being able to quickly capture these higher resolution images at a moment's notice adds adaptability and diversity to my photography. Fleeting moments also can apply to landscapes, so if you see the light hitting off a mountain, or the way the quick moving clouds circle a peak, it's important to be ready for it"
While High Res Shot Mode is set in Lefo's custom buttons, it is not his most used OM-1 Intelligent Feature. Like most of the OM Ambassadors who focus on wildlife photography, he utilizes the camera's Pro Capture feature. "With Pro Capture, I can track a subject without even hitting the shutter button," he explains. "If the animal takes off in a sprint or in flight, all I have to do then is press the shutter button. Doing this will write the last couple of seconds of my animal tracking to my memory card as individual RAW files. For me, this has replaced the standard burst mode, as I do not have to worry as much about anticipating the movement and being quick enough to capture it. As long as I retain my focus and tracking, I can just wait for the moment to happen, and capture it after the fact."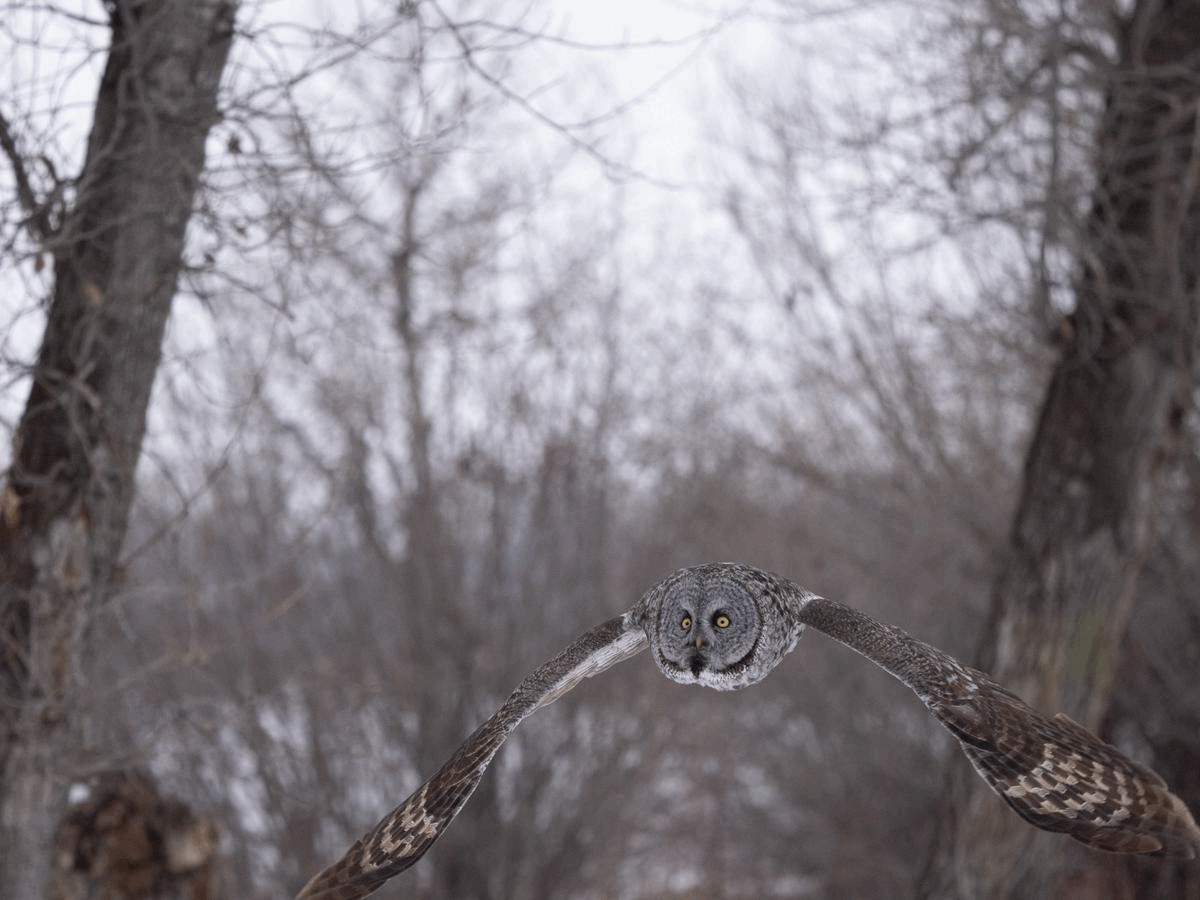 There are two settings with Pro Capture, with each one having its pros and cons. With Pro Capture 1, the OM-1 is locked into fixed metering and autofocus, but will capture a staggering 120 frames per second. Pro Capture 2, however, captures 50 frames per second, but the autofocus will track with the subject and the metering will also adjust based on the scene.
Cropping Your Winter Wildlife Images
In wildlife photography, photographers are constrained by the fact that they can't get close to wildlife because it is both unethical and very difficult. In this modern day of camera technology, Lefo says, photographers do not need to be close to get incredible photos. Oftentimes, he explains, telephoto lenses create a much better 'look' to isolate the wildlife in a dramatic way.
"My go to lens, the M.Zuiko ED 150-400mm F4.5 TC1.25x IS PRO, always lets me stay as far away from the wildlife as possible, but also allows me to get up close and personal with them, all with nicer foregrounds and backgrounds," Lefo says. "Cropping is an essential part of wildlife photography, especially in winter when you are oftentimes further from your subject. Cropping for composition and maximum impact is a great tool to rely on without feeling like you are compromising the wildlife, or yourself."
"For me, the OM-1, paired with PRO level M.Zuiko lenses produce the sharpest images I have ever taken in my career. That sharpness, especially from such great distances, gives me the ability to crop my images in different ways to create more compelling images. When you are in the field and wildlife is moving in front of you, you don't always have the time to really think through the best composition for the image, so don't be afraid to shoot wider frames and work it down in editing. The age old rule applies to composition too. It is better to have too much than too little. If you get too close, and an animal moves and a part of its body goes out of frame, you can't bring that part back. It's gone forever. But if you zoom out a bit, you can ensure you are getting all of the details in the frame and can work backwards in post processing."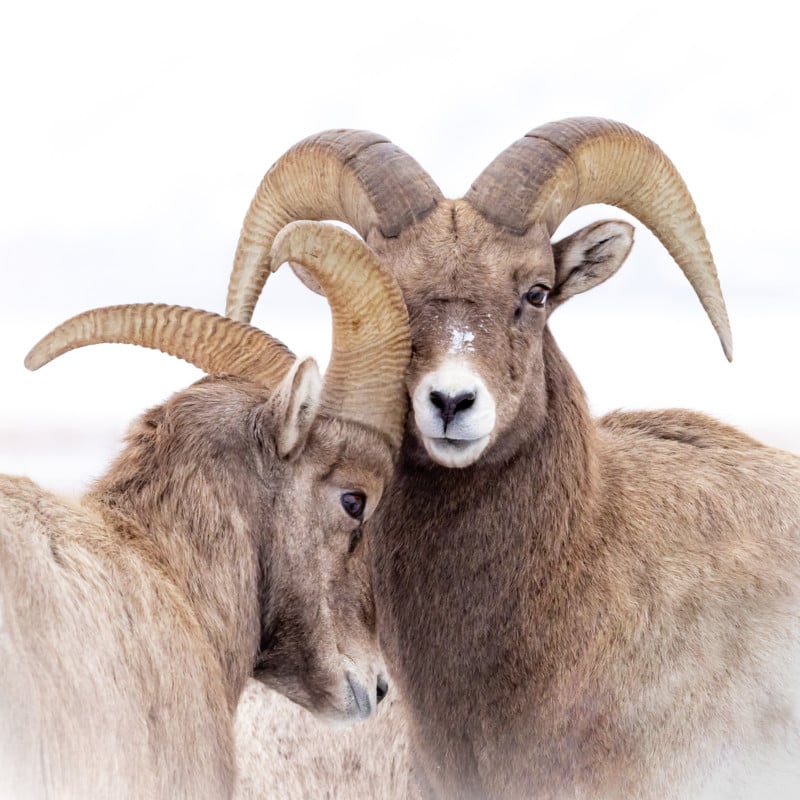 Lefo describes how this approach can be useful for social media as well. "We all know that center frame images do better on Instagram than using the customary rule of thirds. If I prefer that same image with a rule of third composition, I can shoot using the standard rules of composition, but in the back of my mind I am also thinking about how certain angles will look in a square or vertical, center weighted crop."
"For me, the intimacy of these images really comes to life in post processing," he describes. "You can create so many more images that you might not have thought of from imperfect compositions with a little editing creativity. Focus on capturing the moment, first and foremost. That's the most important part of wildlife photography. And then learn how to embrace the imperfections. You will be amazed at what you can create with modern day camera's megapixels and tack sharp images."
Stabilization
Perhaps the biggest advantage wildlife photographers have today is the advancement of image stabilization that is built into most modern cameras and lenses. Photographers today can take handheld photos at remarkably slow shutter speeds, while still capturing sharp images. While image stabilization can be utilized in most handheld photography situations, it is a vital tool for wildlife photographers. For Lefo, the combination of the OM-1's 7-stop Image Stabilization and his go to lens, the M.Zuiko ED 150-400mm F4.5 TC1.25x IS PRO gives him an impressive eight stops of image stabilization. While image stabilization is a necessity in low light situations, he says it is also a valuable tool to have in brighter winter wildlife photography environments.
"The image stabilization I get with my day to day winter wildlife photography kit has helped me capture some of my all-time favorite images. Even with a fast shutter speed, it is common to get blurry images when you are tracking a running animal with the camera in your hand if you aren't utilizing image stabilization properly. In the field, I also take a lot of video clips to use for Instagram Reels, and when I am shooting the video at 800mm handheld, the resulting footage is completely stable. The OM-1 Image Stabilization has changed the game for me on how I can create engaging content and razor sharp photos, especially in these harsh environments where my hand might be shaking due to the cold."
Take an Ethical Approach to Winter Wildlife Photography
When Lefo leads winter wildlife photography workshops in the field, the first and most important lesson he likes to teach is the importance of taking an ethical approach to wildlife photography.
He says that, thanks to the snow, the winter provides endless opportunities for tracking animals. He stresses that being familiar with your surroundings and developing an intimate knowledge of the individual animals that live there will not only help you capture better images, but also help the wildlife survive and thrive in the harsh winter months.
"While there might be more wildlife photography chances in the summer, the winter will yield more intimate encounters, and learning how to find and interact with them ethically without disrupting their patterns will help those encounters be more meaningful," Lefo explains.
He states that many of his winter wildlife photography peers are educating others on the importance of ethical photography as well. "We are doing it because we care about the animals, and we want our work to be an inspiration for others to help preserve their lands. At the end of the day, these environments belong to them, and not us, so it's important to make sure that we allow them to go about their routine without interference."
"Ethical wildlife photography is what we should all strive for," he continues. "The winter is a challenging time, even for people, but we have the comfort of a warm car and home to return to, as well as grocery stores to stock up on food. These animals do not have that luxury. Moose and elk are constantly seeking out lower snowpack areas to access grazing food sources. That constant movement burns calories and fat reserves, so in harsh winter conditions, it can be more challenging for them to find food. Carnivores can have a harder time finding food as well, as more prey will remain hidden."
"There is a substantial amount more loss of life due to natural causes for these animals in the winter months because of these challenges. So it's imperative that we as photographers do not impede on their natural actions, add any obstacles, or create unnatural stress. Simply causing an animal to change its natural course could have dangerous consequences, as unlikely as that may sound. Photographing an animal as they exist as it normally would in the winter will yield much more intimate and dynamic images than an animal who is behaving abnormally due to human caused stress. No photo is worth disrupting an animal's natural behavior that could endanger its life."
Prepare For The Conditions
While winter wildlife photography may not be for everyone, Lefo says that most people that give up after their first try were ill-prepared. He states that a person's personal preparation is just as important as the preparation of their camera gear.
"We have all had those moments where we get too cold or wet in the winter and decide to go back inside to warm up," Lefo describes. "How many incredible moments could have been photographed if you had maximized your time tracking and photographing the wildlife? There is no such thing as bad weather, just bad gear. Some of my favorite winter wildlife images have come from the most extreme conditions that I have been in. If my body wasn't prepared for the weather and the challenge, I would have missed those moments that are now so important to me."
"Of course, this begins with clothing," he continues. "Wool base layers are critical in the winter, and always having waterproof outwear is just as important. It doesn't matter how many layers you are wearing if they are all wet. Synthetic insulation gives me maneuverability. If I anticipate being static for a while, I will bring a heavy down jacket. Gloves are also critical, as frostbite will take hold of your fingers before the rest of your body even feels cold. Nothing can end a winter photography expedition quicker than frozen fingers."
Lefo explains that clothing isn't the only way a photographer needs to prepare themselves. Photography in harsh winter conditions is tiring, he says from experience, so it's important to be well rested, hydrated and fed.
"If you are really prepared to be out in the elements, it doesn't mean you are going to necessarily be comfortable, but it also means you won't be miserable," he concludes. "And that difference can result in incredible wildlife photos. You miss 100% of the winter wildlife shots that you are inside for. The more time you spend out in the elements in winter, you realize how much photogenic activity happens out there. It has a way of drawing you back again and again. The more you learn about the animals, the more you respect them and desire to spend time with them. People say getting a great winter wildlife photo is lucky. Maybe so, but you are creating your own luck in order to get the photos you are after. And when you get that first incredible winter wildlife photo to add to your portfolio, you will realize that winter wildlife photography gives us artists the greatest rewards imaginable."
More from Arthur Lefo can be found on his website, Facebook, and Instagram.
---
Full disclosure: This article was brought to you by OM SYSTEM
---
Image credits: All photos by Arthur Lefo