How to Remove a Background Using Luminar Neo's Background Removal AI Extension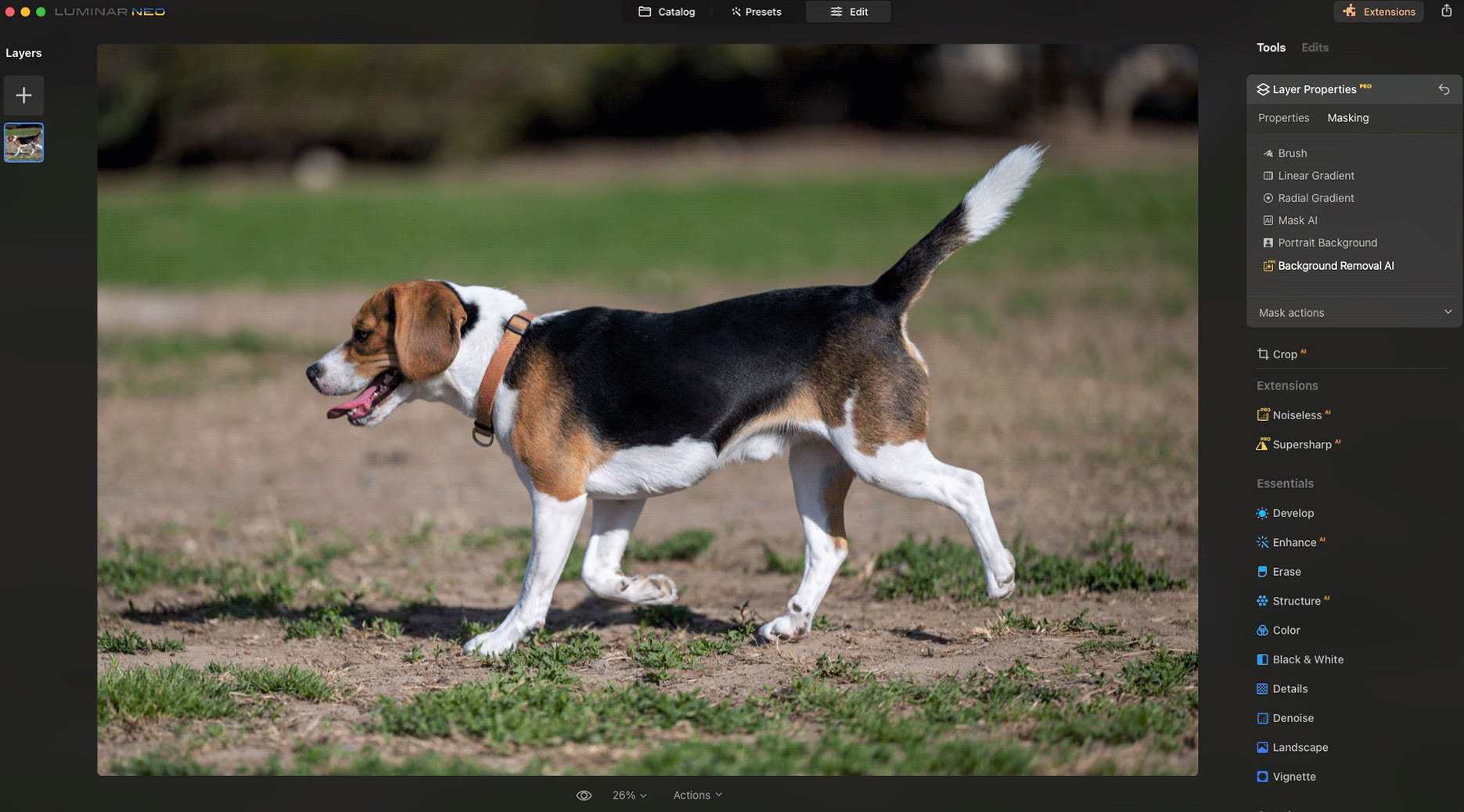 Want to easily remove the background from a photo using the power of artificial intelligence? There's a powerful new tool that can help you do just that. It's a new extension of Skylum's Luminar Neo called Background Removal AI, and in this article we will show you both what it is and how you can use it.

Get the biggest discount of the year on Luminar Neo. Save up to 85% on your Luminar Neo subscription and get 6 extra months for free! Follow this link to get your discount.
Full disclosure: This article was brought to you by Skylum, the software company behind Luminar NEO.
A few weeks ago the team at Skylum released an impressive new Extension for Luminar Neo called Background Removal AI that can automatically remove the background behind one or multiple subjects in a photo with just a single click.
According to the company, the new artificial intelligence-based tool can detect the main subject and up to nine types of other elements in an image, giving users the choice of which ones to keep. If there are any imperfect masks, once the AI tool is complete, users can use a refinement brush to correct anything the neural network may have missed.
For anyone who has spent any time creating composites for product photography and advertising, they know it can be an incredibly painstaking and time-consuming process, so any advancement to free up the time spent masking, creating layers, and exporting these assets will be incredibly welcome. The big question left on everyone's mind is just how good does it work.
What Is This New Background Removal AI Tool
Background Removal AI is one of the latest extension packs attached to Luminar Neo that leverages machine learning neural networks to train it to intelligently remove backgrounds from your images. Skylum has trained this tool using tens of thousands of images to accurately recognize backgrounds and quickly cut them out so that users can replace them with ease. In most cases, the AI extension can do this in just seconds, but it can take a little longer depending on the complexity and focal depth of the image.
To clarify, this is a collection of add-ons (which also includes HDR Merge, Noiseless AI, Upscale AI, Supersharp AI, and Focus Stacking) that are not included with Luminar Neo as they are not needed for general photo editing, but rather a more specialized niche toolset for those who want to do a little more creative things with their images. If you are interested in using these extensions, they are available as part of the subscription model Skylum has released, or you can buy them all outright as a one-time purchase.
Why Is Background Removal Useful?
Background removal is pretty commonplace in the world of commercial photography and advertising. It helps viewers avoid distractions and hone their focus on the subject or product you want them to pay attention to. Replacing the background with a plain solid color (or any other background) can help people avoid showing the messy scenario that a product or person may have been shot in, leaving them with a clean, vibrant, and distraction-free setting.
Even when shooting products in a "clean" environment, there could be an unwanted color cast on the background that removing may help clean up and let the editor achieve a pure white (or whatever color they were aiming for) easily. If you are shooting for a brand, removing the background helps keep the images consistent, regardless of what setting they were captured in, which can help make viewers feel more trusting towards you.
It could also be that the photo wasn't exposed properly and the background or foreground is too bright. Removing the background and replacing it with a "plate" can make the image look more natural and aesthetically pleasing.
Even if you are not a serious or professional photographer, background removal can also be used for both fun and creative purposes, whether it is for isolating subjects in portraits to create a collage or for turning pictures into Internet memes.
How To Use Background Removal AI
The process for using the tool is rather simple but does require a bit of digging to find at first. Once you've opened an image in Luminar Neo and opened the EDIT section, at the top you'll want to click on Layer Properties and then select Masking to open up the first set of options for you to choose from.
From the options available, select Background Removal AI to kick off the neural network analysis of the image to identify the subject (or subjects) you want to be kept. Based on what the AI detects on the image it will prompt you for a few additional choices to select to improve (optionally) the mask like identifying things in the image like people (humans), plants, buildings, etc. Once you've made your selections here, click the "Remove" button and let Luminar Neo do the work for you.
Once the background has been removed, you can then continue editing your image, or optionally select the Refinements Brush dropdown menu to enhance and improve the masking that was done to select and separate your image subject. Some images may need a little bit of tweaking to get the mask just right, especially in lighting situations where reflections and glare are present, but after a few brush commands, the AI should pick things up quickly.
This is where you will be presented with a "three color" mask layout where blue represents the background and everything you want to be removed, the "checkered" white area represents the transition, and then the brown mask is to refine the object or person in the image that you want isolated and extracted.
Once you have made any refinements, you can simply continue editing your image by moving to another tool and the background will be officially removed, making it easy for you to save it as a PNG asset, or even continue editing in Luminar Neo to create something new.
While it's not perfect, I was able to extract, isolate, import a random image from one of my trips to Alaska, and then composite them together for a makeshift "Advertisement" type photo in less than a minute total. It actually took longer for me to choose a new background than it did to actually do the work and make the edits and adjustments to the final image seen above.
Fast, Easy, And Impressively Accurate
Background Removal AI works quite well, and while there are a few instances where the masking isn't perfect, it is very easy to quickly fix the mask and get the image (layer) where you need it to be for further editing and production. The masking works best if you have clear and well-defined lines, but if those areas slide out of focus or have a lot of glare, the system can struggle a little, but remember, with most Artificial Intelligence based systems, the tool will only get better with time and the more work you put into it.
While the Removal AI tools can manage some pretty complex hair selections as well as semi-translucent materials which saves many users countless hours of time manually masking, there will still be some scenarios where there will be room for refinements that require you to spend a little time cleaning up and adding to the masks. Even in those scenarios, the Background Removal AI tool can easily help users save over 90% of the work and time spent doing these normally complicated tasks in just a few clicks.
Price and Subscription Plans
Luminar NEO is available in a variety of combinations ranging from $99 to $119 per year as part of the subscription plans, or for $149 as a one-time stand alone purchase. Additionally, users can buy the 2022 extensions pack which includes 7 extensions (HDR Merge, Noiseless AI, etc) for $299 for even more creative power.
SPECIAL BLACK FRIDAY DEAL – Save Up to 85% OFF Skylum's Luminar NEO
Ready for the biggest discounts of the year? Only during the Black Friday sale, get Luminar NEO with a HUGE discount and enjoy fantastic AI tools as well as more power and speed for your editing.
Get a lifetime license for Luminar NEO plus the 2022 Extensions Pack and save up to 85%. If you prefer to subscribe, you can also save up to 85% on your Luminar NEO subscription — and get 6 extra months for free!
On top of that, enjoy the Creative Collection worth $101 with 50+ exclusive Presets, Skies, and Textures that are included absolutely free with your purchase.
Don't wait. This is a limited-time offer! Catch the best price today and have no regrets. SAVE NOW
---
Full disclosure: This article was brought to you by Skylum, the software company behind Luminar NEO.