'Tis the Season for Adventure with OM SYSTEM
These holidays, capture the season with OM SYSTEM and save on a huge range of cameras and lenses!

With Black Friday prices and
savings of up to $1200
* on OM SYSTEM cameras and M.Zuiko lenses, now's the time to upgrade your gear or lock in a fantastic gift for anyone who is into photography.
Full disclosure: This article was sponsored by OM System.
OM SYSTEM Cameras: Made For The Outdoors
Adventure time? OM SYSTEM cameras are the perfect companion in nature.
Carrying lighter gear gives you more energy, more shooting flexibility, and more ways to express yourself. The compact OM SYSTEM lets you react more quickly and blend into the scene, all so you can enjoy your photography more.
OM SYSTEM cameras cater to everyone, from professionals who need flagship performance to travelers looking for a lightweight companion that will deliver consistent results come rain, shine, or snow. This gear was made for the outdoors.
OM SYSTEM OM-1
As the OM SYSTEM flagship camera, OM-1 is built to create images that make an impact.
With 120 frames-per-second continuous shooting, world-leading image stabilization performance, and 80-megapixel high-resolution shot mode, this weather-sealed camera lets you shoot sharp, handheld shots in adverse conditions.
The OM-1 sets you free to capture the impossible, taking your photography to new and exciting places.
Shop now to save $200 on the OM-1.
OM-D E-M1X
The E-M1X comes packed with pro features to bring your very best vision to life.
7 stops of image stabilization, 50-megapixel handheld high-res shot mode, integrated vertical grip, and intelligent subject-detection autofocus… With this camera, you can have absolute confidence in the result, whatever the photography assignment.
Best of all, the E-M1X is a massive $1200 off for a limited time. This is one of the biggest discounts ever for this camera, so don't miss out.
OM-D E-M1 Mark III
Reach new heights without the extra weight. The ergonomic and lightweight E-M1 Mark III is expertly crafted to capture the world's greatest images, like yours.
In-body 5-axis sync IS gives you 7 EV tops of image stabilization. Go handheld with the E-M1 Mark III even in the most challenging photography settings to capture sharp photos at up to 50 megapixels in high-res shot mode. Or, add a tripod for spectacular 80-megapixel shots.
Selling at a $300 discount, now is a great time to grab a new camera for yourself or as a gift for a very lucky photographer.
OM-D E-M5 Mark III
Professional technology without the professional price tag? That's the E-M5 Mark III. And right now it's $300 off.
For photographers with adventure in their blood, this is your ultimate, weather-sealed travel companion.
Featuring 30 frames-per-second sequential shooting, 121-point cross-type phase detection autofocus, and 5.5 EV stops of stabilization performance, the lightweight and comfortable E-M5 Mark III gives you the freedom to create professional results without heavy gear.
Tell Your Story With The New OM SYSTEM OM-5
The story makes the journey worth it. A storyteller made for nature, the new OM SYSTEM OM-5 is made to be invisible and durable.
Capture nature in a new way with computational photography features like a dedicated Starry Sky AF mode and Live Composite.
OM-5 also includes LiveND with 4 steps of neutral density filter effect (ND16), letting you transform seemingly mundane moments into magical ones.
The IP53 dustproof, splashproof and freezeproof design keeps the OM-5 safe when nature serves up a surprise. And, when pictures aren't enough, capture spectacular 4K 30fps video instead.
Discover The Feeling of Freedom with M.Zuiko Digital Lenses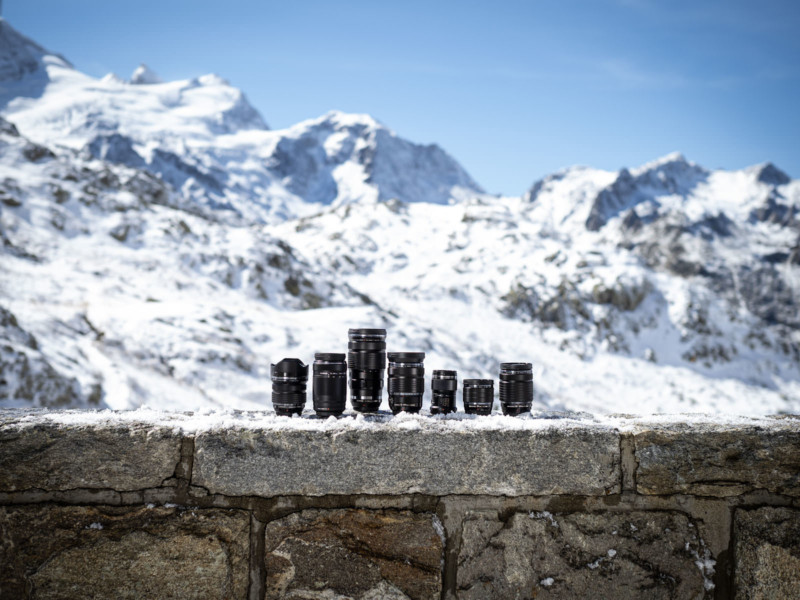 M.Zuiko Digital lenses reflect an uncompromising commitment to performance and perfection.
This holiday season, OM SYSTEM offers up to $200 savings on select M.Zuiko PRO and M.Zuiko lenses.
M.Zuiko PRO Lenses
Designed to meet the needs of professional photographers. M.Zuiko PRO lenses truly reflect Olympus' legacy of creating industry-leading optics.
With fast apertures, weather sealing, and metal constructions, the M.Zuiko PRO lineup offers the highest level of performance in the most challenging conditions.
Shop now for fantastic deals on the M.Zuiko PRO range.
M.Zuiko Lenses – For Every Occasion
Landscapes, portraits, macro, wildlife… The M.Zuiko range includes everything from low-profile pancake lenses to high-powered zooms, offering an ideal lens for every situation.
These holidays, take your photography to the next level, without a next-level price tag.
Seeing is believing
Looking for inspiration? Learn from the best and see what's possible with OM SYSTEM gear at the OM SYSTEM Learn Center.
---
Full disclosure: This article was sponsored by OM System.
---
* Offers valid from November 21, 2022, to January 1, 2023.