Photographers Capture a SpaceX Rocket Landing for the First Time
SpaceX launched its Falcon Heavy rocket yesterday and for the first time invited photographers to capture its side boosters landing back on Earth.
Trevor Mahlmann was one of the lucky photographers to set up a remote camera to capture the rockets landing after they helped a payload to orbit.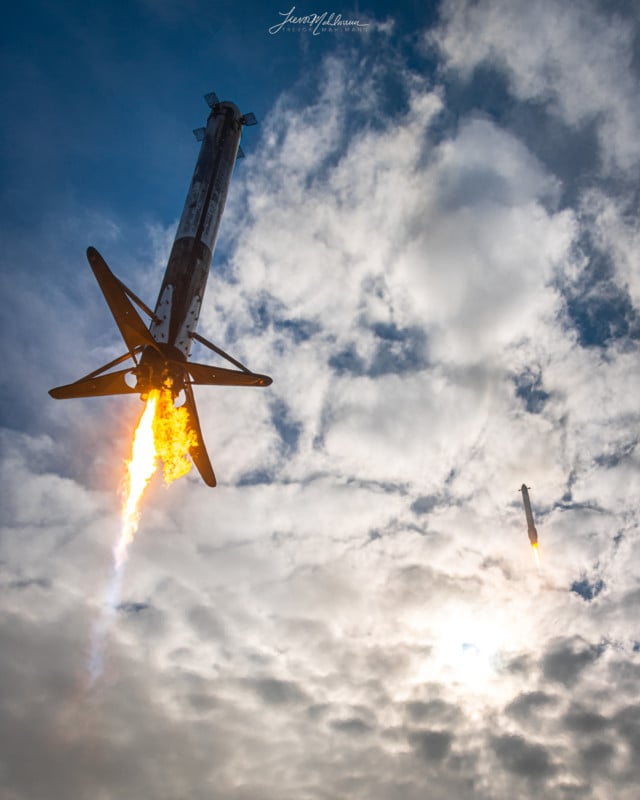 "When I was invited to set up a remote camera at the landing zone, I was completely floored," he tells PetaPixel.
"What an opportunity, privilege, and challenge…Opportunity in that it was a chance to access an incredibly unique location. Privilege in that there were so few allowed to do so. And challenge because a lot of it was guesswork."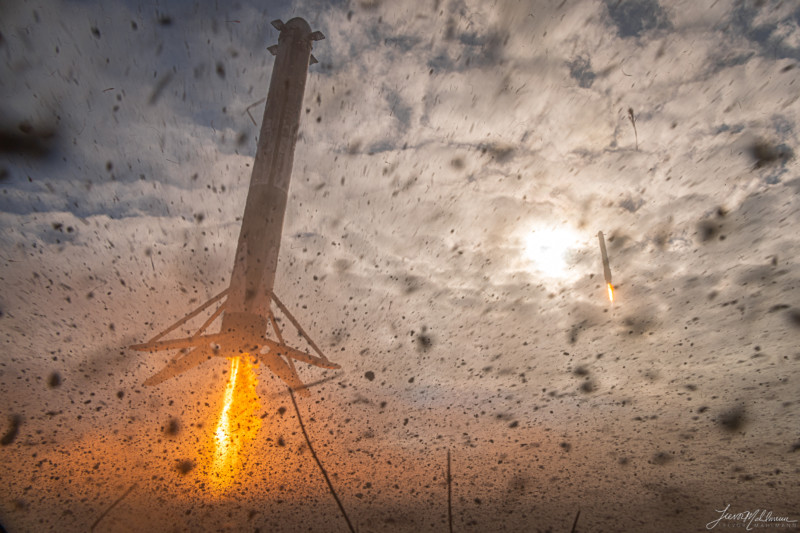 Mahlmann used three Canon EOS R5s, with one set up for the video seen at the top of this page, and two to capture stills.
"Lenses were the RF 15-35 2.8 for the video and an RF 24-240 each for the still rigs. [Both] lenses were at their widest: 15mm and 24mm respectively."
Falcon Heavy
The Falcon Heavy rocket was launched from the Kennedy Space Center carrying a pair of satellites for the U.S. military.
It was only the fourth take-off for the Falcon Heavy and the first in more than three years. The mission, called USSF-44, was contracted by the U.S. Space Force and it launched two classified satellites into geostationary orbit.
The Falcon Heavy consists of three Falcon 9s strapped together and costs $97 million to launch. It is only used for heavier payloads.
"Being tapped to capture this moment called for the utmost respect of the chance we had been given and justice to be done visually," adds Mahlmann.
"I am just really grateful to the folks at the Space Launch Delta 45 and SpaceX here in Florida who put this together — it was no easy feat but thanks to their hard work behind the scenes, it all came together successfully in the above imagery."
Mahlmann is an accomplished aero and astrophotographer. PetaPixel has previously featured how he captured a self portrait with the ISS in the background. He sells wall calendars of his amazing photos that can be purchased here.
More of Mahlmann's work can be found on his website, Twitter, Facebook, YouTube, and Instagram.
---
Image credits: All photos by Trevor Mahlmann.