Hands-On With Microsoft's New Surface Pro 9 Laptop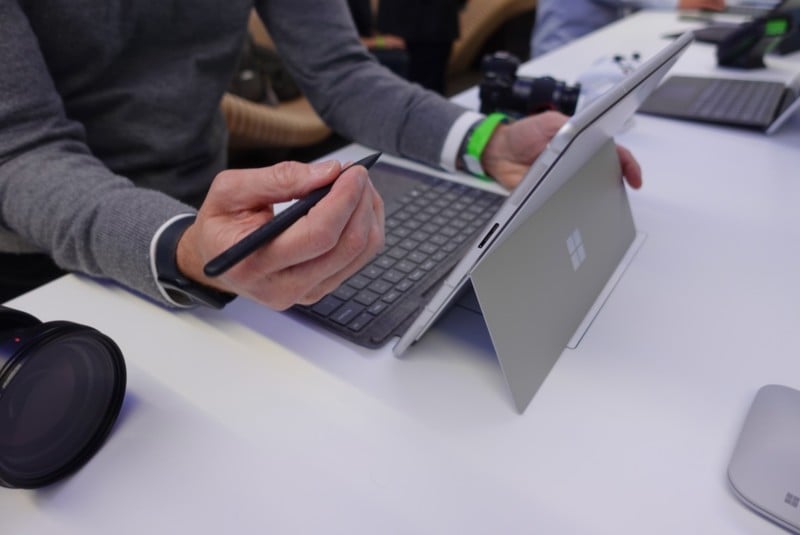 After some brief hands-on time with Microsoft's two new laptops that were unveiled today, the Surface Pro 9 is a more attractive product for the photographer and videographer due to the Intel 12th Gen processor, and the portable form factor is more practical for photographers on the go.
We will have follow-up first impressions with the Surface Studio 2+, but for now, let's turn our attention to the Surface Pro 9.
Models and Configurations
There are two very different systems in the Surface Pro 9 lineup, yet they carry the same name. First, there's the Surface Pro 9 with Intel's latest 12th gen processors, available in either an Core i5-1235U or the Core i7-1255U processor and up to 32GB of LPDDR5 RAM and up to 1TB of removable SSD storage. This device will be able to handle pro photograph and videography tasks.
Confusingly, the second model is called Surface Pro 9 with 5G, which sounds like a suped-up version of the main Surface Pro 9, but is actually a device with a slower ARM Microsoft SQ 3 Processor by Qualcomm and is limited to 16GB of memory; the Intel Surface Pro has up to 32GB.
The Intel version of the Surface Pro 9 has four USB-C ports, two of which are Thunderbolt 4. The Snapdragon version has only USB-C 3.2 ports and it is lacking Thunderbolt.
The Intel-based Surface Pro 9 has Intel's integrated X3 graphics processor, and it supports Bluetooth 5.1 and Wi-Fi 6E.
The main Surface Pro has a price between $1,000 and $2,600 depending on the configuration, the Surface Pro 5G starts at $1300, and the highest model is $1,900.
I asked Microsoft about the performance of the two systems, and while they made it clear that the Surface Pro 9 is aimed at the higher-end photographer or video editor, the Surface Pro 9 5G can now run ARM native versions of both Photoshop and Lightroom. So there are pros and cons on both sides.
One company representative indicated that he travels for work constantly and uses both Photoshop and Lightroom extensively on that computer and that the performance is more than enough for remote work, provided you're using the native versions of those apps. There are no ARM native versions of Premiere or other mainstay Adobe tools.
For clarity, future references in this article to Surface Pro 9 are referring to the Intel version of the product line unless stated otherwise.
I also asked Microsoft about the integrated graphics on the Surface Pro 9 versus using a separate mobile GPU and they said that the 12th Gen Intel processor's integrated graphics provide enough power for the target user. That's something we'll evaluate when review units arrive, but it seems to track. The Surface Pro 9 can power dual 4K displays in addition to its own display, and that amount of processing should be enough for Photoshop, Premiere, and the rest of the standard editing tools used by photographers and videographers.
The Surface Pro 9 comes in five colors platinum, graphite, sapphire, and forest. There is also a sixth version that was designed in conjunction with London-based design house Liberty. Known for its floral patterns, the Liberty-designed model has a floral pattern etched into the back of the case, and a matching floral keyboard.
Form Factor and Use
As has become expected of the series, the Surface Pro 9 is a full-fledged Windows computer that's built into a tablet-sized device. Running Windows 11 and the latest generation of Intel mobile processors, Microsoft said it is powerful enough to do photo and video editing. The models of Surface Pro 9 on display did not have Photoshop or Premiere loaded on them, so I was unable to verify that claim, but this latest generation of processors should be more than enough to handle many high-end tasks.
With a tablet-based design, the device has an integrated hinged back, which folds down to keep the device upright. This hinge also allows the tablet to be placed at a variety of angles. Having used previous Surface computers I'm generally fond of the way the system works, yet I find that it can be difficult to use when on planes—somewhere I work quite a bit. The hinge design gives it a deeper profile than a traditional laptop, but laptops aren't designed to turn into touch-based tablets either.
The keyboard has two configurations, with one opening to reveal Microsoft's new pen. Having lost many an Apple pencil on my iPad, I'm particularly fond of this design.
The pen itself is very nice. There is no noticeable lag and the feel when drawing is good but does not "feel like drawing on paper" as every company insists their experiences do. The pen is recognized by the screen from a few millimeters away, and on a few occasions, I accidentally selected something unintended because the device registered the hovering pen as a touch.
In a clever bit of design, when the top of the pen is clicked twice it launches a note-taking/drawing tool, allowing users to sketch things out without having to go to the Task Bar.
The keys have a nice feel and are easy to type on. They're slightly less springy than my current-generation MacBook Pro, but better feeling than the keyboard on my iPad Pro.
When the tablet is disconnected from the keyboard, the icons increase in size in order to make them easier to tap, which is a nice touch.
The tablet configuration feels well-balanced and comfortable to hold. Just as with my iPad, I would likely use this for entertainment consumption, and for drawing with the pen. I've done photo editing on my iPad without a keyboard, and only find it really comfortable to use when the tablet is laying on a desk. Many people love to edit with a tablet on their lap, so this comes down to personal preference.
Screen
The display on the Surface Pro 9 is 2,880 by 1,920 pixels, with a 120Hz refresh rate, "Adaptive Color" and a contrast ratio of 1,200:1. Gorilla Glass 5 is used on the Surface Pro 9, and it certainly feels durable to the touch.
I wasn't able to check the color accuracy of the displays, but they did seem as vibrant as claimed. Units were displayed in a room with long light strips shining on them, so the displays all had harsh bands of light across them. This amount of light would wash out most screens but the Surface Pro 9 was clear and vibrant despite the highly focused lighting.
As would be expected, the touch interface is well-polished (pardon the pun) and the device feels designed for tablet-first use. The interface is easier to navigate and just feels better using your finger than using a pen or the trackpad on the keyboard.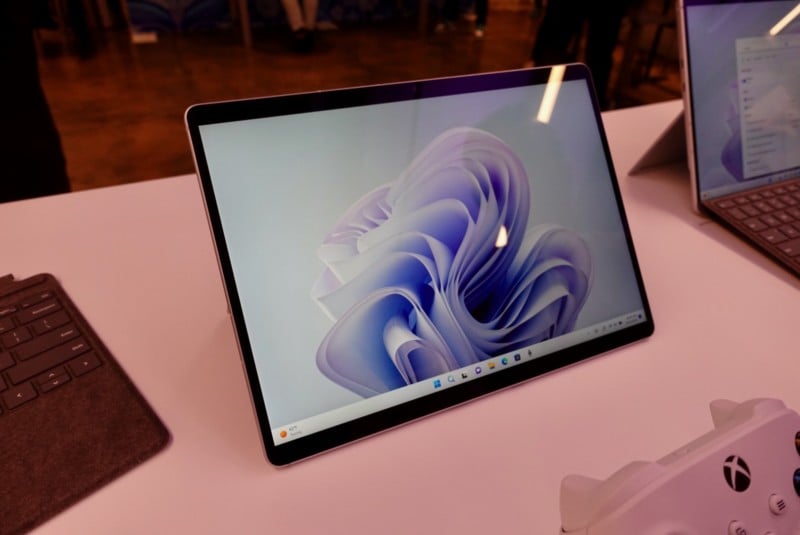 Pricing
It's a bit hard to talk about pricing with this system, as most Windows 11 tablets are aimed at a much lower customer base, and Apple doesn't offer any tablet devices with a full version of macOS.
Still, the top price on the Surface Pro 9 is $2,300. Apple's top-end Macbook Air maxed out with 24GB of RAM and 1TB of storage is $2,100. The top-end iPad Pro with both WiFi and cellular and 2TB of storage is $2,400 albeit without the pencil or keyboard; the keyboard alone is $350.
Compatibility With Apple and Xbox
During today's keynote, Microsoft announced Windows 11 will now work with many of Apple's products: Apple Photos, Apple Music, and AppleTV are all now supported. iPhone users will be able to upload photos to their iCloud Photos library as easily now as Android users can upload to Google Photos through Windows 11.
Many of the Microsoft representatives that were available to speak to were talking about this new functionality, and when I spoke with one they said this is part of their "open" policy to "work the way you work." As someone with a length history with Microsoft products, I welcome this new attitude, even if it just to capture more iPhone users.
The Surface Pro 9 also runs Xbox games, and the gameplay I saw looked smooth and highlighted the processing power of these devices. That said, I wasn't sure if they were running natively or through Xbox Game Cloud. If it were the latter, then smooth operation should be expected since those games can stream pretty flawlessly through Samsung televisions, which have significantly less power than these laptops.
A Quality Computer, But a Bit Expensive
For a Windows-based user that wants to work while out in the field, and who also wants to enjoy entertainment when not working, this seems to be a great choice if not a bit expensive since the price does seem high when compared to either Apple or other Windows devices. An LG 16-inch Ultra-Slim PRO Laptop with Intel Core i7 processor, Windows 11 Pro, NVIDIA GeForce RTX 2050 graphics, as well as 32GB RAM and 2TB of SSD storage costs $1,900, for example.
Of course, with the Surface Pro 9, you're paying a premium for the ability to switch between tablet and desktop and still have the power to get actual photographic work done. In that case, the experience is pretty unparalleled.