Microsoft's Surface Studio 2+ is a Light Performance Upgrade
Microsoft has announced the Surface Studio 2+ which takes most of the successes of the innovative desktop computer originally launched in 2016 and gives it a performance lift via an 11th-generation Intel chip and an NVIDIA 3060 GPU.
The original Microsoft Surface Studio was an eye-catching desktop machine that offered a 4,500 by 3,000 resolution 28-inch touch display (more than 4K), support for the Surface Dial (a puck-like control device that never got the third-party support it probably deserved but that can still be purchased despite it not being included in this new announcement), and was aimed at creatives. Microsoft followed that up with the Surface Studio 2 in 2018.
While it may have appeared to be Microsoft's answer to the popularity of Apple devices, the Surface Studio was underpowered for its $3,000 asking price which contributed to its lackluster success among the photography community.
The Surface Studio 2+ continues in the tradition of the original but feels like a light performance upgrade rather than a true sequel, which is probably why Microsoft isn't calling it the Surface Studio 3. It features many of the same core features but brings in a new CPU and GPU that should make it reasonably powerful, especially for the target audience which doesn't appear to be creative professionals.
This 2018 follow-up and doesn't change the parts of that were popular while upgrading hardware under the hood. It features the same 4,500 by 3,000 resolution 28-inch PixelSense (Microsoft's name for its touch technology) display and keeps the Zero Gravity Hinge system that were roundly praised in the first iteration of the product. That screen supports a billion colors (likely through FRC), is described as a DCI-P3 display that has both an sRGB and Vivid profile (but no specific gamut coverage is listed) and has a contrast ration of 1,200:1 (no peak brightness is listed). It does support Dolby Vision, however.
The Surface Studio 2+ features both Bluetooth 5.1 and Wi-Fi 6 as well as a 1080p full-HD front-facing webcam, dual far-field microphones, and stereo 2.1 speakers that support Dolby Atmos sound. It also comes with a plethora of port options including three USB-C ports with support for Thunderbolt 4 (which can add up to three 4K UHD 60Hz monitors to the base unit), two USB-A 3.1 ports, a 3.5mm headphone jack, and a gigabit Ethernet port.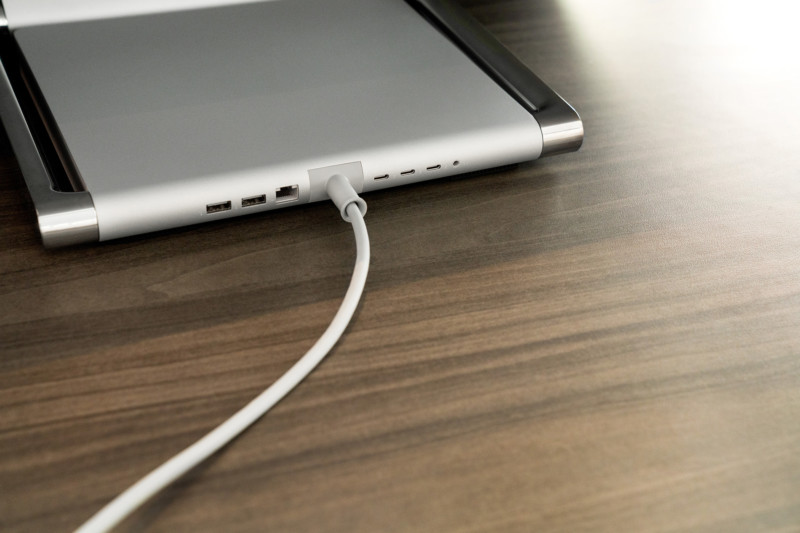 While it is a desktop computer, Microsoft opted to outfit the Surface Studio 2+ with laptop-level hardware, which means it is driven by an 11th generation Intel Core H-35 processor and an NVIDIA RTX 3060 laptop GPU that features 6GB of GDDR6 GPU memory. The laptop-grade hardware makes sense if the size of the chassis is considered, though the older 11th Gen Intel chip won't bring the significant power upgrades seen in Intel's 12th gen chips that came out this past year (though it does very likely run much cooler).
That note about the Surface Studio 2+'s target audience is based on how Microsoft is positioning it. While the company does briefly mention 3D rendering, which is made possible thanks to the NVIDIA 3060 GPU, it focuses on the multitasking and video calling capabilities and, outside of CAD work, none of the marketing materials show the creative applications like photo or video editing that were present for previous Surface Studio iterations — that imagery was reserved for the company's new Surface laptops.
There are no configuration options available and all Surface Studio 2+ units will ship with the Intel Core H-35 i7 processor, 32GB of RAM, 1TB of onboard storage space, and the NVIDIA 3060 laptop GPU. It also comes with just a one-year limited warranty.
The Surface Studio 2+ will retail for $4,300, which is a lot for what is essentially a work-from-home all-in-one desktop PC, but Microsoft seems to think that the ease of use, level of power, and design aesthetic are enough to warrant the asking price. The Surface Studio 2+ is also available with a pen, keyboard, and mouse for $4,500.