Thousands of AI-Generated Images are For Sale on Stock Photo Websites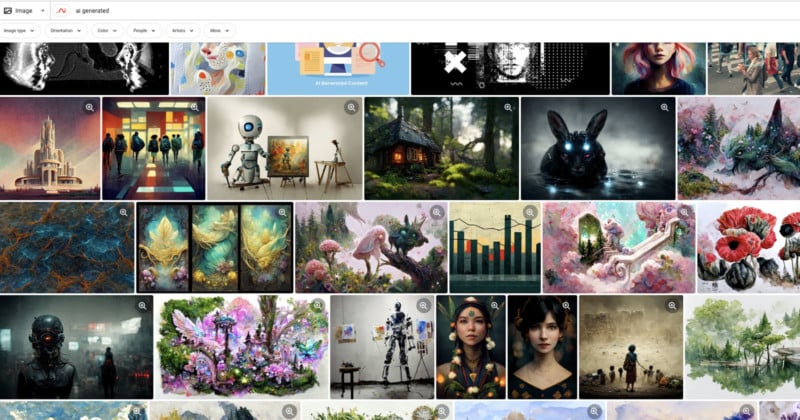 Artificially intelligent (AI) images generated by machines are for sale en-masse on stock photo websites such as Shutterstock, iStock, and Adobe Stock.
The development means there is increased competition for photographers on what were traditionally called photography stock websites, but might be now better described as something else.
A search on Shutterstock with the term "AI-Generated" returns 18,850 results, not all of which were created by programs such as DALL-E, Midjourney, and Stable Diffusion but a brief scroll through makes it clear that many of them were.
The same search in iStock generates 1,585 results with one image that photographers could only dream of a "Vintage Photograph of Loch Ness Monster."
Tutorial on Selling AI Art
Vanessa, a book cover photographer, released a video entitled How to start selling Midjourney AI art on Shutterstock.
"I found Shutterstock is accepting AI art, not everybody is on board with the AI-generated art, that might change with time," she says.
Initially, Vanessa had her AI-generated artworks rejected by Shutterstock on technical grounds.
"You can't just take your AI art and upload it as is it's not good enough resolution," she explains.
Currently, programs such as DALL-E only generated images with a maximum of 1024 pixels meaning users must use an outside program to upscale their images.
Low resolution is not the only problem that Vanessa encounters. AI-generated images will often contain visual oddities such as poorly rendered facial features, which she says she fixes in Photoshop before she uploads them for sale.
Midjourney appears to be popular on the stock sites and a glance at its terms of service says that non-paying members of Midjourney are granted a Creative Commons Noncommercial 4.0 Attribution International License for the images, meaning users are not allowed to sell the images they create for commercial gain.
However, Midjourney says that paying members "own all assets you create with the service."
Shutterstock makes no mention of artificial intelligence in its terms of use. Stock Photo Secrets reports that one major player is making legal steps, however: Getty Images. It recently updated its model release form "regarding the use of their likeness to train machine learning algorithms used for AI photo creation."
AI-image generation has exploded in popularity over the last several months, so it is not surprising that companies and governments are still yet to lay down any firm rules for the new frontier of image creation.
"I think there will be changes to the laws and copyright and usage of AI-generated art," adds Vanessa.