The U.K. May Sacrifice Copyright Law to Attract AI Big Business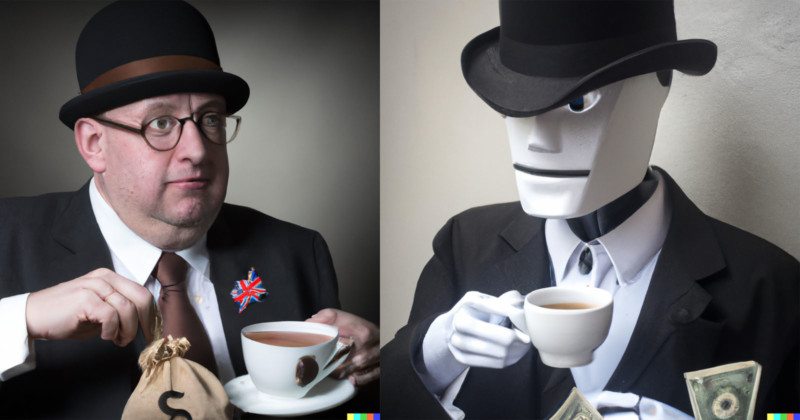 Text-to-image generators are a new and messy technology and this week another major step was taken that some argue is damaging to your copyrighted photographs.
If this discussion sounds familiar, that's because it is a situation PetaPixel's News Editor Matt Growcoot discussed a few weeks ago:
"For photographers, they need to ask themselves a couple of questions: how would you feel if you saw an AI image that was based on your photo? The second question is, what are you going to do about it?" he writes.
"No group of creators regularly has their rights trampled over in the internet age quite like photographers. AI image generators are poised to be the next chapter in that ongoing saga."
If you were to provide any of the text-to-image generators like DALL-E 2, for example, the idea of a photo in the style of Ansel Adams, it would provide you with results that look like they were taken by the legendary photographer. But how does it know what those photos look like? Clearly, the AI was trained on those images which means they were fed into the system. But those images are copyrighted, so why is this process okay?
Growcoot's call of alarm may be coming true sooner than we thought.
For more, read PetaPixel's weekly curated newsletter, Clipped Highlights.
What is Clipped Highlights?
Clipped Highlights is a free, curated, weekly newsletter that will be sent out every Wednesday morning and will focus on a few of the most important stories of the previous week and explain why they deserve your attention. This newsletter is different from our daily news brief in that it provides unique insights that can only be found in Clipped Highlights.
In addition to unique takes on the biggest stories in photography, art, and technology, Clipped Highlights will also serve to feature at least one photo series or art project that we think is worth your time to check out. So often in the technology and imaging space we focus on the how and not the what. We think that it's just as important, if not more so, to look at the art created by photographers around the world as it is to celebrate the new technologies that makes that artwork possible.
If this kind of content sounds like something you're interested in, we encourage you to subscribe to the free Clipped Highlights newsletter today. You can read this week's edition right here, no subscription necessary, to make sure it's something you want in your inbox.
We'll also make sure to share each edition of Clipped Highlights here on PetaPixel so if you aren't a fan of email, you won't be forced to miss out on the weekly newsletter.
---
Image credits: Header generated using Open AI's DALL-E 2.