Cyberlink Positions its PowerDirector Suite as an Alternative to Adobe
CyberLink has announced an update to PowerDirector, its multimedia editing suite, that it says brings even more artificial intelligence (AI) assisted tools and templates, making it easier for creatives to access advanced editing.
The Taiwan-based company which developed and owns over 200 patented technologies centering around multimedia software and AI facial recognition says that the creative suite, (which includes PowerDirector, PhotoDirector, AudioDirector, and ColorDirector) has been updated to include several new smart-assist tools, studio-quality effects, and enhanced precision controls that pair with updated templates and guided edits to allow users from beginner to advanced professionals "to accomplish even the most intricate tasks in just a few clicks." The company positions itself as Adobe's prime competitor.
Cyberlink's flagship video editing suite, PowerDirector, has been enhanced with several AI-powered tools like AI Video Object Detection which can track moving people or objects and separate them from their backgrounds without a greenscreen automatically, AI Motion Tracking which adds "attention-grabbing" text or graphics that can follow objects or people, and access to over 7,000 templates for easy project assembly.
The two versions of the software — PowerDirector and PowerDirector 365 Business — feature more than 7,000 video intro templates designed by the company's "community of creatives."
PowerDirector Business now has over 10,000 templates the company says can be applied with what the company characterizes as an easy three-step process, allowing individuals and design agencies to create social media posts quickly.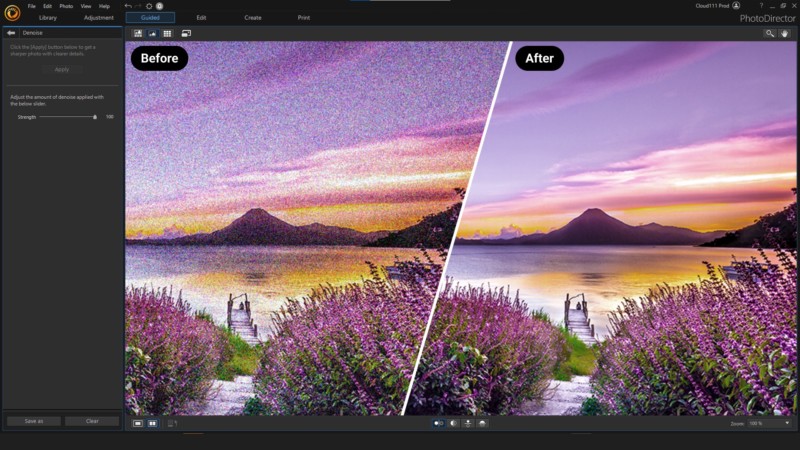 PhotoDirector, CyberLink's photo editing application, sees a significant number of improvements and enhancements, starting with the addition of "AI-Based updates."
AI Denoise, AI Sky Replacements, and AI Object Removal provide automatic editing for some of the most common photographic issues. The tool's Bokeh Effects have been updated to allow users to control the focal point used by the effect. The company also announced updates to PhotoDirector, delivering AI-driven tools the company says let users fix photos in a few clicks.
In addition to these features, PhotoDirector also includes a new Bokeh Effects feature allowing users to control the focal point and AI will then automatically adjust the effects depth and distance to create a "pleasing visual to match any artistic vision".
The update also includes several new "fun" features like the AI Anime Face and Cartoon Tool that can turn any person's portrait instantly into an animated classic cartoon character style.
AudioDirector, CyberLink's audio editing tool, has received UI updates and features and a new EQ Match tool, designed automatically balance audio between different clips created with different microphones. The company also announced AudioDirector Online, a free and browser-based version of AudioDirector featuring many of the program's essential tools without cost.
Finally, the company says that its color editing tool ColorDirector has seen updates to effects and to AI Motion Tracking, which they say provides precision color grading on objects as they move across a scene.
All flavors of PowerDirector include NVIDIA Broadcast support, and Intel Hyper Encode support is said to increase production speed by 1.5x.
All of the tools, which are fully explained on the company's website, are available as either subscriptions or perpetual licenses.