Luxury Car Maker Pagani Unveils $110,000 Large Format Camera
Luxury car manufacturer Pagani has teamed up with Italian large format camera maker Gibellini to produce a limited edition, opulent 8×10 analog camera.
Only 75 units of the Gibellini GP810HP camera will be made, with the initial batch of 30 cameras being offered exclusively to current Pagani owners.
Pagani is a high-end sports manufacturer, known for its V12 engine hypercars such as the Zonda and the Huayra.
Both companies are based in Modena, Italy, and have now teamed up to create the camera which they say can "be used to produce blow-ups and extra-large prints without sacrificing quality and resolution."
The GP810HP
The GP810HP is made entirely from aluminum and titanium with the focal plane and lens plane moving independently from one another. The camera has eight degrees of movement, four movements on the lens plane and four on the film plane.
"Each of these movements generates a particular effect or result in the image," says the company.
"For example, convergence of buildings can be corrected in architectural photography, elements that are far apart can be put on the same focal plane, or faces can be blurred in portraits."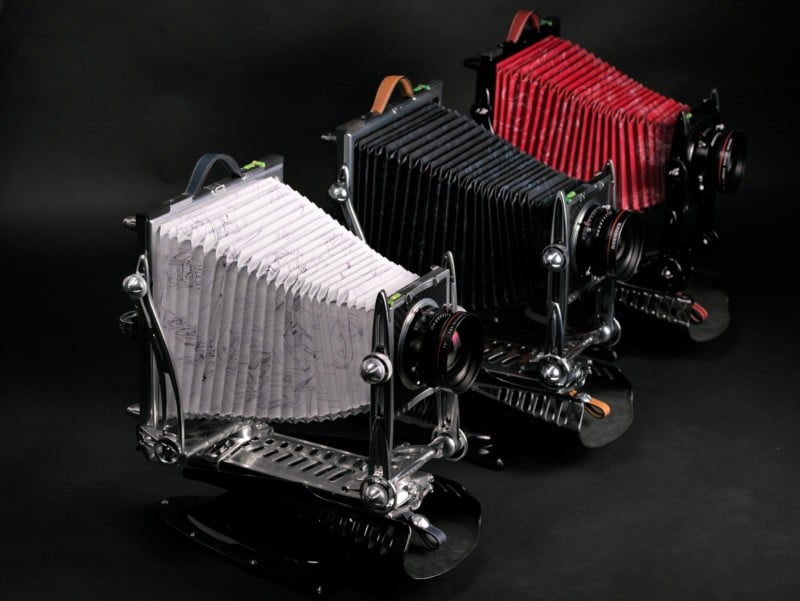 The camera weighs 4.7 kilograms with the front and rear movements running on ball bearings. The manual focus system is done with knobs on the right and left of the camera allowing the user to obtain the correct focus.
The camera is designed for gelatin silver film, that produces crisp black-and-white photos. The film must be loaded in a darkroom prior to use.
"[It] gives the image a three-dimensional quality and a range of hues that is clearly superior to that of a modern digital sensor, qualities for which it is widely appreciated by professional photographers," says the company.
The bellows can be customized with brochure photos showing red, white, and black options. The color of the leather cases can also be changed according to the customer's taste.
The camera comes with a tripod that is also made out of carbon fiber, aluminum, and Alcantara. It comes in a leather case, the same type of leather that is used to upholster the seats and interior of Pagani hypercars.
The GP810Hp is available exclusively through official Pagani Automobili channels or it can be ordered from Pagani dealers worldwide.