The Full Story Behind the Collapse of the Nat Geo Fine Art Galleries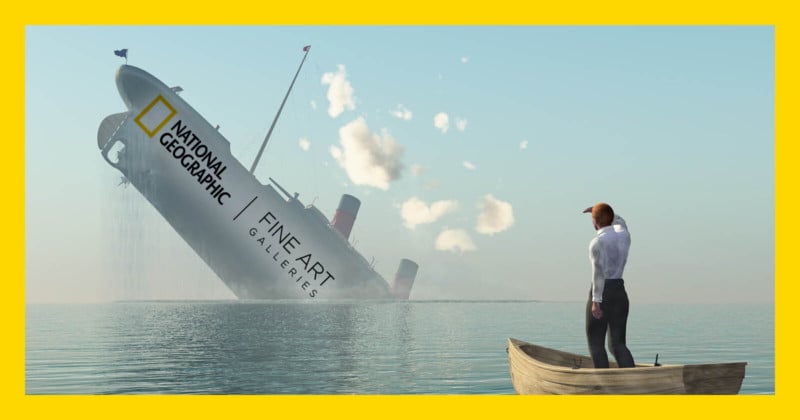 Multiple times over the last several years, PetaPixel has reported what was at one point known as the National Geographic Fine Art Galleries, then the National Gallery of Fine Art. The business is now a shell of its original promise. This is the full story of what happened.
A Recap
This saga of the National Geographic Fine Art Galleries (hereafter referred to as the Galleries for the sake of simplicity) has been ongoing for years and started when PetaPixel contributor Ken Bower published an opinion where he expressed concern over the Galleries' commission rate in July of 2018.
"I was surprised to learn the photographer only gets 5% of the total sale price. Artists in galleries commonly receive 40% to 50% of the sale price. Most US states where the prints are sold will earn more than the photographer in sales tax," Bower said at the time.
Bower also found issue with the Galleries' use of Trusted.com. After that report, all mention of Trusted was removed from the Galleries' website.
By January of 2020, Bower had discovered that all was not well at the Galleries: National Geographic appeared to have sued the owner of the Galleries, Bekim Veseli, for Breach of Contract, Suit on Sworn Account, and Unjust Enrichment. By December, National Geographic had terminated its contract with the Galleries amid "legal complications." Little else was known.
Now, more than four years after Bower's initial report, PetaPixel has obtained court documents that explain exactly what happened in this agreement, what the Galleries were supposed to be, why National Geographic even entered into an agreement with Bekim Veseli, and why it later terminated its contract.
The Grand Plan
Thanks to an arbitration agreement in the initial contract between the two entities, a full description of what exactly happened between National Geographic and the Galleries is part of the public record.
Bekim Veseli is a self-described entrepreneur who operates various businesses through his holding company Respondent BEK Holdings, LLC.
In 2014, Veseli pitched National Geographic on an idea that would see a network of 50 art galleries placed in major tourist cities throughout the world that would sell fine art prints of National Geographic's photographers' works. Prior to entering the agreement with National Geographic in 2014, he claimed he was involved in multiple businesses that turned "high quality, artistic photographs into museum-quality works of art which can be sold for several thousand dollars or more."
Veseli projected that these galleries would generate annual profits of more than $59 million. According to the court documents, National Geographic "was impressed" with the pitch and entered into an agreement with Veseli on August 29, 2014. That license gave Veseli the right to use the National Geographic name, trademarks, and certain photos as part of the venture.
In exchange, Veseli would pay National Geographic a 10% royalty on total sales quarterly. In addition and regardless of sales, Veseli's Galleries would also owe National Geographic $1.2 million annually. According to documents seen by PetaPixel, the contract showed a minimum annual payment of that $1.2 million every year from 2015 through 2024, resulting in a cumulative payout to National Geographic of $12 million over the course of the license agreement before any royalties from sales were calculated. If Veseli's projections were true, that would add $5.9 million more per year.
The value of this agreement to National Geographic was, therefore, substantial and shows why it agreed to enter into business with Veseli in the first place: it had to do very little to pull in consistent annual income.
But if it sounds too good to be true, it probably is: problems between the two groups started almost immediately.
Trouble in Paradise
Veseli contended that he was not getting the images that he was entitled to from National Geographic and in response, withheld multiple royalty payments. In 2017, he demanded that his license be amended to allow his Galleries' employees a greater role in deciding which photos they would have access to and be able to sell. After months of negotiation, the agreement was amended to change the process for selecting the photos that the Galleries could use but also required Veseli's business to pay at least 25% of the minimum advertised pricing of sales each quarter.
Veseli's Galleries continued to miss payments as he did not stop complaining about the quality and selection of photographs that National Geographic made available to his Galleries.
In December of 2019, Veseli's holding company filed a Demand for Arbitration that asserted National Geographic breached the contract and claimed fraud regarding the quality and selections of photos that were made available to him as part of the contract. The two parties began to discuss the disputes in mediation, but through this period Veseli continued to miss monthly payments to National Geographic. National Geographic then issued a notice of breach, but extended the period they were due until July 8, 2020, at which time the Galleries owed $900,000 in unpaid royalties.
National Geographic Pulls its Name
The two groups failed to resolve their claims in mediation and the case went into three days of hearings in July of 2020. The payments Vaseli owed in July, August, and September of 2020 were not made. National Geographic issued notices of this breach and the missed payments, but continued to extend the deadline. In October of 2020, an arbitrator denied all of Veseli and his group's claims, and later that month National Geographic terminated its license with Veseli on the basis that he had not paid the dues as agreed upon.
In November, Veseli submitted to Instagram a request to remove "natgeo" from his handle, which was "natgeofineart" and started to remove all references to National Geographic, which PetaPixel noted in a report the following month.
On December 22, 2020, National Geographic issued a cease and desist order to Veseli's Galleries demanding that he stop infringing on the National Geographic intellectual property in numerous ways, including continuing to operate the Instagram that contained "natgeo" in the handle, displaying National Geographic photos, and selling prints in his stores.
On December 29, National Geographic issued a takedown request to Instagram for the account "natgeofineart" on the grounds of infringement. Instagram complied.
Disputes, Disagreements, and Missed Payments
During the period between 2014 and 2020, the Galleries sold enough prints to pay National Geographic more than $6 million in royalties, but Veseli failed to pay a total $1.2 million in minimum payments between 2019 and 2020, which remains outstanding.
In July, National Geographic and Veseli settled out of court related to that payment, which now adds 9% interest to what National Geographic is owed.
National Geographic did not respond to requests for comment, though that is expected given the current state of mediation between the two groups. Mediations are generally confidential, and both parties will typically agree not to discuss them publicly afterward. The mediated settlement agreement is also not a matter of public record, so the details of how much Veseli will pay and over what period of time are also not known.
At the time of publication, Veseli continues to operate the business under the name National Gallery of Fine Art. The website still exists and claims two physical locations, one in Laguna Beach, CA and the other in La Jolla, CA — a far cry from the 50 international sites Veseli hoped to open when he first entered into the agreement with National Geographic. It is not possible to purchase prints directly from the website.
A new Instagram handle was also established, which is simply ngfineart. Its first post was made in April of 2021 and its most recent January of 2022.
---
Acknowledgments: Special thanks to Thomas Maddrey of the American Society of Media Photographers (ASMP) for his help acquiring court documents and providing insight into their meaning. Special thanks to Ken Bower for his years of work tracking this case and for noticing the mediation agreement between National Geographic and Veseli in July.
---
Image credits: Elements of header photo licensed via Depositphotos.