Should National Geographic Fine Art be 'Trusted'?
I recently wrote about my experience with the National Geographic Fine Art Galleries (NGFA), which wanted one of my photos to sell in their galleries. In return, they offered me a mere five percent commission. Additionally, the $1,800+ prints sold through NGFA are signed with an autopen, a machine which replicates a signature.

In the same article, I discussed what qualifies as fine art or not. I used the term "fine art" because, well, it's in the name of the National Geographic Fine Art Galleries. However, I think "authentic" might be a better word choice. We can define what authentic is or is not. For example: a JFK autopen-signed letter is not authentic and is worth a few dollars, and a JFK hand-signed letter is authentic and worth thousands.
Something stuck out to me on the NGFA website: a page dedicated to Trusted.com.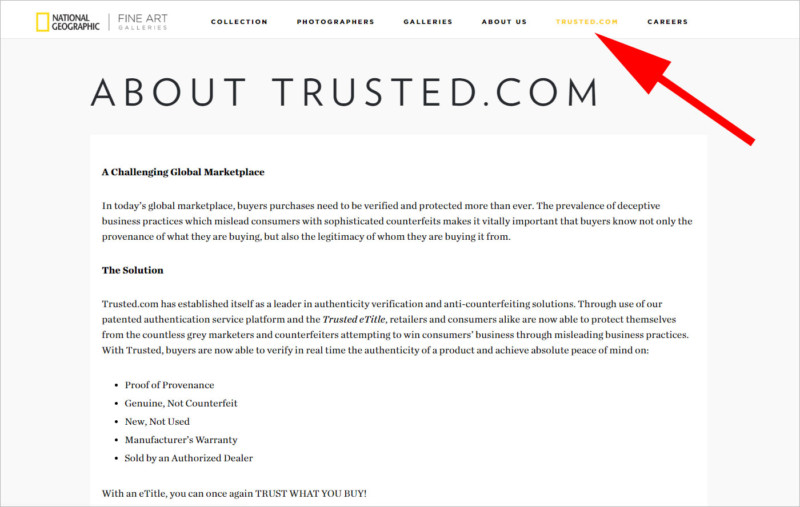 At first, I just figured it was for payment security. But that's not it at all. Trusted.com provides serial numbers and eTitles for authentic luxury products. Trusted.com states it is "the new industry standard for product verification and authentication services."
NGFA states on its website:
The prevalence of deceptive business practices which mislead consumers with sophisticated counterfeits makes it vitally important that buyers know not only the provenance of what they are buying, but also the legitimacy of whom they are buying it from.
How does Trusted.com verify what is authentic? The NGFA photos are not printed by the photographer and they are signed by a machine. How could Trusted.com offer eTitles/serial numbers for something where the origin of authenticity is questionable? I tried to find a key executive to contact on Trusted.com but they are not listed, and neither are they listed on NGFA — perhaps that's a coincidence.
However, after some searching, I identified the CEO of Trusted.com: Bekim Veseli. And very much to my surprise, he is also the CEO of NGFA.
Are the photographers who participate in NGFA aware of this? After all, they only receive five percent commission. Plus, NGFA presumably has some kind of financial arrangement with Trusted.com for its "authentication services." I realize NGFA is a different model than traditional galleries, but this is a little too different for my taste.
I've reached out to Bekim Veseli, the CEO of NGFA and Trusted.com, multiple times with questions, but I have yet to receive a response. I'll update this article if/when I hear back.
One thing is for certain. Someone is making a lot of the money from sales, and it sure isn't the photographer.
NGFA and Trusted.com seem to be going to great lengths to "authenticate" and "eTitle" these prints, but perhaps they should just start with a real signature.
---
Update on 10/11/18: Nat Geo Fine Art Galleries appears to have removed all mentions of Trusted.com from its website.
---
About the author: Ken Bower is a graphic designer and photographer. The opinions expressed in this article are solely those of the author. Bower's work has been published by VICE, Business Insider, National Geographic, and National Geographic Traveler. You can find more of Bower's work on his website.