NiSi's New Range of Camera Filters Are Made Specifically for iPhone
Filter company NiSi has announced a trio of Smartphone Filter Kits for iPhone users including Landscape, Filmmaker, and Cinema packages.
The new smartphone-centric filters look similar to the full-size camera filters and include filter holders and mounts, small rectangular graduated neutral density (ND) filters, polarizer filters, and even a carrying case/pounch.
The three new kits from NiSi are designed specifically for the iPhone (including the latest iPhone 13, 12, 11, as well as the X/SE/8/7/6 iPhone models), with each kit built around the NiSi IP-A or P2 style filter holders. These filter mounts clamps onto your iPhone, covering the rear cameras, allowing for the connection and stacking of multiple "small" filters built specifically for the iPhone system.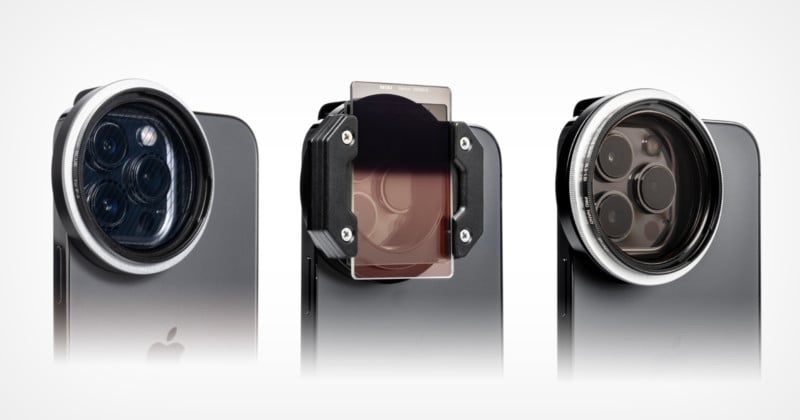 Each system comes with the IP-A holder to connect the circular filters, while the Landscape Kit includes the P2 holder for using up to two square filters. The landscape kit includes a polarizing filter, a six-stop infrared blocking ND filter, a medium graduated ND filter, and a protective carrying pouch. The company says the new Square Filter system for iPhone can rotate a full 360 degrees and offers no vignetting up to a 0.5x magnification.
The Filmmaker kit uses stackable round filters that include the IP-A filter holder, a 1/4 Black Mist filter to highlight blooming and create a "cinematic" look, and a True Color ND-Vario 1-5 stop filter to ensure users achieve the correct exposure on 0.5x magnification, and the carrying pouch.
The Cinema Kit includes the same filters as the Filmmaker kit but adds the specialized Allure-Streak Blue and Allure-Streak Orange filters which are supposed to emulate the anamorphic lens flare and create symmetrical streaks from any point light source.
NiSi says this expansion of its smartphone-focused products brings improved build quality and usability over the previous P1 kit filters while at the same time narrowing the brand's compatibility with just the Apple iPhone line of devices (at least for now).
The new filters are not currently listed on the company's United States-based website but are available for pre-order through Amazon in Europe with prices starting at about $70 for the Landscape kit, $148 for the Filmmaker kit, and $198 for the Cinema kit.
---
Update: The set is now available on the NiSi USA website here.