Flat and Fun 16MP Digital Camera is Made out of Paper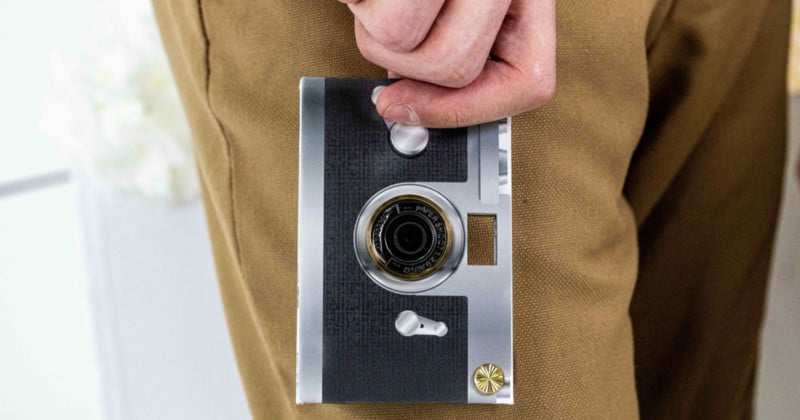 A Lomo-inspired digital camera made out of paper that can shoot 16-megapixel still images and film 1080p video is the 21st-century answer to a disposable camera.
Spotted by Mirrorless Rumors, the Paper Shoot Camera was designed as a digital version of a throw-away film camera, using recyclable materials to keep the design sustainable.
But what makes this camera stand out from other paper and cardboard cameras out there is that it has a face and back which makes it look like a real, yet thin film camera, like those classic two-tone silver metal and black Lomo style cameras from the 1960s or 1970s.
The camera looks to carry much more than just a rudimentary imaging system on printed cardboard. The paper camera offers a 16-megapixel image sensor, 1:2.0 focus-free lens, auto-white balance and exposure compensation, a simple viewfinder for framing pictures, and a micro-USB interface for data transfer. It runs on AAA batteries.
The camera also has a simple, one-button shutter, plus users can add a multifunction SIM card that brings four filters to satisfy the Instagram crowd, including color, black and white, sepia, and cool tone. The camera can also take 10-second 1080p video clips and offers timelapse.
Outside of these basic features to grab those so-called "Kodak moments" when a smartphone isn't around, it could be an interesting toy for a shutterbug to play with, or to keep in a back pocket or pocketbook.
Because the camera looks like a real camera from a distance, it may make for a fun gift for a child who has shown some interest in photography. It's likely though that since this camera is made with a cardstock paper shell, it won't be very water or dust resistant, even though the company claims otherwise.
Since it has space for a micro-SD card to store the images, even when the camera does finally die due to wear and tear, the images can still be kept instead of the alternative, which would be to lose them when the fragile electrical connections break down.
The Paper Shoot camera can swap out a variety of covers, which gives users the option to look like different camera models or colors.
There are also lens accessories including a "micro effect lens," wide-angle lens, and a radial effect lens. Though seen exclusively in China, the Paper Shoot camera is making now available in North America for starting at $120 at Paper Shoot Camera's website.