The Jollylook Pinhole is a DIY Bellows Camera That Takes Instax Film
The latest vintage pinhole camera from Jollylook is an Instant Print Pinhole Camera crafted out of recyclable wooden materials.
The DIY camera kit enables users to put together their own vintage bellows-style pinhole camera and take polaroid-style instant print images. It has a mechanical shutter lever to open and close the pinhole aperture.
The Jollylook Pinhole Camera is laser cut from recyclable laminated natural wood fiber boards and will come in two styles – stained and natural wood, which can be ideal for decorating yourself. It comes with easy-to-build instructions and the team says users can build the camera in one and a half to three hours.
The design features a Fresnel lens viewfinder and has a 0.38mm pinhole and a focal length of between 50mm and 110mm. The focal length can be "zoomed" by sliding the bellows forward and backward to adjust for size.
Being purely mechanical in design, the camera has no need for batteries or a power supply and the company says that no glue is required in the assembly process.
The team says it is easy to use, and setup is as simple as unfolding the bellows. To capture a photo, it can either be placed on on a flat surface or attached to a standard tripod with the built-in 1/4-20 inch tripod thread. To store, the bellows collapses the Pinhole Camera into a box shape the size of an iPhone, which the company says makes it easy to put in a pocket or purse.
The camera takes Fujifilm Instax mini instant print film and will be able to capture both color and monochrome analog photographs that are 62mm by 46mm in size. To take a picture, users adjust the settings for auto exposure with the exposure calculator on the back, then press the shutter release lever to open the pinhole. The photo can then be extracted with a turn of the camera's development crank.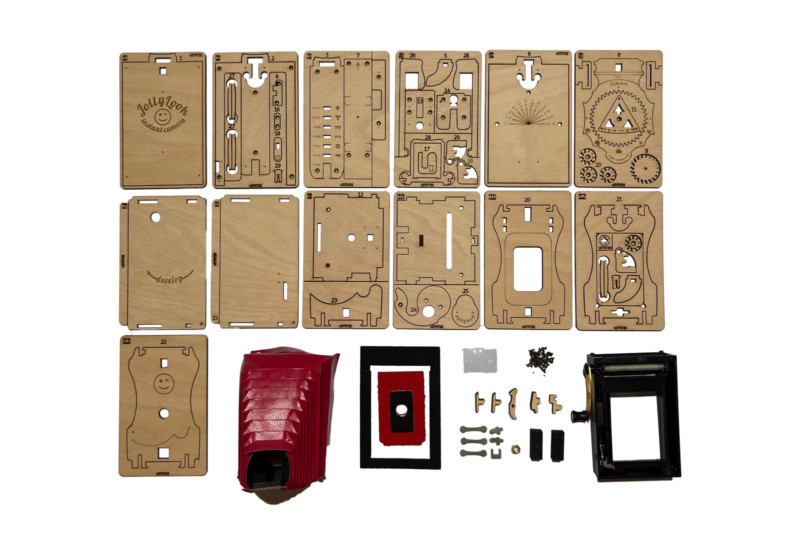 Though the team putting together this vintage design are from Ukraine, they have relocated to Zvolen, Slovakia due to the Russian invasion of their country. The company has completed the design and says it has everything needed to organize and begin large-scale production.
The crowd-funding campaign on Kickstarter, which has surpassed its initial goal of $20,000, has thirty days to go, and the camera is expected to ship to backers in November of 2022. The Jollylook Pinhole Instant Camera can be backed for as low as $69 through the company's Kickstarter page.
---
Disclaimer: Make sure you do your own research into any crowdfunding project you're considering backing. While we aim to only share legitimate and trustworthy campaigns, there's always a real chance that you can lose your money when backing any crowdfunded project.