Jollylook Auto is a 'Modern Vintage' Instant Film Camera
Back in 2017, the Ukrainian startup Jollylook unveiled the world's first cardboard folding instant film camera. Today the company is back with a new "modern vintage" Instax camera called the Jollylook Auto.


The camera is "a modern, vintage-styled fold-out instant film camera, combining a classic design with environmentally friendly materials, a manual development mechanism, automatic shutter, and a flash," the company says.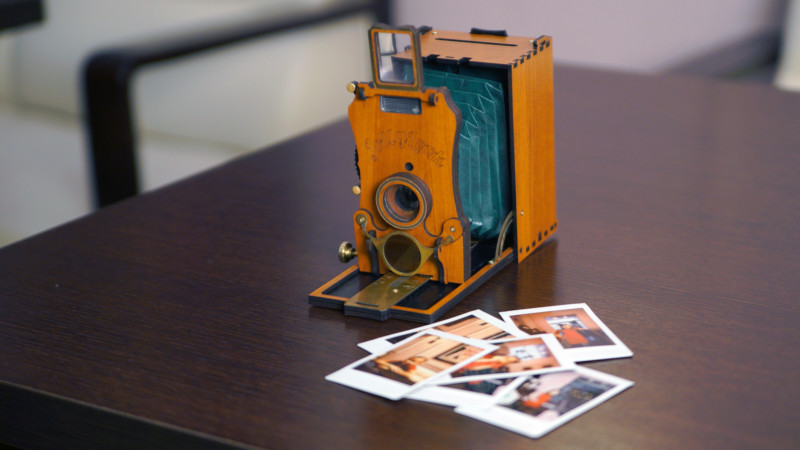 The Jollylook Auto offers the same old-school folding-camera design as the original Jollylook in a body that's a recyclable and biodegradable laminated fiberboard rather than cardboard. The camera collapses down to the size of a smartphone box, making it easy to carry around in a jacket pocket or bag.
And while the original camera was (understandably) completely manual and mechanical, the Jollylook Auto features auto-exposure capabilities and a built-in flash. Focusing on the camera is achieved by precisely moving the front lens board forward and backward along the distance scale.
Aperture can be one of five values: f/16, f/22, f/32, f/45, f/64 + pinhole. Shutter speed (set automatically by the light sensor) ranges from 1/200s to 60s (plus Bulb).
Above the 110mm acrylic meniscus lens are a built-in flash and a Fresnel reduction lens viewfinder.
Other features and specs of the camera include multiple exposures, an attached polarizing filter, a standard tripod mount, an internal lithium-ion battery (with microUSB charging), a battery life of ~80 photos, a manual crank drive film ejector, a weight of 15oz (420g), and two color options.
Here are some sample photos captured with the Jollylook Auto:
Jollylook has launched the Jollylook Auto through a new Kickstarter crowdfunding campaign.
If the project is successfully funded and delivers on its promises, the first cameras should be shipped out to backers in November 2020.