Peter McKinnon's Camera Tool is a Swiss Army Knife for Photographers
Professional photographer and Youtube creator Peter McKinnon has unveiled a new camera tool. The Swiss army-style PM Camera Tool comes with multiple drivers, a host of 1/4 inch hex bits, and even a secret slot for an extra SD card.
McKinnon has been a YouTube sensation almost from the very beginning, having reached over one million subscribers in nine months. A few years ago, he introduced his first photography product through a partnership with Polar Pro, which was a Variable Neutral Density filter.
Now McKinnon is back with his PM Camera Tool, spotted by DPReview, which features all the standard Phillips and flathead drivers, plus a pair of custom concentric extension arm bit driver tools that magnetically accept multiple 1/4 inch hex bits designed to work on camera setups using multiple screw types and sizes.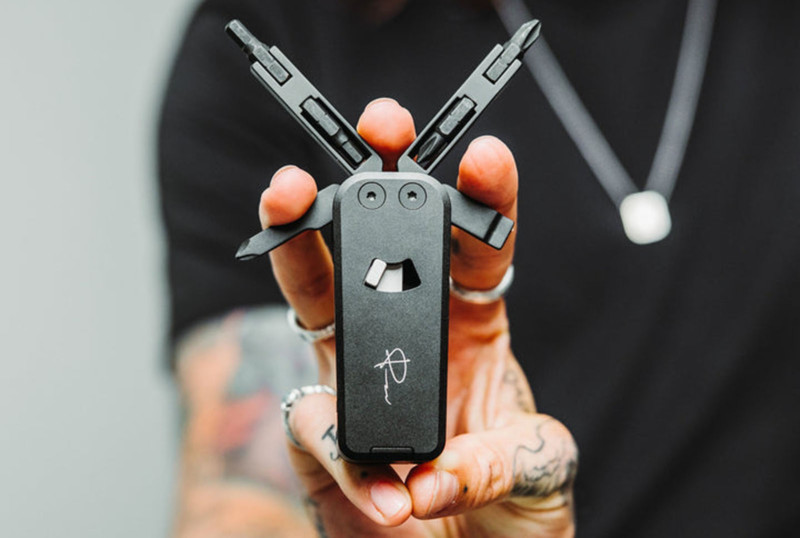 McKinnon says he spent the last 18 months designing and prototyping the PM Camera Tool chiefly because no other tool was able to meet his demands for usability.
"I've never really been stoked with the camera tools inside my backpack," says McKinnon in his announcement video.
"No matter what kind of camera you have, or what sort of rigging or any job you're doing, this tool will adapt to you."
What took McKinnon so long to refine his patent-pending tool design was his desire to have the bit drivers lock into the absolute center of the tool when extended. In a typical design of this type, the tool locks into place on the left or right side, which McKinnon says affects the user experience. He wanted them top dead center when they are extended for use, and that took a while to properly dial in.
The tool also has a lever that kicks out the drivers to either side, rather than having to dig a fingernail in to grab a hold of the tool to then extend it. The bit drivers are also slotted, and magnetically house favorite bits that will be used for a special job or project. The tool is crafted with scratch resistant 6061 anodized aluminum scales, hardened 17-4 stainless steel internals, and S2 Tool grade steel hex bits.
Finally, the tool also has a hidden SD card slot to house an extra media card so that the photographer is never without a card when space runs out, or becomes corrupted. The tool comes with a high-quality zippered pouch for storage, and fits comfortably into a front pants pocket, with a metal clip to secure it.
The minimalist-designed box also has printed directions on how to use the tool and a visual inventory of the eight bits included in the collection. The tool alsoomes with a lifetime warranty.
The PM Camera Tool stands at a preorder price of $95, and there's no set shipping date as of this publication. McKinnon says, however, that he's going to make a limited number available on his companion website PetesPirateLife.com for field testing. Currently, it's listed as "sold out."
---
Image credits: All photos by Peter McKinnon.