The DayChaser by Moment is a Versatile Travel and Camera Backpack
Moment has partnered with photographer and filmmaker Emmett Sparling to release the DayChaser, what it describes as the most versatile travel and camera backpack on the market.
The company says that the 35-liter bag is more than 18 months in the making and represents a combination of Sparling's input as a working travel photographer and Moment's internal bag design team. Given that its last backpack, the Strohl, is one of PetaPixel's top picks for backpacks, Moment has proven to be capable of designing reliable bags.
The DayChaser is described as having "military-grade" performance of weight distribution, support, and waterproofing combined with protective yet easily accessible camera bag demands. It also considers the needs of a travel pack, such as solid organization, rugged design, and security.
Moment seems to understand that there are hundreds of bag options that could be considered as the DayChaser's competition and says that it is made unique by a combination of a few factors.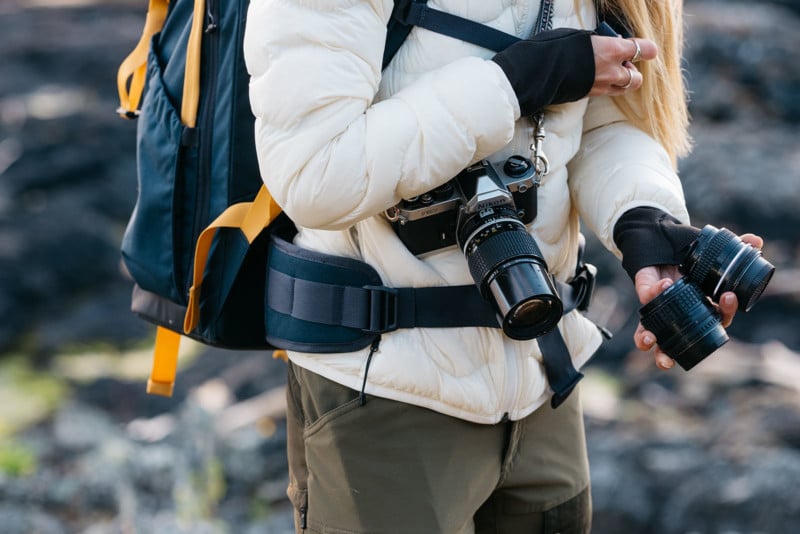 First, the DayChaser promises "incredible" weight distribution. The company says that travel bags must be comfortable, yet when combined with the needs of a camera bag they can become extremely heavy. Moment created a custom harness that it says delivers better performance than anything it could find on the market.
The strap has four points of adjustment, a channeled back panel and spacer mesh for the "best" airflow that also helps avoid chafing. It also uses what Moment describes as a full-frame military-grade harness, a full-size hip belt to help distribute weight, and custom foam.
Second, Moment says that the bag's interior allows for "unlimited" packing configurations. The company says that travel is unpredictable and so the DayChaser needed to be able to adjust to any configuration. The team believes the bag meets those demands.
Lastly, the bag has been designed for travel as much as for camera carry. The bag is made of a "super rugged" DWR impregnated 500D KODRA fabric with a double-layer waterproof backing. As a result, the bag is durable but Moment says it is still light, and some uncoated fabrics and lightweight padding helpt the overall empty weight to five pounds, two ounces.
As a camera bag, the DayChaser has side-access that allows photographers to get to their cameras without fully taking the backpack off. The bag's laptop sleeve is fully protected by the metal harness system and padding and a buckle-secured flap prevents people from unzipping the pack without the wearer knowing.
The DayChaser is available to back on Kickstarter for as low as $200, $100 less than Moment says it will eventually retail for. The company is aiming for a January 2023 release.
---
Disclaimer: Make sure you do your own research into any crowdfunding project you're considering backing. While we aim to only share legitimate and trustworthy campaigns, there's always a real chance that you can lose your money when backing any crowdfunded project.