Moment's New Adventure Camera Bag Claims to Be the Lightest Ever
Moment is more known for its phone accessories, but today has launched what it claims to be the lightest outdoor camera bag available for the adventurous creator who wants both a mountain pack and a camera bag all in one.
The Strohl Mountain Light Backpack is the company's latest and was designed in collaboration with photographer and filmmaker Alex Strohl. Strohl says he traveled all over the world taking photos for different brands but struggled to find a bag that fit his active work and lifestyle as well as his photography needs.
"The Strohl Mountain Light is the first, ultralight outdoor camera bag. Designed by Alex Strohl, you no longer need to choose between a mountain pack and a camera bag. With this bag you get both," Moment says.
Designed by Moment and based Strohl's travel experiences and preferences, the company says the resulting backpack is lightweight and nimble and is suited to both day hikes and overnight stays. It is weatherproof and made out of "rugged" custom materials, purposeful external storage, and modular elements which Moment says makes the bag adaptable for different types of journies. The Strohl Mountain Light Backpack also has a quick-access back panel and a compact camera unit.
The bag weighs only 1 kilogram (2.2 lbs) but has a 45L capacity, making it exceedingly light for how much storage it can accommodate. It also has stretch shoulder pockets that can hold water bottles, phones, and snacks, while the larger outer stretch pockets can hold equipment. For hiking, the bag has attachment loops for ice axe or trekking poles and side straps that can hold a tripod, tent poles, and other long items.
The internal frame is removable which makes it adaptable to different tasks and the expandable drawstring top closure adds another 10L of storage capacity.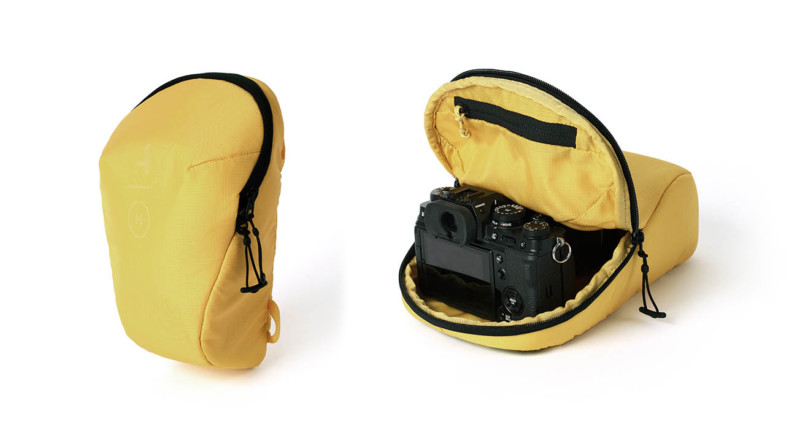 Moment and Strohl also designed two modular inserts: the Strohl Mountain Light Camera Loader — which is waterproof and has low profile padding — and the Strohl Mountain Light Camera Insert that supposedly keeps the equipment organized in the bag. The padded dividers can be changed around or removed if not needed.
The bag comes in a choice of blue, yellow or black, and is available for $199, while the camera loader and the camera insert cost $60 each, and are available immeidately on Moment's website.