Visually Striking Images Meld Photography and Digital Art
Photographer Alex Hyner creates multi-layered photographs sourced from thousands of images he's taken of skies from all around the world.
Hyner typically uses anything between 15 and 30 different photos in one of his artpieces, and it can include moons, suns, birds, and jet-streams.
He tells PetaPixel about the complex process he uses to build up his striking and unusual art works.
"When I start pulling in photos, I try to have some foundation to build upon. For instance with 'Party Skies' which was made during the height of the pandemic, I was daydreaming about tropical climates, so I knew I wanted to bridge three island photos of mine at the bottom and work my way up to the sky."
Hyner posted his photo, Party Skies, to Reddit where it received over 40,000 upvotes.
One commenter wrote: "I love the color palette so much. The moon, lightning, and other little details in the piece really make it interesting. The composition is also very strong as the use of line with color guides the eye around the piece."
Hyner explains that it is pieces like Party Skies that take the longest because of the tedious prep work selecting the areas between the power lines.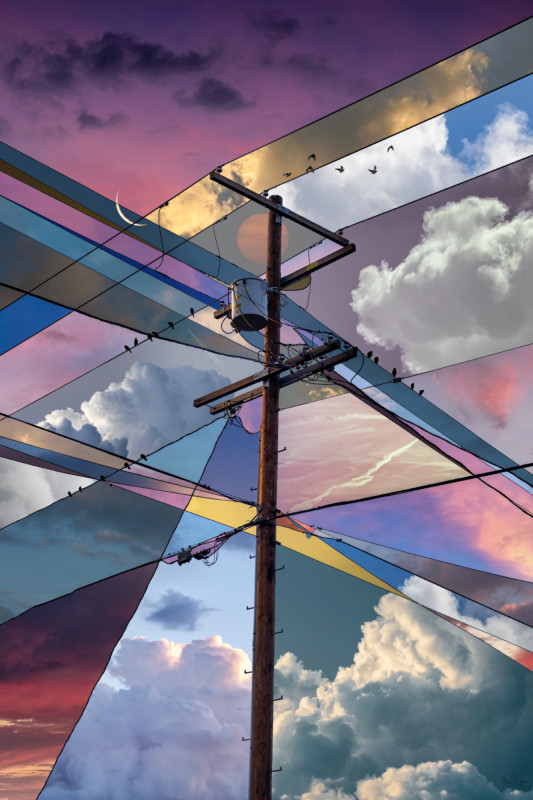 "New sky selection tools in Adobe Photoshop help, but they don't get me all the way there. Once that step is completed, I comb through thousands of photos I've shot since 2014 (when I got my first Canon) and pull the images that might go together.
"Then it takes maybe a week or two of trial and error, testing various skies, moving shots around, deleting the whole thing, starting again, going outside for a walk, and then finally finishing. It can be a brain-scramble, but I love seeing the puzzle come together."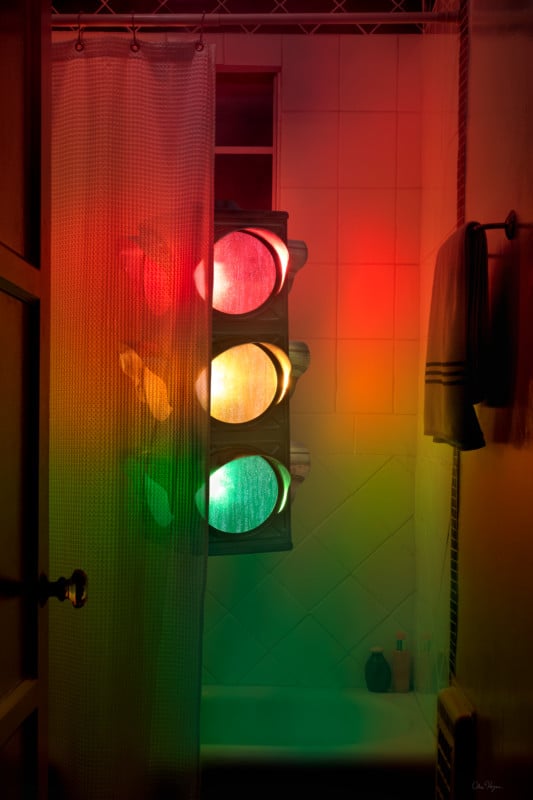 Aside from the labyrinth pieces like Party Skies, Hyners also creates conceptual photographs using television and moons as themes.
"The TV shots, which I'm personally fond of, are a blast to make. I pick a movie and then loosely theme the shot around not what the movie is about, but what my ideal viewing situation would be like. I set up and play with an array of props and then I actually take long exposure shots in total darkness and light everything up close with a flashlight," says Hyner.
"Then in Photoshop, I sort of paint all the layers together. That's how I achieve that specific look."
Hyner, who lives in Los Angeles, uses a Canon 5D Mark IV to create his works and says he finds his photography therapeutic and enjoys making whimsical images
"Ultimately, I just make images that I want to see. I tend not to ascribe meaning to any of them," he adds.
For more of Hyner's work visit his website, Instagram, and Twitter.
---
Image credits: All photos by Alex Hyner.