Striking Portraits of People Covered in Thick Layers of Multi-Colored Paint
Renowned commercial and fine art photographer Tim Tadder recently captured a new collection of striking, technicolor portraits in which he shows bald, black-paint-coated subjects in the process of being covered in multiple primary colors of thick paint. The juxtaposition is stunning.
The project is called Black is a Color, and it builds on the fine art portrait work that Tadder has been doing for several years now. A natural extension of his Nothing to See and United States of Purple series, Black is a Color continues to explore "the value of truth, unity, and free-thinking in our current socio-political landscape."
"At a crucial time for the nation to unite, I hope this collection encourages empathy, unity & a non-binary view of race. Black is a color challenges one to see past profiling & foresee the beauty that is capable of elevating the human experience." explains Tadder in his artist statement. "Black is a color demands that we look past skin tone, & into beautiful, infinitely complex humans."
You can see the process that went into capturing these images and hear more about Tadder's message in this brief BTS video:
As Tadder explains in the video, bringing this vision to life was anything but easy, especially for his models Kimberlee Howe and Mohamed Ouedraogo.
"It's one thing to have an idea, and then it's another thing to go create that idea. The simple process of covering someone in 1/4-inch or 1/2-inch of paint is not easy," says the photographer. "They're human beings that need to breath. There's a level of uncomfortableness to it […] They have to slow themselves down almost like they're under water."
Fortunately, the resulting images seem to be worth the discomfort. Captured from multiple angles and in multiple technicolor states, the portraits are dramatic and, at least if Tadder has achieved his goal, thought provoking as well.
Here's a closer look at a small selection of images from the full series, which is being exclusively exhibited at Avant Allery: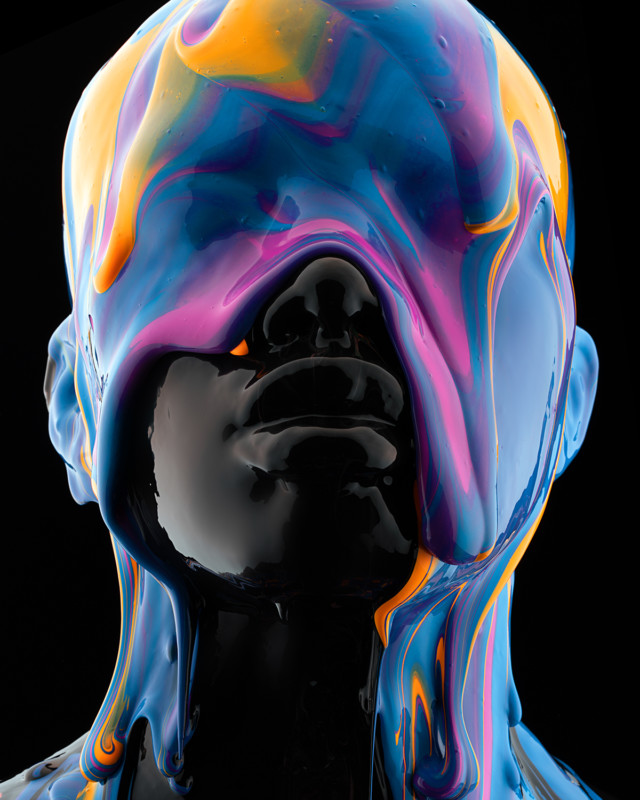 To see more photos from this dramatic project, or explore the rest of Tim's fine art work, head over to his website or follow the artist on Behance and Instagram.
(via Colossal)
---
Image credits: All photos by Tim Tadder and used with permission.