Cindy Sherman in 1985: Photographing the Photographer
On Halloween, October 31st, 1985, photographer Jeannette Montgomery Barron toted her trusty Hasselblad and tripod and arrived for a portrait session in downtown New York. Her subject was famous photographer and artist Cindy Sherman.

Sherman once said, "I wish I could treat every day as Halloween and get dressed up and go out into the world as some eccentric character." But this Halloween day, she would not be adorning herself with wigs and taking self-portraits "as the 
jaded seductress
, the 
unhappy housewife
, the 
jilted lover
, and the 
vulnerable naif
" as Kristen Gaylord, Beaumont and Nancy Newhall Curatorial Fellow, Department of Photography,
MOMA
described some of her personas.
When Barron arrived, Sherman was dressed in a simple shirt and pants; that was how she was photographed. Barron just presumed that she wanted to be photographed that way and did not ask her to change or get into one of her characters.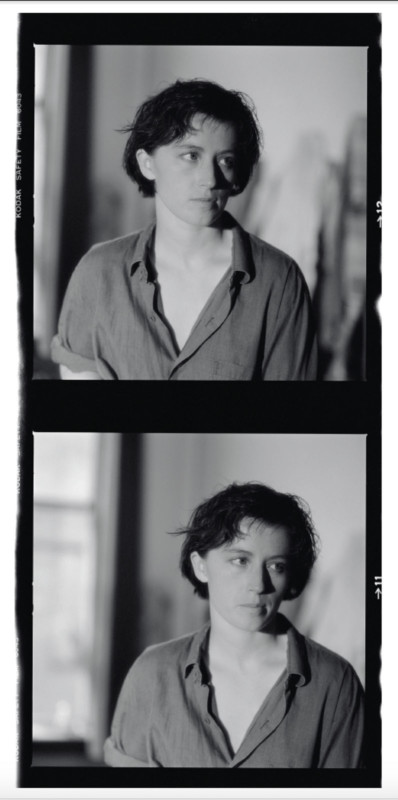 Barron was a little nervous as she entered the famous photographer's downtown studio.
"I'm always nervous before a shoot — even now — but that goes away once I'm in the door and behind the camera," Barron tells PetaPixel. "She [Sherman] seemed pretty comfortable, but I really don't know! I hope she was."
The Simple Camera Tech
Barron, whose photographic mantra is "keep it simple," placed her Hasselblad 500 C/M on a tripod (as that was her preferred mode with the rather heavy square format camera) and slapped on a Carl Zeiss Sonnar 150mm f/4 (a simple four-element, three-group design that took great photos even in the earlier uncoated versions). The 120 film was Tri-X 400, and she exposed 4-5 rolls in the next about one hour that she was there.
The shoot took "less than an hour, I think," Barron recollects. "I never stay too long."
It was all shot in available window light – no reflectors.
"Maybe once or twice in my career [I have used a reflector]," she explains. "I hate those things — can never get them to fold up!"
Barron placed her in Rembrandt lighting from the windows and measured the incident light hitting her face as she was concerned about getting a good exposure.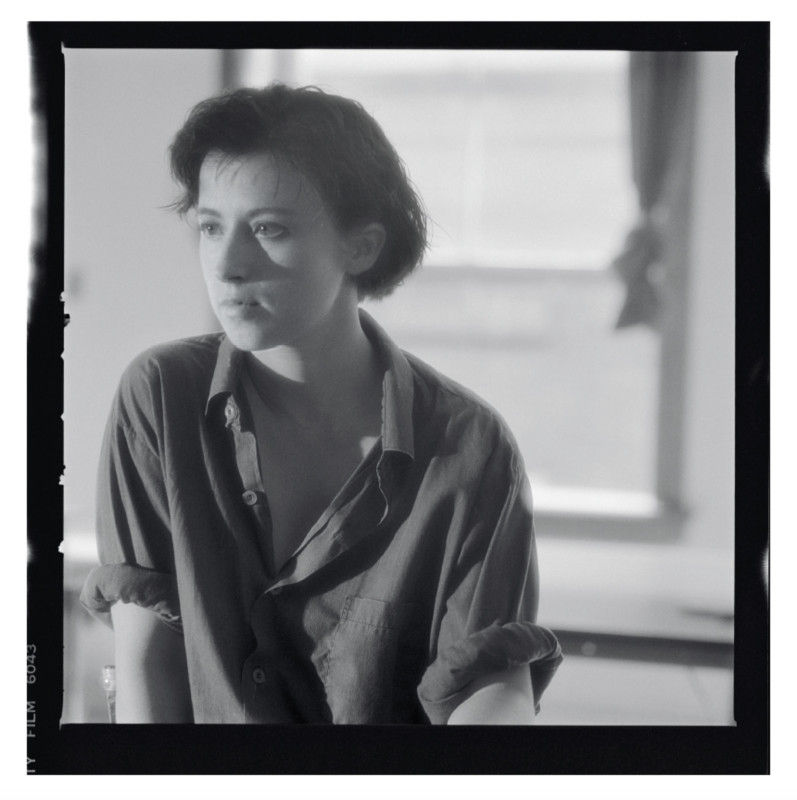 "I placed her in that light — it just seemed right," says the photographer. "I always used a Sekonic light meter. I always was [worried about correct exposure] and always will be. I think the worrying keeps me on my toes.
"I'll let you in on a little secret — back then, I sometimes used a softening filter, especially when photographing women." [She lets me in on her secret when I tell her that I am seeing something unique in the soft skin tones.]
This simple arrangement allowed Barron to operate single-handedly without any assistants or help.
"I only had assistants on commercial jobs," she says. "When I'm taking a portrait, I like the intimacy of being in the room alone with the subject."
Barron Started Young in Photography, Very Young!
Barron developed familiarity with roll film when she started taking pictures with a Kodak Brownie at age nine in Atlanta, where she was born. Next in line was a Polaroid Swinger.
"At around 14 or 15, I bought a used Mamiya 35mm camera," remembers the portraitist. "When I was in my early 20s, I bought a used Hasselblad 500 C/M and that was my preferred camera for years. I've gone through a few Hasselblad bodies and many film magazines since then — I still love that camera.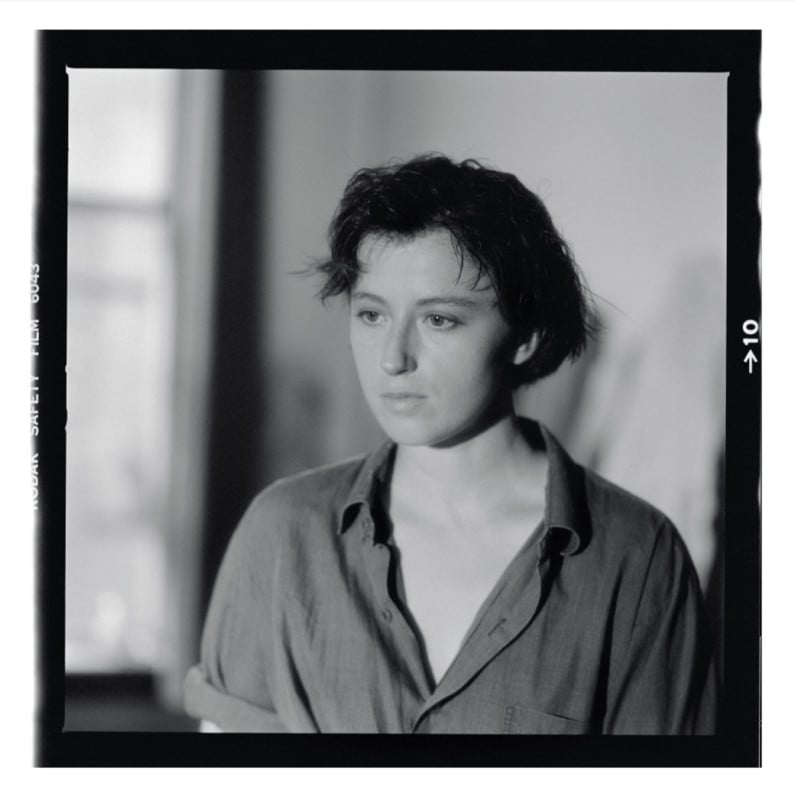 "My father was a very good amateur photographer. He had a darkroom and taught me how to print. That was a lightbulb moment for me. I became a full-time photographer in my early 20s."
Barron was so anxious to get into photography that she left college at the end of her first year to study at the International Center of Photography at its original location on upper Fifth Avenue in New York City. She spent three years there, from around 1977 to 1980.
Right around that time, Kathryn Bigelow (the first woman to win the Academy Award for Best Director with The Hurt Locker) and Barron's brother Monty Montgomery were shooting Loveless with William Dafoe's first leading role. She landed the job of still photographer and learned a lot from watching the cinematographer and lighting crews.
Barron's true love was portraiture, and before arriving at Sherman's doorstep, she had taken a good number of portraits — 20 or 30.
"For the portrait on Halloween Day 1985, I had called Cindy in advance and made a date to come down and photograph her in her studio," the photographer remembers. "That's the way I did it in those days. It was very simple, actually — no emails and texts back and forth, just a phone call. Hard to imagine these days."
The Book and Limited-Edition Portfolio
Fast forward to 2020, and Nick Groarke of NJG contacted Barron right after seeing an article From Warhol to Basquiat: behind a revealing set of artist portraits in The Guardian.
"He wanted to discuss possibly doing some projects with me," says Barron. "Since this was during the pandemic and we also live on different sides of the ocean, we had many Zoom meetings and designed the Cindy Sherman book virtually.
"We finally met in person a year and a half later and spent a day in my studio looking at everything for future projects. We have many books and projects in the works right now."
CONTACT (NJG, 2021) is the complete sitting of forty Cindy Sherman portraits, including four contact sheets and the photographer's original markups in Sherman's studio. What characterizes these portraits is a kind of transparency, a truth of sorts. Photographed without the fanfare of the assorted props, makeup, or wigs, Sherman is her own subject.
The book is called Contact because there are contact sheets shown in the book.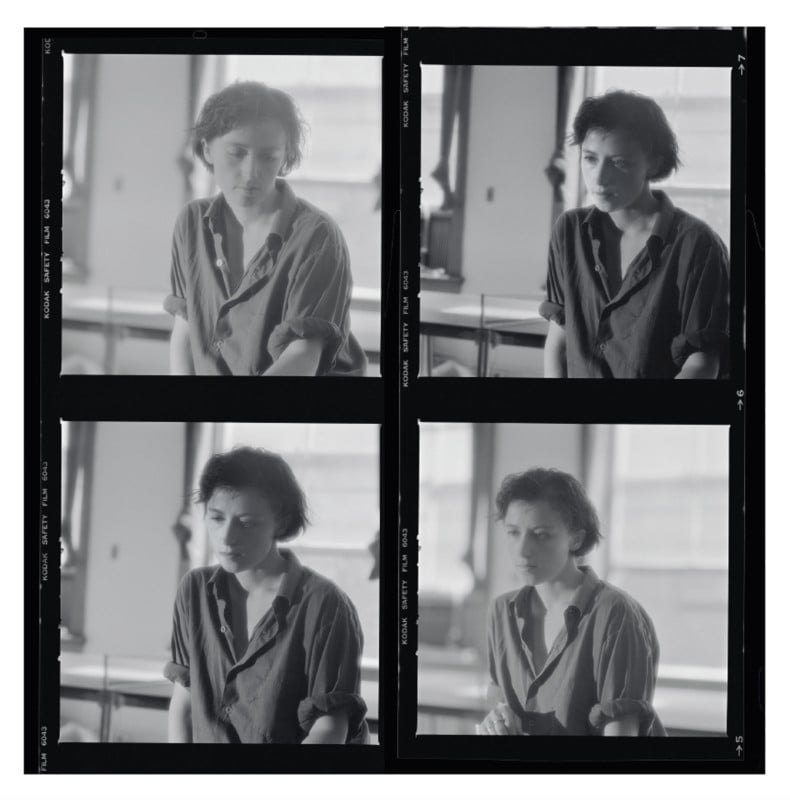 "I think it also could refer to having the kind of contact one has when taking a portrait," explains the artist.
Hahnemühle FineArt Photo Rag is the paper that Barron now uses for all her digital printing.
"And I have three printers," says Barron. "Chad Kleitsh in Rhinecliff, New York, and Jochem Schoneveld in Rome, Italy (I work there a lot). And Pete Mauney in Tivoli, New York, makes my silver prints and does all my drum scans."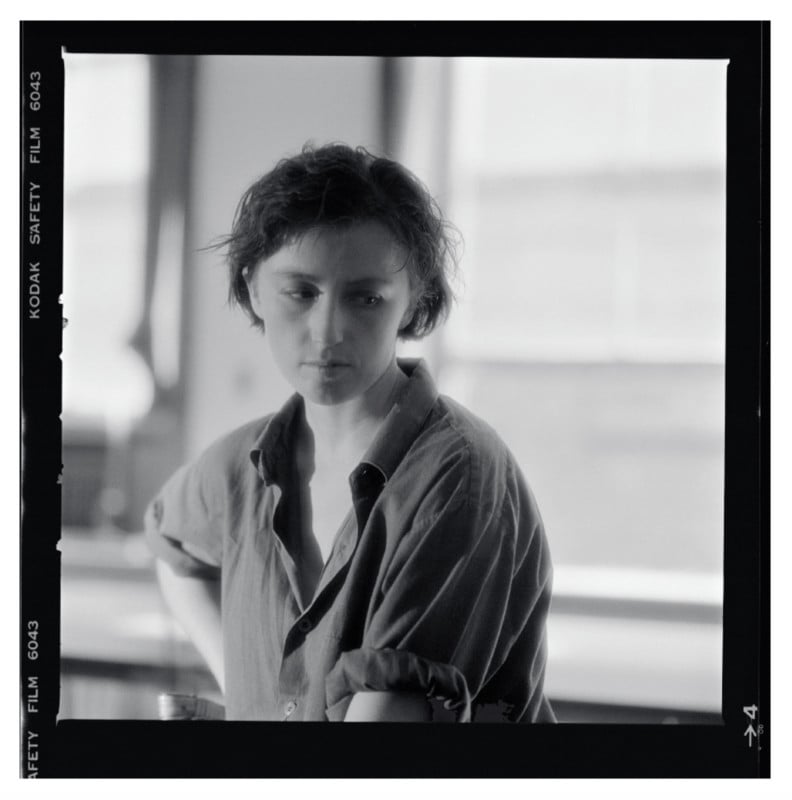 On Going Digital
Barron adapted to digital very slowly. In fact, she resisted it for a long while and her analog photographer friends told her not to do it. Eventually, she did make the switch.
She still shoots on film, but digital makes up for 80% of her work these days.
Barron, who lives in Connecticut and Rome, Italy, for part of the year, currently uses Fujifilm's GFX system, including the smaller Fujifilm X100V.
"I also love my Fujifilm GFX670 film camera," she says. "I use it on the 6×6 mode. And I still use my Hasselblad occasionally. I love the iPhone and use it for my Table Tops.
"I've even taken some nice portraits with my iPhone. The great thing is it's always with me, so I never miss a photo. I took many photos for my book, Roman Hours, with an iPhone."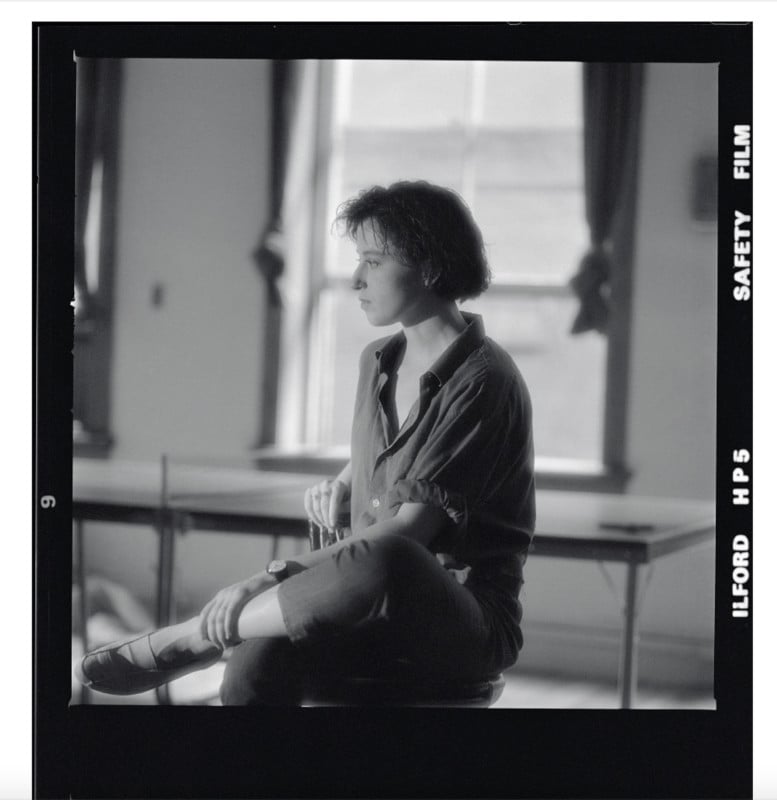 Barron loves photographing artists and creative people.
"I would say that Cindy is one on the top of the list," she says of her most memorable subjects. "Jean-Michel Basquiat, Jasper Johns, Keith Haring, Bianca Jagger, and Ryuichi Sakamoto all come to mind. I just photographed Eileen Myles out in Marfa, Texas, and loved that experience."
Barron's all-time favorite image is her portrait of Jean-Michel Basquiat.
"I like the way he seems to be emerging from the shadows — I think it kind of reflected what was happening in his life at that moment," says the photographer. "I also like the way he's looking at me so directly. I did set up Lowel Tota-Lights for that shot."
"One of the great things about being a portrait photographer is having the opportunity to meet all of these fascinating people. And some of them become friends."
Barron seems to have done it all in the last four decades, but she is far from done.
"Right now, I'm on a real portrait jag and loving it," she admits. "I'm always taking photos of Tabletops with my iPhone, especially when I'm in Italy. And I'll get back to my color Mirrors (shot with my Fujifilm GFX) later this summer. I'm in the middle of designing a few books and a magazine shoot now, so I have a pretty full plate."
---
About the author: Phil Mistry is a photographer and teacher based in Atlanta, GA. He started one of the first digital camera classes in New York City at The International Center of Photography in the 90s. He was the director and teacher for Sony/Popular Photography magazine's Digital Days Workshops. You can reach him here.
---
Image credits: All photos by Jeannette Montgomery Barron and courtesy of  NJG.