Photographer Creates Epic Night Sky Panorama Using Ordinary Cameras
Photographer Samy Olabi spent a total of 70 nights over the course of four years capturing 12,200 photos that took a combined 2.2 million seconds to expose in order to capture the night sky using a mixture of DSLRs and mirrorless cameras.
Olabi is an accomplished astrophotographer who previously shot miniaturized scenes using the real Milky Way Galaxy as a backdrop. Over the last four years, he has been working on a new project to capture the night sky as seen from the Northern Hemisphere using conventional DSLRs and mirrorless cameras and without a telescope.
With practicality and portability as his main concern, Olabi wanted to get the best possible results without any kind of guiding system, astronomical cameras, or telescopes. To speed up the process, he used multiple cameras with simple tracking mounts and different focal lengths.
"It is a proof of concept that with the right recipe you can achieve perfect results. All you need is some knowledge with some tools and techniques," he says.
The finished mosaic was captured from the dark corners of the Middle East, in and around the United Arab Emirates where he is based.
Pre-Production
"Stepping into Deep Sky Astrophotography was a continuation of my astrophotography career," Olabi explains. "I wanted to do something different, moving from one project to the other is what keeps my enthusiasm and passion ignited over the years."
He says he believes in thinking outside of the box and deviating from what a photographer "should" do, and points to his previous miniature series as an example of that line of thought.
"I do not want complications, I do not want wires, computers, power generators, telescopes, or heavy mounts," he says.
After some serious research and thought, Olabi came up with a method that would use a set of small, portable, and easy-to-use pieces of equipment that he would rely on for the project. He would use a mixture of a Nikon D780, D810A, and Z6 combined with a set of 10 lenses: a 20mm f/1.8, 24-70mm f/2.8, 50mm f/1.4, 50mm f/1.8, 85mm f/1.4, 135mm f/2, 70-200mm f/2.8, 300mm f/4, 500mm f/4, and a 600mm f/4.
He combined these cameras and lenses with a Skywatcher Star Adventurer celestial tracking platform and the Ioptron SkyGuider Pro and CEM25P mounts.
After he assembled his tools, he needed to plan the shoot carefully around moon phases and weather conditions. He also had to consider light pollution which limited where he could shoot from. He leaned on his database of locations in the UAE that he previously put together.
The Capture Technique
Olabi says that one single final image in the above mosaic is actually the result of shooting four types of frames. To explain his process, he points to one celestial object, the Rosette nebula, as an example.
"The first step after aiming your lens to the object is to start exposing your sensor to the light emitting from that object, this is why we call it 'Light Frames,'" he says. "It is a process of collecting data of the same object repeatedly a number of times. [It is] similar to interval time shooting in timelapse, but the only difference is that the camera is moving with the Earth's movement, keeping the object centered in the frame."
He took shorter exposures with higher ISO combined with a faster aperture, increasing the number of frames he collected and could later stack. He says this technique reduces the random noise significantly and increases the signal to noise ratio.
"The secret lies in the calibration frames, which meant to eliminate the imperfections either from the sensor or from the glass," he says.
He says that because of the number of images he captures, properly managing the data and eliminating all of the unwanted or faulty frames is essential for the next step: post processing.
This stage is extremely lengthy and requires a ton of time and computer resources, he says.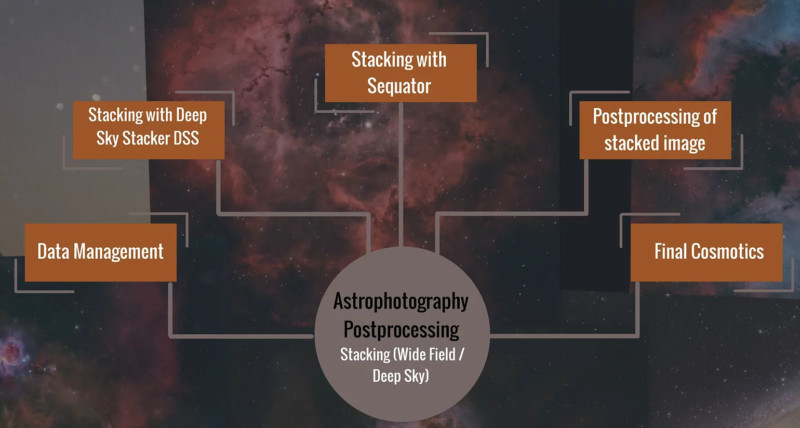 "Each deep sky object image takes around three to four nights of shooting and can take the same amount of time if not more for post processing," Olabi explains.
Still More to Capture
Despite the vastness of what he has already created and the years it has taken him, Olabi says that there is still more to do.
"I reached some kind of an accomplishment in this project, but I feel that I am still far from being done with it. There are lots of objects that I still need to capture, and there are objects that I need to revisit again. Some objects will require travel to the southern hemisphere," he says.
"Maybe this is the beauty of the whole thing: I am always looking forward to the next step."
Details on Olabi's method and more photos from his composite image can be found on his website.
---
Image credits: Photos by Samy Olabi