Micron's Record-Setting 1.5TB microSD Card Stores 4 Months of Video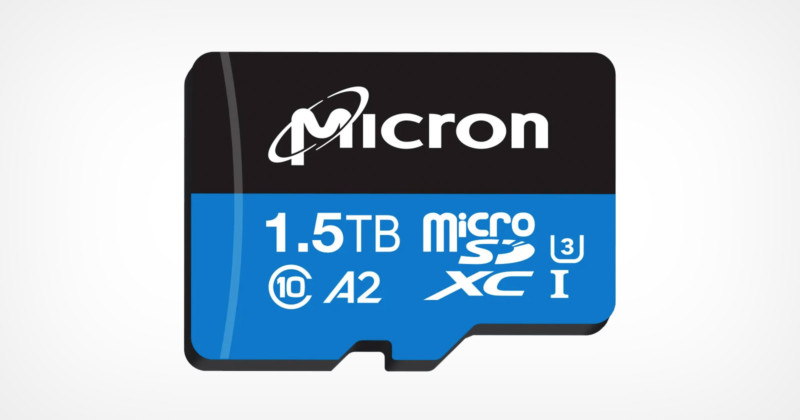 Micron has announced that it has created the world's highest-capacity microSD card that has the "unprecedented" density of 1.5TB. Called the i400, it is designed for use in industrial-grade video security systems.
The company says that the 1.5TB capacity can store up to four months (or 120 days) of video security footage locally and eliminates the need to continuously upload that footage to the cloud for primary storage, a situation that Micron says "guzzles" bandwidth and adds to operational expenses.
The card is aimed at small businesses who are looking to reduce bandwidth expenses as well as operations that work in remote locations, such as cargo ships or oil rigs, that have limited connectivity to the internet. Instead of needing to constantly upload footage, the i400 allows them to only periodically upload the footage to the cloud for backup and use the new microSD card as the primary storage for long periods of time.
Not only can the i400 microSD card store up to four months of video, but it is also rated to be able to withstand continuous, 24-hour-per-day recording for five straight years.
Micron says that unlike most consumer-grade cards that have a limited write capability, the i400 can concurrently handle 4K video recording and up to eight artificial intelligence events per second, such as object detection and classification like license plate or facial recognition. The company says it rates the card to last for two million hours on average before it fails.
Micron's i400 is rated as a U3, SDXC 1, Class 10, A2 microSD card. All these terms are explained in PetaPixel's guide to memory cards, but in short, the card is fast enough to handle light 4K video loads at lower bitrates, which is exactly its intended purpose.
These kinds of microSD cards that are designed for surveillance are becoming more popular as companies and consumers equip more devices with cameras (dash cameras, for example, are becoming increasingly used). Samsung recently announced a new set of memory cards that may not come close to the 1.5TB capacity of Micron's i400, but they are able to record for longer: 16 straight years.
The i400 microSD card is currently being sampled to prospective customers and Micron hasn't said when it will have wider availability nor what it will cost.