Sandmarc's New Mini Slider is Made for the iPhone and Action Cameras
Sandmarc has announced a compact and lightweight cinema-style camera slider designed for use with the iPhone and action cameras.
The new Cinema Slider is made out of a combination of carbon fiber and aluminum, which the company says makes it both light and strong. The combination of the two alloys makes for a durable and strong slider, which is also small enough to be easily portable and will fit in most backpacks.
The slider weighs 6.5-pounds and though the specifications make no mention of how long the slider is, photos make it look to be roughly two to two and half times that of an iPhone 13 Pro Max, which would translate to around 13 to 14 inches. That's not a particularly long slide, but it should be enough to introduce a brief amount of camera movement to video captured in a short take.
The four adjustable feet enable the slider to be lifted above the ground to keep the camera clear of obstruction or users can rest the slider directly on a surface without the feet at all if they wish to reach a lower angle. The slider is also compatible with all of Sandmarc's mobile accessories via the spring-loaded smartphone attachment which also features mounting points — including a cold-shoe mount — that can hold a variety of additional filmmaking tools like a video light or an external microphone.
With a 1/4-20 mount on the base of the sliding mechanism, the Cinema Slider is able to be attached to a tripod head and then balanced either horizontally or vertically, providing for multi-plane movement up and down, panning, or even diagonally. The Cinema Slider is also compatible with most tripod designs, including compact and professional models, and of course Sandmarc's own tripods.
Designed for use with the iPhone, Sandmarc fails to mention Android phones in its compatibility list, but since the slider can also be deployed with GoPro and other action cameras — plus most DSLR or mirrorless setups — it seems unlikely that Android phones simply wouldn't work. More likely, the exclusion of Android is because a majority of Sandmarc's smartphone accessories are designed specifically for iPhone.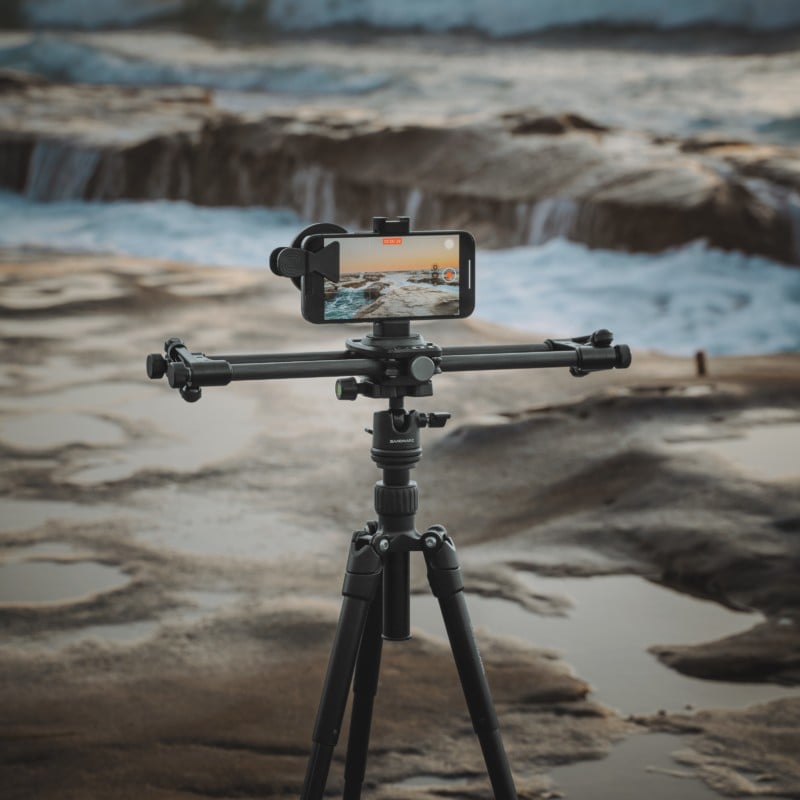 The slider uses a basic manual sliding system that relies on wheels that tightly mount to the rails. This method usually results in quite smooth slides, but any dings or deep scuffs in the slider rails can result in small shaking in footage. There is no motorized mechanism for motion control, which means the slider is completely manual. The slider does have a bubble level built-in, which means it will be easier to make sure it is level while in the field.
The Sandmarc Cinema slider is currently available to order for $169 and the company says it intends to ship in July.
---
Image credits: All photos by Sandmarc.