Lightroom CC Ecosystem Gets Better AI 'Auto' and More in Dec 2017 Update
Adobe just announced a new wave of updates to the entire Lightroom CC ecosystem, from Lightroom CC and Classic CC on desktop to the mobile apps for iOS and Android.

One thing that every Lightroom CC app is getting is a revamped 'Auto Settings' feature. The new Auto is powered by Adobe's Sensei artificial intelligence technology and promises "better results, every time."
"Using an advanced neural network powered by Adobe Sensei, our artificial intelligence (AI) and machine learning platform, the new Auto Settings creates a better photo by analyzing your photo and comparing to tens of thousands of professionally edited photos to create a beautiful, pleasing image," Adobe says.
In addition to being found in every Lightroom CC app, the Auto Settings tool is also available in Adobe Camera RAW.
Here's a look at what else you'll find in the December 2017 update:
Lightroom CC for Desktop
Tone Curve
Lightroom CC is getting a Tone Curve tool that lets photographers have precise control over tonality, contrast, and color balance.
"You can use either the Parametric Curve or the Point Curve modes to tune the tonality and contrast of the image, and the Red, Green, and Blue modes to adjust the color balance and stylize your image," Adobe says.
You can find the new Tone Curve next to the Auto button in the Light panel.
Split Toning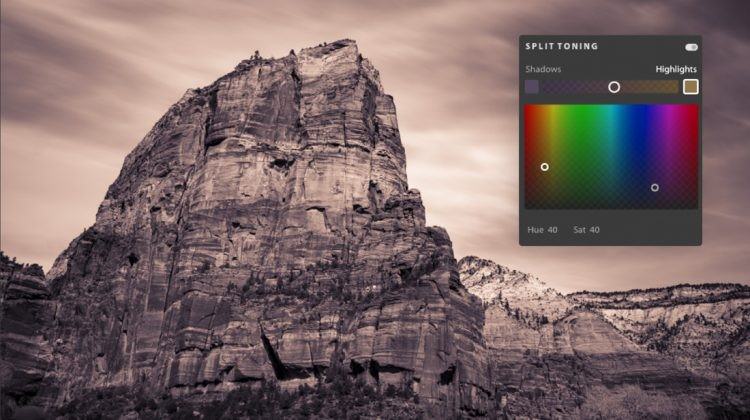 There's also a new Split Toning tool in Lightroom CC that lets you apply color tints to the highlights and shadows of your photos.
"You can use the Split Toning tool to simulate traditional black and white tints and toners like sepia or selenium toners, simulate printing on colored paper, or create a modern stylization on color images," Adobe says.
You can find the new Split Toning feature in the Effects panel.
Change Capture Time
There's a new pencil icon in the Info panel of photos that allows you to adjust the capture time of photos — potentially useful for if you realize that your camera's time was off (perhaps you forgot to adjust for daylight savings).
"Lightroom CC will update the capture date and make sure that your photos show up on the right day and time in the organize view, making it easier to find your photos when you need them," Adobe says.
Full Screen View
There's now a new full-screen view that you can use to get a closer look at your images. Toggle into this view by pressing the F key on your keyboard or by selecting View->Detail Full Screen.
Lightroom Classic CC
The Color Range Masking tool has been refined in Lightroom Classic.
"Based on your feedback, we've made it easier to remove individual sample points," Adobe says. "You can do this by holding down the Alt (Win) or Option (Mac) key while using your mouse to select the sample point."
Android
The Lightroom CC app on Android is getting app shortcuts. If you're running Android Nougat or a newer version of the OS, you can tap and hold the app icon to quickly launch into different modes. Users have also been given more control for managing storage.
iOS
Lightroom CC for iOS can now add watermarks to your photos while exporting them. You can create and customize text-based watermarks. Adobe has also improved the quality of images when capturing in HDR.
---
You can grab these updates now by downloading the latest version of each Lightroom CC app through Adobe's updater and through App Stores. Lightroom 6 perpetual customers will be receiving an update with new camera support on December 19th. And just a reminder: Lightroom 6 won't be receiving any more updates after 2017.