Limited Edition Gold Leica is Being Released in Honor of the Thai King
In a collaboration with Thai Beverage, Leica is set to make 10 gold Leica M10 cameras available in honor of the coronation of King Maha Vajiralongkorn, and each is expected to cost around $50,000.
As reported by Photography Daily Theme, the cameras are being made through a partnership between the German camera company and Thai Beverage, also known as ThaiBev, to celebrate the coronation of Thailand's King Maha Vajiralongkorn. It is unclear how a large beverage company is related to either Leica or the current King of Thailand, and PetaPixel's request for comment went unanswered.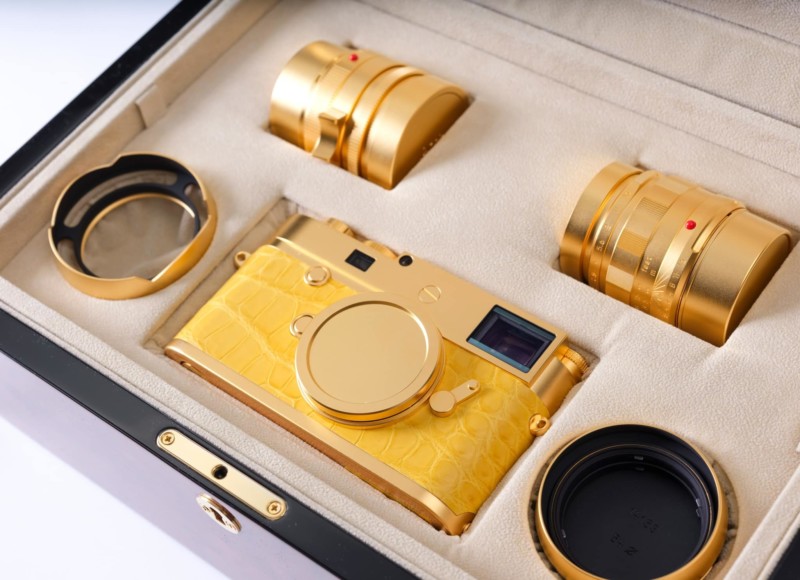 Vajiralongkorn, currently aged 69, ascended to the Thai throne on May 4, 2019, although the Thai government retroactively declared his reign to have begun on October 13, 2016 which is the day his father, King Bhumibol Adulyadej, died.
The gold camera — and it should be noted, it is a layer of actual gold and not just a colored nonprecious metal — is paired with gold-colored crocodile leather and will come with two similarly gold-plated lenses — an APO Summicron 50mm f/2 ASPH and a Summilux 35mm f/1.4 ASPH — packaged in a custom wooden box for what is expected to be $50,000, although final pricing has not been revealed.
Only 10 of this particular model will be made, but for collectors who want something a bit less audacious, Leica is also producing 10 in a jade-green crocodile leather that compliments the gold-plated metal exterior. The green version only ships with one gold-plated lens, which also reduces the asking price to what is expected to be around $30,000.
Leica was unable to comment with any details regarding the limited edition cameras and while it appears to be a Leica M10 or M10-P, that was unable to be confirmed.
In addition to the gold exterior and uniquely colored crocodile leather, the limited edition cameras bear an imprint of the royal Thai emblem on the top plate to the left of the hot shoe mount.
Leica is no stranger to producing unusual and extremely limited edition cameras, and it's not even the first gold camera produced for a Thai monarch. In 2016, the company made a special edition M6 camera to celebrate the 50th anniversary of King Bhumibol Adulyadej — who at the time was the longest-serving monarch — and in honor of his death. It featured a similar gold metal exterior but a red leather wrap and matching red tint to the Thai emblem. That camera was sold for 399,999 Baht, or about $11,200.
---
Update: A previous version of this story incorrectly identified the camera as an M6. We apologize for the error.