KEEN is a New 4G-Connected Remote Controlled Pan/Tilt Trail Camera
Home Security camera company Reolink has developed a new trail camera called the KEEN Ranger PT, which can capture 4K video in a 360-degree sweep and upload it via a 4G LTE connection for remote viewing.
Reolink says the Ranger PT trail camera is the first in a coming line of trail cameras that promise to harness cellular technology to upload video and still images when WiFi is not available.
The company says that it found some of its customers were using its Go series security cameras to keep track of animals in pastures and wildlife in the forest. To address these specific needs, it added upgraded features like infrared LEDs and a camouflage design to make the KEEN trail cameras more properly suited to this kind of work.
The KEEN Ranger PT looks like an all-weather version of a standard home security camera that can pan, tilt, and even lock onto a subject and follow it as it walks by. This feature makes it particularly useful from a trail camera perspective since trail cams have traditionally been triggered by movement and capture stills which all too often have the subjects slightly out of frame.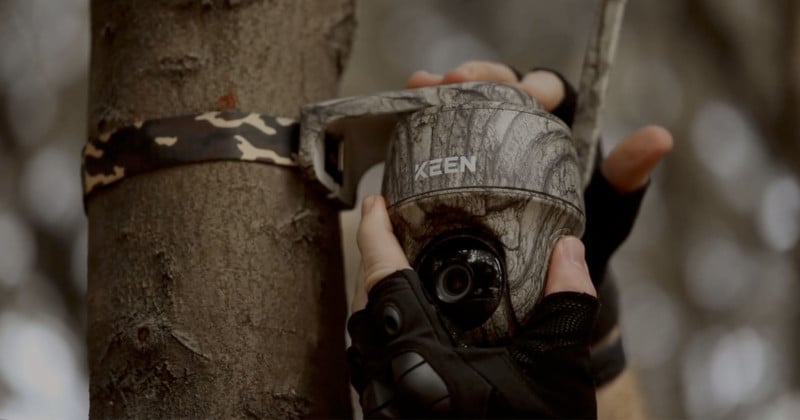 The camera features a four-megapixel sensor capable of 2K video capture along with infrared capabilities so it can capture everything in detail during the day or at night. In addition to the ability to capture and upload clips, the KEEN Ranger PT is capable of live streaming its feed as well, giving the user the ability to view trail activity in real-time and to manually pan and tilt the camera as it does. The video is also saved to a microSD card or uploaded to Reolink's Cloud service for viewing later.
The KEEN Ranger PT Mount can easily be strapped around the trunk of a tree where the camera hangs down in a style strongly reminiscent of a security camera. It is designed to be either battery or solar-powered, and sports has a camouflage paint scheme to better blend in with its environment.
Reolink has not provided any word on pricing or availability, but the company plans to fully reveal all details and open pre-orders for the KEEN Ranger PT on June 28.