Dramatic Photos of Airborne Dogs Highlighted by Colorful Holi Paint
Pet photographer Uldis Krievs captured a series of remarkable images of dogs flying through the air while colorful powdered Holi paint flew from their fur to create dramatic shots.
Speaking to PetaPixel, the 29-year-old photographer from Leicestershire, England says that it was a set of photos that were years in the making.
"I originally saw these images a few years back and tried recreating the images myself, but with only a year or two of experience they did not turn out as well as I wanted them to," he explains.
"Cut to now when I have quite a few more years of experience, I wanted to try it all again. Using my ambassadors as models, I set to work with what I know now."
Krievs is a passionate dog photographer, who also teaches how to capture the lovable pets, and he says that the Holi paint images only required a straightforward basic setup.
"Firstly, I started off with a big black backdrop and Holi paint powder. Next, I set up a small agility jump for the dog to jump over so they were in the air while the shot was being taken. The models all do agility so are very used to jumping over things.
"The trick is to use a lot of paint powder as a lot of it either falls on the floor when the dogs start to move and quite a bit of it will actually cling to the dogs' fur. After all that has been done, it's as simple as keeping the dogs active and keeping the session fun for them," he explains.
"It is very trial and error as you have to make sure your camera is quick enough to capture the images in quick succession."
Krievs used a Nikon Z6 which has a frame rate of 12 frames per second along with a Sigma 85mm f/1.4 Art lens.
"The backdrop is a simple black cloth which is held up using a backdrop stand; being outside I did have to rope the backdrop down due to the sheer size of it," says Krievs.
"The process behind the images was very straightforward but to make sure I got complete focus on the dog's face/eyes is tricky," he continues.
"Because there was a solid black background, the focusing was a little difficult as I was exposing more for the powder rather than the model, as I knew I would be able to bring the dog out in post-processing.
"I always tell myself and my students to always, always underexpose your images because you can bring back the shadows easily and never the highlights."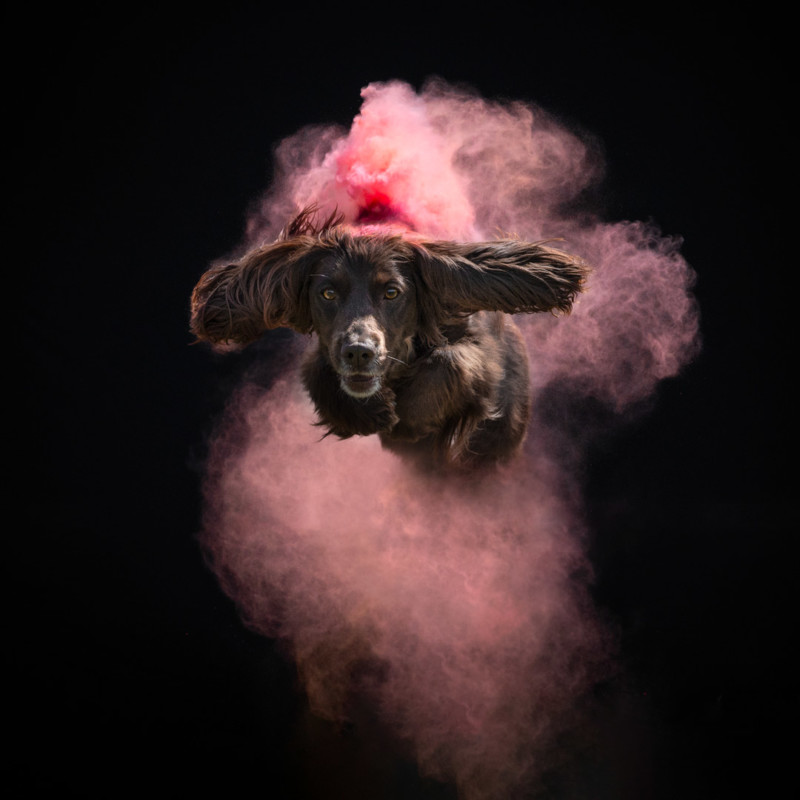 More of Kriev's work can be seen on his website and Instagram.