Fire, Color, and Love: Photographer Captures 'World's Most Photogenic Event'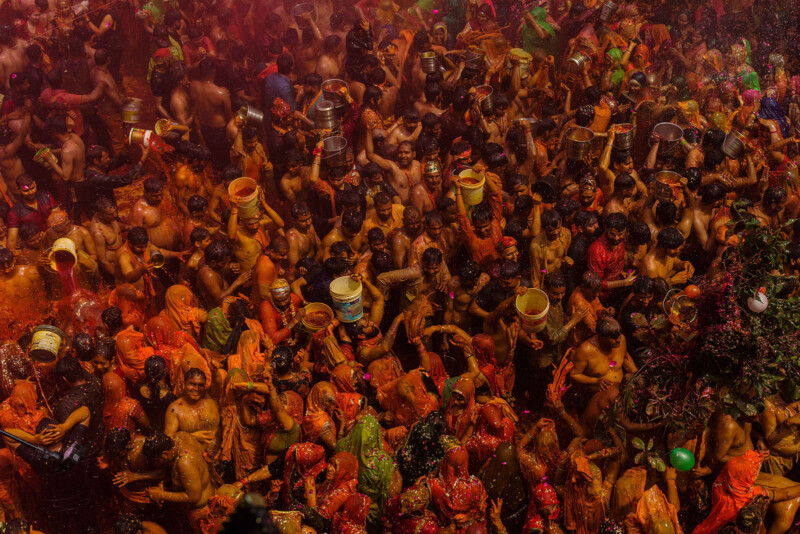 A photojournalist traveled from New York City to northern India to capture Holi: the Festival of Colors, Love, and Spring.
Adam Gray captured revelers in the holy cities of Vrindavan and Mathura this month as they doused themselves in colorful powder. He also captured a priest jumping in and out of a 20-foot-high bonfire.
Holi is a Hindu festival that celebrates the triumph of good over evil and also welcomes the arrival of spring in India.
"The crowds are huge and intense, personal space is non-existent," Gray tells PetaPixel. "Holi rightly is seen as one of the most photogenic events in the world and Mathura and Vrindavan are the birthplace and spiritual home of the event. If you want to photograph Holi — this is the place."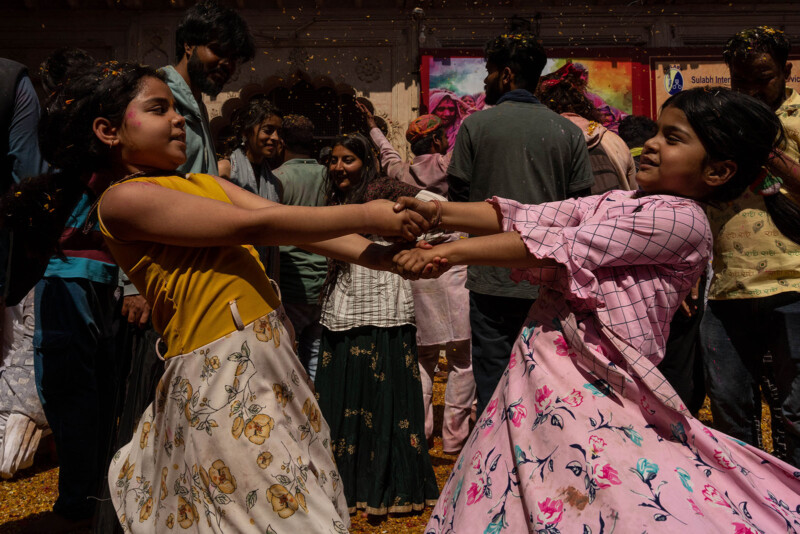 'The Hardest Photo I've Ever Taken'
Gray captured Holika Dahan, part of the Holi festival it involves a priest running and jumping through a massive bonfire to signify the burning of a demon.
"The event and image itself is crazy enough but what you can't see is what goes into being able to take that photograph," explains Gray.
"As the fire is burning you're so close that it's extremely hot. I was trying to hide from the heat behind a temple pillar on my hands and knees as a crowd screamed and pushed people in all directions, including toward the fire."
Experienced press photographer Gray says it was "the hardest photo I've ever taken" and shared a video to his Instagram of the utter carnage. But the resulting photo was well worth it.
Keeping the Camera Safe During Holi
For the main Holi event which sees colorful powder and water being splashed everywhere, Gray used a Sony A1 with a 24-70mm f/2.8 and to keep it safe he used cheap plastic rain covers made by Optech.
"I gaffer taped a new one every day onto the camera and lens, they were pretty beat up by the end of a day," he says.
"For the messiest events that involved a lot of water being sprayed via hoses or buckets of water dumped over each other, I used two covers just to be sure."
Picturing India
Gray, 36, says that he had longed hope to travel to India and the country didn't disappoint.
"In India, people will actually ask you to take their photograph a lot — while also being asked yourself to be in selfies throughout the day, that definitely doesn't happen in New York," he says.
"I often went up to random groups of people to photograph them — wrestlers practicing at dawn, spice sellers in markets, a man sweeping a mosque. People were always very happy and curious about who I was and what I was doing.
"Being invited into strangers' homes is also very common and probably wouldn't happen quite as quickly or easily in the USA."
Travel Tips for Photographers in India
Gray is a seasoned and extremely accomplished photojournalist. His Instagram feed is teeming with world-class press, travel, and lifestyle photos that appear in publications across the globe.
"Firstly, if you're considering it: GO," says Gray. "Never has a country lived up to expectations as much as India did. Don't be afraid to get stuck in and speak to people (I'd give that same advice for anywhere in the world).
"The people are very warm and receptive and you can work with any size of photographic gear — street photography is very easy."
Gray says that travelers should ask hotels or guest houses to book buses and trains.
"You don't want to end up getting on the wrong class of bus and end up sharing a single bed with a six-foot-plus friend for five hours like I did," he adds.
"Be careful with what you eat too — I had no issues but only drink bottled water, don't take ice in drinks, and be wary with street food. If there's a long line of people waiting or eating somewhere it's usually a good sign."
More of Gray's work can be found on his Instagram, website, and Twitter.
---
Image credits: All photos by Adam Gray.