Samsung Shoots Building-Size Photo with its 200MP Smartphone Camera
Samsung's 200-megapixel smartphone sensor has not yet made its way into a consumer device but the company has already begun hyping what it can do by printing a massive 616 square meter (2,021 square feet) photo taken with it.
The 200-megapixel Samsung ISOCELL HP1 was announced last September and is the industry's first that reached such a resolution and is based on 0.64 µm-pixels and a new pixel-binning technology it calls ChameleonCell.
Samsung later explained that the benefit of 200-megapixels isn't just that photos are larger, but that detail can be preserved even after they have been digitally zoomed or cropped.
The company says that photos taken at maximum size have an effective resolution of 16,384 x 12,288 pixels and can be captured at a rate of up to 7.5 per second. At a compressed 50-megapixel resolution, the sensor can shoot up to 30 frames per second, and up to 120 frames per second at 12.5-megapixels.
Even though the sensor hasn't yet been implemented in a consumer smartphone, Samsung decided to undertake a challenge and create a photo that could be printed 28-meter-wide and 22-meter-high, which is about one and a half times the size of a basketball court.
"I have always wondered just how big you could go when it comes to printing out a 200MP image," Minhyuk Lee, an engineer from the Sensor Solutions Team at Samsung's System LSI Business says. "As exciting as it was, the challenge was a demanding one, as this was our first time showcasing the quality of an image sensor that has yet to be adopted in smartphones."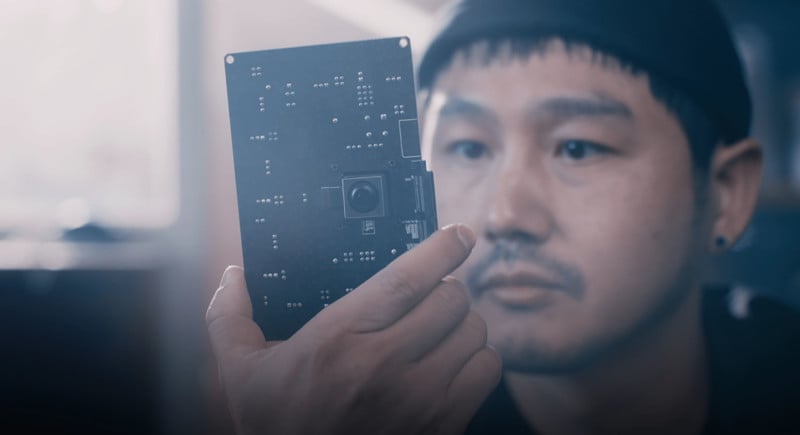 Since the sensor is still under development, Samsung provided it to photographer Hyunjoong Kim who needed to use it while it was still mounted to a test board. The company says that shooting with it was tricky because the module is not yet fully optimized. Added to this complication was the choice to photograph a moving subject: a cat.
"Choosing a cat as our subject was a difficult decision. It gave us a lot of obstacles to overcome, such as capturing such an active subject with a test board. However, the team concluded that the subject should be something that would show off a high level of detail and that was a popular photography subject at the same time," Lee says.
Samsung says that the film crew used different methods to take a series of photos using a full-size lens that they attached to the tiny sensor and test board.
Once the photo was taken, it was printed on 12 separate 2.3-meter long pieces of fabric that were then stitched together. The printout was then transported over on a truck and installed on the wall of a building using a crane.
Normally, billboard-sized photos aren't really a great way to appreciate high-resolution given the intended viewing distance. That said, Samsung seems to indicate that the photo can be viewed with high-fidelity, even up-close.
"When the picture was unfurled for the big reveal, the true enormousness of it really struck me, and not just because of its actual size. The moment I witnessed the 200 million pixels depicting the stunning detail of the cat's eyes and fur, I was overwhelmed by all of the effort that had gone into developing this final product," the project leader for the photo's installment says.
It remains to be seen how well that resolution translates to a smartphone chassis, since the optics avaialble will be significantly smaller than what the photographer used to capture the promotional image.
---
Image credits: Samsung