Kipon's Third-Gen 40mm f/0.85 Lens is Available for Six Camera Mounts
Kipon has announced the third-generation Ibelux 40mm f/0.85 APS-C lens that it claims features a new lens coating that removes flare and purple fringing. Rated as one of the fastest lenses in the world, the 40mm f/0.85 Mark III is designed with art and portrait photographers in mind.
The nearly $1,800 lens is designed with ten elements in eight groups and a 10-bladed diaphragm to produce a circular, smooth bokeh. But unlike its predecessors, the Mark III version has special lens coatings designed to address problems in the Mark II, which suffered from flares, ghosting, and irregular light reflection and diffusion problems.
Working with German Optics company IBE Optics, Kipon says that the custom coatings promise to reduce all these issues, plus eliminate the nagging purple fringing brought on by the light diffusion issue. Kipon says that the new coatings, applied inside and out, have mitigated the purple fringing issue, particularly when dealing with backlight streaming into the camera from behind the subject.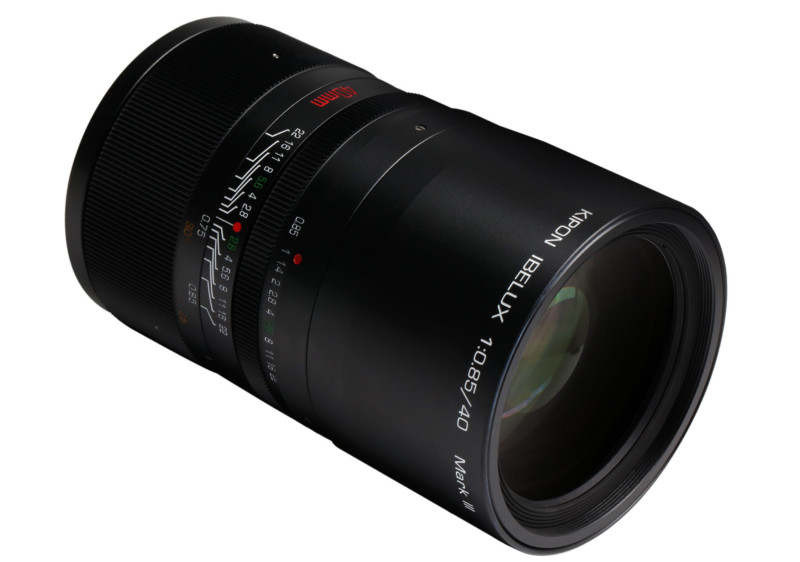 Kipon says that the coatings work so well that the lens can be used in just about any situation to shoot anything from portraits to cinematic motion pictures and allow photographers to enjoy a broad range of image possibilities without any serious fringing or light flare getting in the way.
The lens has an aperture range of f/0.85 through f22 and has a minimum focusing distance of just under 30 inches (75 centimeters). Kipon says that the best performance is at f/5.6 with a minimum range of about 8 feet (2.5 meters). Meanwhile, the focus is designed with a Swiss-German bearing focus mechanism and functions with 270-degrees of rotation, which the company says makes it ideal as a cinema lens as well.
The Kipon Ibelux 40mm f/0.85 is available in six different mounts for APS-C sensors: Canon RF, Fujifilm X-mount, Leica L-mount, Micro Four Thirds, Nikon Z, and Sony E. The lens features what Kipon describes as a robust outer barrel made of aluminum with a brass core and stainless steel for the lens mount. Altogether, the 40mm f/0.85 Mk. III weighs about 2.5 pounds (1,150 grams) and measures 2.9 inches (74mm) lone with a 5-inch (128mm) diameter. The front filter thread is 67mm.
The lens retails for $1,780, but Kipon says that owners of previous models can trade-in from the previous Mark II model and receive a discount of anywhere between $500 and $800, depending on condition. The lens must be purchased directly from Kipon's official online shop to receive the trade-in credit.
All camera mount options can be found on Kipon's website.