Jason Momoa Apologizes for Taking Photos in Sistine Chapel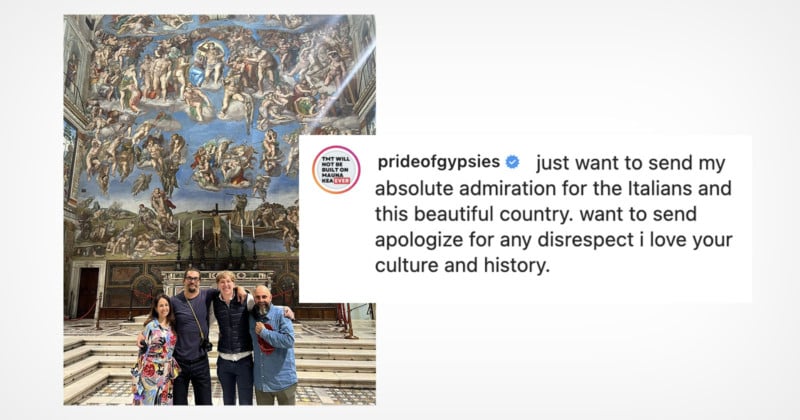 Actor Jason Momoa apologized for taking photos in the Sistine Chapel after disgruntled fans pointed out to him that the series of images he posted on his Instagram violated the rules that are normally enforced for everyone else.
Momoa is currently in Rome shooting the 10th installment of the Fast and Furious film series, Fast X, and posted a few photos and videos to his Instagram in the Sistine Chapel at the Vatican in Rome.
"I LOVE YOU ITALY what a beautiful start to our day off enjoying ROMA," the actor wrote.
It did not take long for some of his fans to point out that the act is actually forbidden for most all other visitors to the iconic location.
"We, regular people, are not allowed to film inside the Sistine chapel," one person commented.
"So they let the rich and famous film in there but us peasants can't," another wrote.
In a video published the following day, Momoa apologized for the incident.
"Just want to send my absolute admiration for the Italians and this beautiful country. Want to send apologize for any disrespect I love your culture and history," he writes.
According to The News, Momoa explained that he didn't realize what he was doing could be seen as disrespectful or a violation of the normal rules.
"I gave a wonderful donation to bring my friends and crew because we only had a couple of days off to experience these places. And then I found people wanted to take pictures with me, which is very odd, during a trip to the Vatican with all this wonder and they want to take pictures with me, which I don't get, but regardless, I did," Momoa explains.
"I was very respectful and I asked for permission from what I thought, would be okay. I would never want to do anything to disrespect someone's culture. If I did, I apologize. It was not my intention. I paid to have that private moment and gave a nice donation to the church… I'm sorry if I offended you," Momoa concludes.
Why Photography is Not Allowed in the Sistene Chapel
The Vatican explicitly states that no photography is allowed in the Sistine Chapel, along with a stipulation that observers must observe "absolute silence" while on the premises. Visitors are also forbidden from using mobile phones.
While many assume the reason photography is not allowed in the Sistine Chapel is to protect the art against flash photography, the original actual reason is because of copyright.
In 1980, the Vatican determined that the chapel was in need of restoration and sought financial aid from outside corporations. The Nippon Television Network Corporation of Japan (NTV) offered the most: $3 million. In return for the funding, NTV was given exclusive rights to all photography and video related to the work.
While that contract expired in 1997, the Vatican decided to keep the ban to address a new problem: too many people. In peak travel periods, the chapel sees a stunning 30,000 people a day. It was argued that the chapel was designed as a place of worship and Vatican officials also determined that if cameras were not banned, the issues caused by overcrowding and lingering too long would worsen.
With this background information and given that Momoa made a large donation in order to visit the chapel with a small group, it makes sense that the officials there would find no problem with him or anyone with him taking photos and would even stop to pose with him, as can be seen in one of the photos Momoa shared on Instagram.