This $22,000 Photobook of the Sistine Chapel Was Made with 270,000 Photos
If you're always on the hunt for limited edition photobooks and have ultra-deep pockets and bookshelves, here's one for your collection: the The Sistine Chapel. It's a giant $22,000 trilogy that contains views of the Sistine Chapel's art captured in gigapixel glory through 270,000 individual photos.

Published by Callaway Arts and Entertainment on November 1st, the book contains 822-pages across three volumes that each measures 24×17 inches (61x43cm) and weighs 25 pounds (~11.3kg).
"The publication of The Sistine Chapel trilogy is a pioneering technological breakthrough," Callaway says, noting that it was the result of a five-year collaboration between it, the Vatican Museums, and the Italian art publisher Scripta Maneant.
To publish the masterpieces of the Sistine Chapel on the pages of the book in 1:1 true-to-life scale and with 99.4% color fidelity, a team of photographers visited the chapel over 67 consecutive nights while it was closed off to the public. They used a 33-foot-tall scaffold and rig to capture every inch of the chapel in 270,000 separate digital photos.
Those photos were then seamlessly stitched together using special imaging software to create gigapixel images.
"The Sistine Chapel can be experienced through the pages with a precision, color, detail, and proximity not possible to see in person," Callaway says. "The result is the first opportunity in history for viewers to appreciate the frescoes as Michelangelo and the other artists painted them, with images so clear, sharp, and immersive that the viewers feel as if they are side by side with the artist.
"We can observe in extreme close-up the artists' precise colors and textures down to individual brush strokes."
The book is printed on Fedrigoni Symbol Tatami paper with spines in white calf leather debossed in silver, gold, and platinum foil stamping.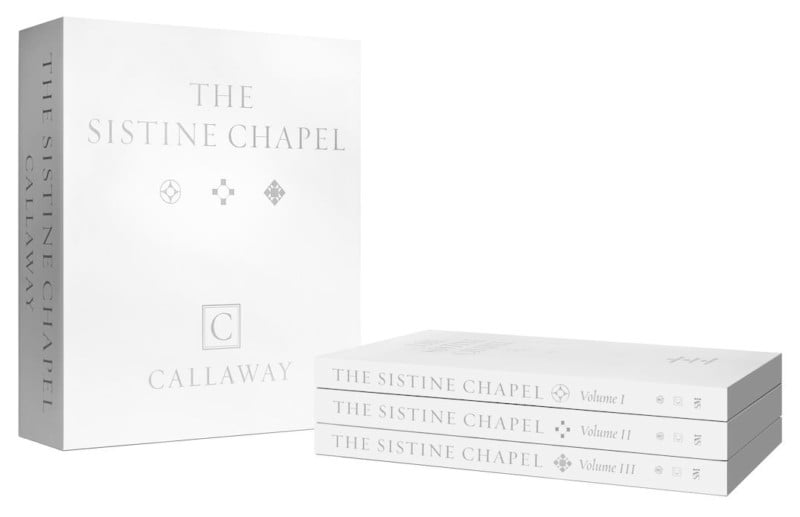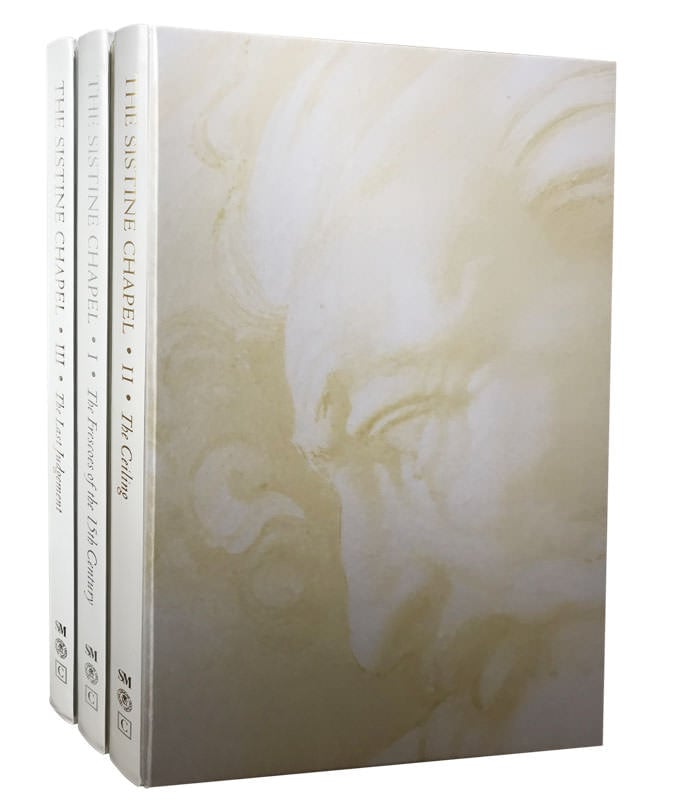 Here's a short video that offers a closer glimpse at this unique photobook:
Only 1,999 copies of this book are being published worldwide, with only 600 sets in English, and there will never be a reprinting. Each book costs $22,000 (including shipping and handling, huzzah!), and can be ordered through the Callaway website.
---
Image credits: Header still frame, book collage, and photos of book by Callaway Arts and Entertainment.