Behind the Viral Photo of Judge Ketanji Brown Jackson's Daughter
Judge Ketanji Brown Jackson, the first Black woman confirmed to the Supreme Court, was being grilled at the Senate confirmation hearings. Her 17-year-old daughter was in attendance and beamed with pride as she watched her mother bravely tackle the often-hostile questioning. This split-second moment between daughter and mother was captured by The New York Times fellow Sarahbeth Maney and went viral.

"When I found out that President Biden was nominating a black woman to the Supreme Court, I immediately raised my hand to see what coverage I could contribute to," the 26-year-old Maney tells
PetaPixel.
"And so, I started by following Judge Jackson during her meetings with senators on Capitol Hill.
"She met with 97 senators within a matter of a few weeks, so I tried to go to as many of those meetings, and I stayed late a lot of days just to photograph it for myself."
Maney, who prefers to be called SB, was excited when the Senate confirmation hearings started, as this was the biggest public hearing she had covered during her short time in DC on a New York Times fellowship. The program is in its third year, and this is the first time that they have had a photographer in DC.
How the Viral Photo was Captured
"I was in the room rotating positions throughout the [first] day. When I made that picture, I was actually on the side of the room like peering over the wall where usually TV cameras shoot from," explains SB. "And for me to be at the same height as other photographers who are a lot taller than me, I used a step stool so that I could see over the edge."
As she continued watching and photographing the hearing, a smile caught SB's eye.
"I noticed Leila smiling at her mother, and this was at a time when senators were giving her words of affirmation and praise, and I think it was actually Senator Dick Durbin who was speaking at the moment," the photographer continues. "I didn't have my camera up to my face but was just kind of looking around when I saw her smile. I didn't take the photo right away. This was towards the end of the hearing, and so I felt like, you know, I've made a lot of pictures, what picture am I gonna make next?
"I just sort of paused, and I thought, wow, what would it be like to see my mother sitting in that seat…and that's when I picked up the camera, hoping that she would make that same expression again.
"I actually waited about like 30 seconds until she made that expression again and I was worried that she wasn't going to. I was sort of like talking to myself, 'come on, come on, come on.' I was just kind of like, 'Yeah, I GOT it'."
SB then left the location to edit the pictures as she had been shooting for nearly five hours that day. She had gotten great shots and felt good about her work.
The Photo Explodes on Social Media
SB originally shared the photo on her Instagram, where it became popular and soon, it was being copied and posted to Twitter without her byline. She then posted to Twitter herself, and that's when it exploded virally.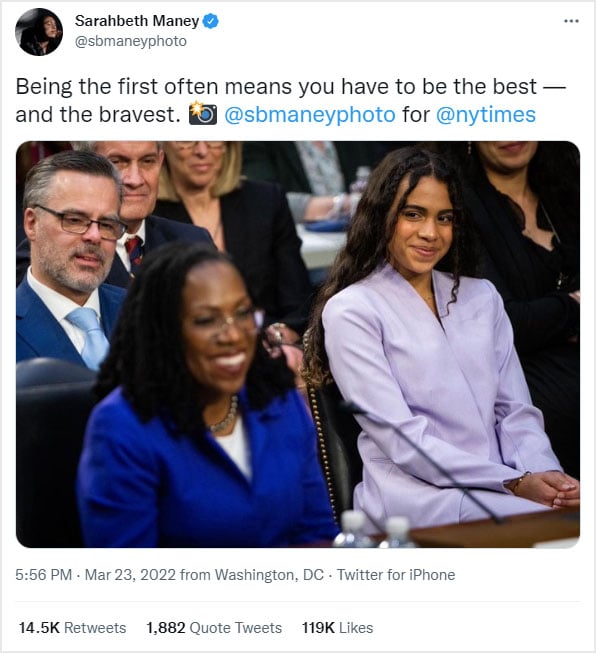 "Being the first often means you have to be the best — and the bravest," she wrote in the caption.
Among the countless Tweets was one from Bernice King, the daughter of Martin Luther King.
"It just instantly brought me tears when I saw [King] retweet the photo, provide credit, and also mention the importance of it," SB says. "It was really special for me as a Black woman; it was the highest honor, and she had reached and congratulated me as well. It was special to know that she's like continuing to follow me in my journey that this photo has taken me on."
SB has screenshotted and saved numerous comments and their responses.
"But some comments that really stood out to me are the people that said, 'only a Black woman could have made this photograph'," she says. "And … my purpose why I do photojournalism is to provide that representation and to be in the spaces where we historically have not been able to be. To take up space in these rooms that are not historically designed for us.
"When everyday people who aren't photojournalists acknowledge that … and start conversations around it, that's the part I think that's really meant the most to me–to be seen, you know, in that way."
The Camera Gear Behind the Shot
Maney was shooting with a Sony Alpha 1 and Sony FE 70-200mm f/2.8 GM OSS with the Sony 2x TC and captured the viral photo at an effective f/5.6, at 1/160s, and ISO 2500 ISO (she has used the Alpha 1 up to 12,000 ISO in her photojournalism).
She used 160GB CFexpress Type A cards and shot 2,750 to 4,300 photos a day with the silent/electronic shutter in continuous bursts.
1/160 sec is a challenge to keep steady at 400mm but there were three factors in SB's favor—the Alpha 1 has in-body stabilization and the lens has its own stabilization, SB enjoys boxing as a hobby and thus has strong hands and arms, and she also steadied her hands by resting them on some surface.
SB also carries a second Alpha 1 around on assignments — all the gear belongs to the New York Times — and all her work is done available light, even when it is backlit or in low light.
Her personal camera equipment of choice has long been Sony as well. She had a pink Sony point-and-shoot Cybershot when in 4th grade, and her first DSLR was a Sony Alpha SLT-A33 (with a translucent mirror).
"I was on Sony even before everyone was interested in it, you know, like ten years ago everyone was just shooting Nikon and Canon," she says.
RAW plus JPG is SB's shooting mode of choice, and all her NYT images are processed from RAW in Lightroom. Her edits are very simple. She just fixes brightness, contrast, shadows, and white balance. She often adds a little bit of a vignette and then uses the sharpening tool.
A Closer Look at the Photograph
In SB's now-famous photo, Judge Jackson is surrounded by family as she faces senators' curveballs in a distinguished manner. Her daughter Leila is to the right of the frame and her husband of 30 years (in glasses) takes in the scene from behind her.
The focus (pun intended) is on Leila, with the judge very much out-of-focus, but her face is very distinguishable with a broad smile. This makes the scene almost three-dimensional with a triangular composition between its three principal characters: father, mother, and daughter.
Although the metadata shows f/5.6, the zoom lens is wide open at f/2.8 with an effective focal length of 400mm with the 2X teleconverter, which luckily puts the Judge even more out of focus. If the same were shot without the converter at 200mm and then subsequently cropped (the 50 MP image can handle a heavy crop), the image would not have had that narrow depth of field.
SB states that the final image was cropped a little as well.
"I think [the shallow depth of field] just happened that way," says the NYT fellow. "I didn't think much of it. I knew that I wanted the photo to focus on Leila, though, so it may have just been me subconsciously knowing that and making the photo that way.
"I realized that I had already gotten so many pictures of the judge and that there had been so many variations of expressions that I had captured of her already. And when I saw Leila, I felt like I was able to relate to her as a young woman, a young Black woman, a young mixed-race woman, so my focus was on her.
"And I love how something I didn't notice was just how big the smile is on Judge Jackson's face as well, and I think that's also very telling that they're both smiling.
"It resonated with a lot of mothers, but it also resonated with a lot of young women, and so I'm glad that I took it that way–just focused on Leila and like her perspective."
The next time the photographer met the judge, she was congratulated on making the photo.
"It was also funny because I felt like I should have been congratulating her," SB says.
The Girl with the Pink Camera at School
"When I was in 4th or 5th grade, I picked up a camera and I would bring it to school with me every single day," SB says. "I had a pink Sony point-and-shoot camera and started just by photographing my friends and family."
At age 14, SB was doing a lot of community work volunteering in Skid Row, Los Angeles, which had one of the largest homeless populations in California. She remembers meeting people and speaking with them and hearing their stories. She wished she had her camera to photograph the people she met so that she could share their stories with the world.
"So, I sort of knew that I wanted to be a photojournalist before I even knew what photojournalism was or that that was even a possible career path," says Maney, who grew up in Martinez, about 35 miles northeast of San Francisco. "So, I continued throughout high school taking pictures. I started doing wedding photography and portraits, and then when it came time for me to choose a major in college, I naturally just gravitated toward photojournalism."
SB attended San Francisco State University with a major in photojournalism and a minor in education. When she was in college, she would be flipping through photo books in class, and some of the work that impressed her was by Obama's photographer Pete Souza which caught her eye as to how photographers could document politics.
While in school, she freelanced at the San Francisco Chronicle and the New York Times, and after graduation, she interned at The Flint Journal in Flint, Michigan.
"I thought [Souza's work] was really interesting, and so I had this goal of wanting to end up in DC eventually," says SB. "And I also was really keeping an eye on The New York Times fellowship program."
Maney applied three times to the coveted Times fellowship and finally made it.
In her short career so far, SB has already been featured in the Washington Post, Time, Vanity Fair, CNN, The Guardian, Huffington Post, Bloomberg, Forbes, and more. She will be joining The Detroit Free Press as a staff photographer starting in July.
You can see more of Sarahbeth Maney's work on her site, Instagram and Twitter.
---
Correction: This article original stated that SB captured "5,500 to 6,000" photos per day during the hearings. She has informed us that after reviewing her data again, the number is closer to 2,750 to 4,300. The article has been updated with these new numbers.
---
About the author: Phil Mistry is a photographer and teacher based in Atlanta, GA. He started one of the first digital camera classes in New York City at The International Center of Photography in the 90s. He was the director and teacher for Sony/Popular Photography magazine's Digital Days Workshops. You can reach him here.
---
Image credits: Header photo Patrick Jackson, left, husband of Supreme Court nominee Ketanji Brown Jackson, center, and daughter Leila Jackson, right, listen during day one of the confirmation hearings at the Hart Senate Office Building in Washington, D.C. on Monday, March 21, 2022. (Sarahbeth Maney/The New York Times)