GoPro's New Volta Battery Grip Enables 4 Hours of 5.3K Video Capture
GoPro has launched the Volta control grip that not only provides the benefits of a handheld grip but also brings better access to the camera's controls and a beefy battery that promises to allow for over four hours of 5.3K video recording.
Described as a powered control grip, the Volta features built-in camera buttons that allow users to operate a GoPro Hero10 with one hand while also providing enough extra battery power to enable significantly more recording time. The built-in 4900 mAh battery combines with the Hero10's battery to triple its normal life at higher resolutions with even more runtime at lower resolutions. Specifically, the Volta allows for over four hours of 5.3K recording at 30 frames per second.
But it's more than that. The GoPro Volta is a handle, remote, tripod, and external battery in one small, lightweight system. The Volta can act as a wireless remote that gives the ability to control the GoPro from up to 98 feet away. It additionally has a set of tripod legs that flip out and allow it to be set on a surface to capture long stationary shots or timelapses.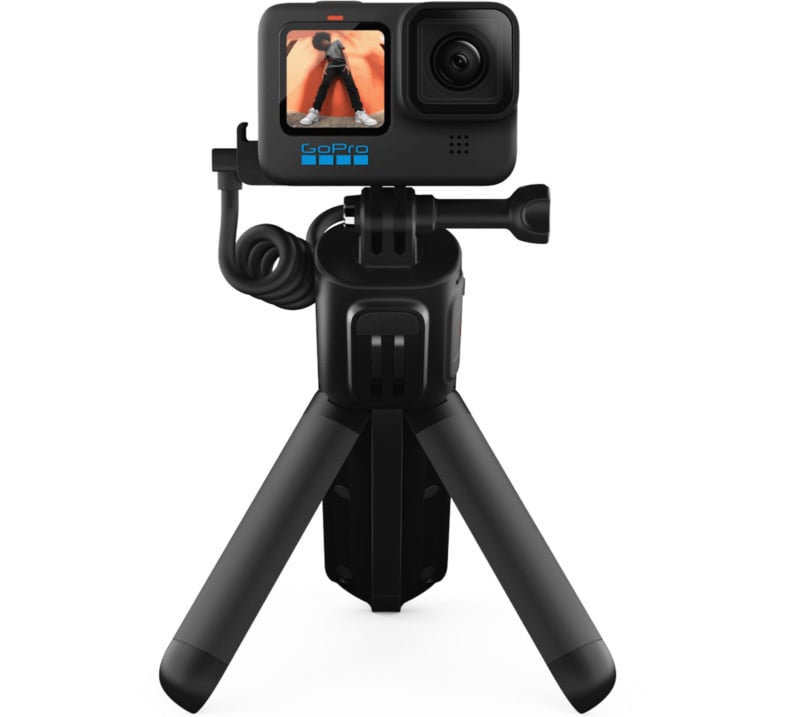 GoPro says the Volta, like the GoPro itself, is weather-resistant and fit for both rain and snow conditions. That said, the company did not specify an IP rating or any further details on what degree of resistance should be expected. To that point, the Volta can't be used with the GoPro underwater and the company says that doing so will damage it and any attached GoPro camera. Speaking of that, it should be noted that while the GoPro itself might be more resistant to the elements, when it's plugged into the Volta, it only retains as much weather resistance as the Volta does since the USB power cable needs to be inserted on the side of the GoPro to use the Volta.
The Volta can charge the GoPro as well as any other USB-C device and takes 2.5 hours to charge from empty when used with the GoPro Supercharger (which does not come with the Volta).
The GoPro Volta has two GoPro-style connection points: one on the top of the grip for the GoPro and the other for attaching other accessories that can be popped in and out depending on if it is in use. The bottom of the Volta has a typical 1/4-20 screw mount which lets it attach to a variety of other camera accessories like tripod plates.
The GoPro Volta can be purchased alone for $130 (discounted to $91 for GoPro subscribers) or included as part of the GoPro Hero10 Creator Edition for $530.
---
Image credits: GoPro