Photographer Builds Camera Drone That Shoots 35mm Film
Jason De Freitas is a guy who is passionate about both film photography and flying drones, and recently he combined those two loves in a brilliant way: he built an analog-camera drone and shot aerial landscape photos on 35mm slide film.

De Freitas is based in the South Coast region of New South Wales, Australia, and he works as an engineer by day and as a "mad scientist photographer" by night. He has become known on the Web for doing analog astrophotography — things he has captured on film include a Milky Way timelapse, the ISS passing between Jupiter and Saturn, and a lunar eclipse multi-exposure.
An Engineer with Two Loves
For his latest film photography project, however, De Freitas decided to bring his subject matter closer to home and his perspective further from the ground.
"Anyone that has known me for a long time will know that this project was inevitable for me," De Freitas tells PetaPixel. "It's the ultimate combination of two hobbies and passions.
"Since I was 16 I was building and flying RC helicopters and later on quadcopters. It was an obsession I got deep into both for the love of tinkering and the incredible challenge of performing aerobatics. It was a hobby that led me to become an aeronautical engineer."
"It wasn't until my mid-twenties that I really became passionate about photography, with film being the exact medium that sparked it."
Although the idea of shooting analog aerial photographs had long been brewing in his mind, only recently did De Freitas get the ball rolling and turn it into reality.
"The idea of combining the two had been lingering the whole time until I finally committed to doing it," the photographer says. "This is essentially the first step towards a much bigger project."
Building the 35mm Camera Drone
The drone he selected for the project was the iFlight Chimera 7, a $620 7-inch mid-to-long-range FPV (first person view) drone.
"The reason I chose this type of drone was to achieve more dynamic shots compared to a slower but more stable drone," De Freitas says. "It's also the style of drone I'm used to flying, which is 5-inch freestyle FPV drones. 7-inch has a similar feel but with a greater capacity for payloads and duration.
The drone is controlled by an operator wearing DJI FPV Goggles, which the photographer upgraded with Lumenier AXII HD antennas.
"Due to regulations in Australia, flying first-person view is quite heavily regulated so it was used by a second operator to communicate framing in this project," the photographer says.
In selecting a 35mm film camera, De Freitas looked for a lightweight model that featured an automatic advance.
"The obvious choice was a '90s point and shoot — 'obvious' used in the context of someone being silly enough to use film here," De Freitas says. "Other important factors are a nice 'clicky' shutter button as well as a very quick response — a minimal delay between shutter press and shutter action.
"I was kindly donated an Olympus Stylus Mju-1 which was perfect for the job. With a roll of film inside it only weighs 80g more than the GoPro 8 I normally run on that drone."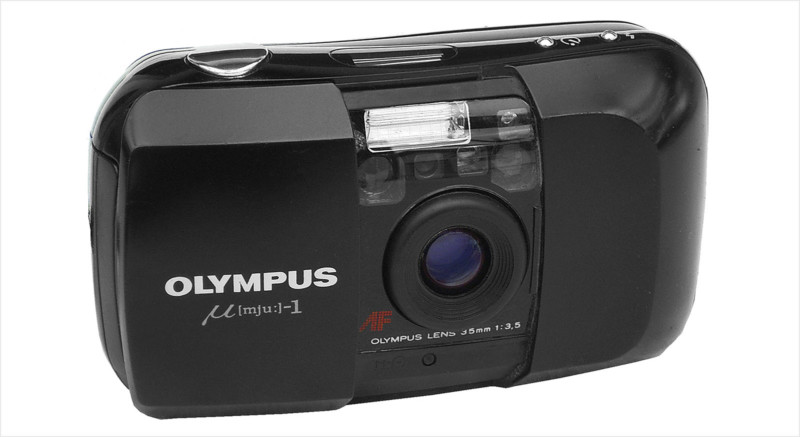 To attach the camera to the drone and operate it remotely, De Freitas turned to 3D printing and his background in tinkering.
"To fire the shutter I designed and 3D printed a mount that would house the camera and a micro servo to press the shutter button," he says. "I was then able to wire the servo to the flight controller so that it could be controlled from a switch on the radio controller while flying."
"Before it was ready to use I had to align the mount to the FPV camera," De Freitas says. "I did this by attaching my phone to the 3D printed mount and comparing the views from the mount and FPV camera. Then after a test roll of film, I was able to set up frame lines in the goggles to get a pretty accurate field of view to compose with."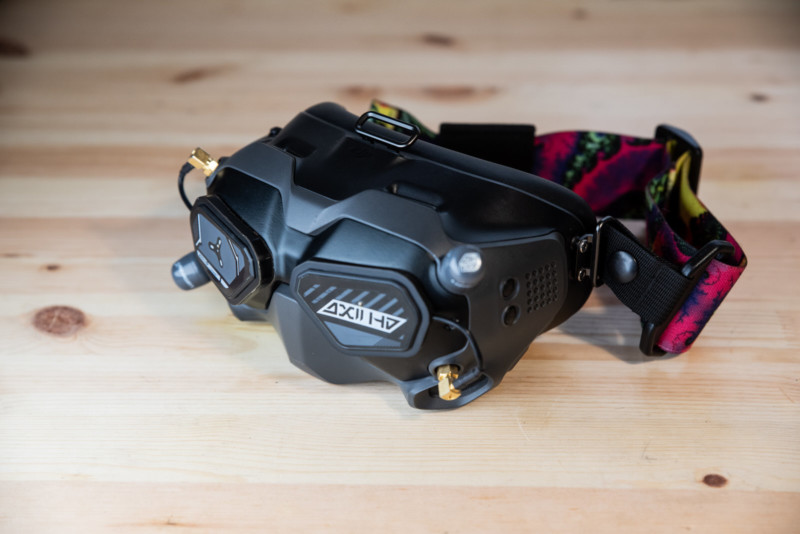 Shooting Aerial Photos on 35mm Slide Film
Once the analog-camera drone was complete, De Freitas took it out to a beach near the town of Narooma on the south coast of New South Wales, Australia.
Here are some of the photos he managed to capture on slide film:
"Horsehead rock is a beautiful ancient rock formation that is found on the beach," the photographer says. "It's estimated to be 500 million years old."
"The photos were taken on Fujifilm Provia 100F, possibly my favorite film," De Freitas says. "It's a positive film which is a medium I'm very passionate about.
"I developed the film myself and just looking at the results on the light table feels like magic. Maybe it's because I didn't grow up ever seeing slides but to me now it's just incredibly fun. Projecting the photos with a projector and keeping the result completely analog is my favorite way of sharing my projects."
You can find more of De Freitas's work on his website, YouTube, and Instagram. You can also buy prints of his photos through his online print store.
---
Image credits: All photographs (unless otherwise noted) by Jason De Freitas.