Hands-On with the Canon R3: Shooting Motocross
Photographers Long Nguyen and Garth Milan recently got their hands on the new Canon EOS R3 and put it through its paces capturing motocross. The two share their thoughts on how Canon's latest fits in their profession.
Nguyen is an adventure and sports freelance photojournalist and owner of CustomSLR. Garth Milan is one of the world's top action sports photographers and he and his work have been featured on PetaPixel on numerous occasions. Nguyen and Milan very recently got the opportunity to access the Oakland Supercross where the two of them got to use the R3 to see how it handled capturing the sport.
Read more: Canon EOS R3 Review: Blazing Speed Meets Robust Body
Top-Tier Focusing Performance
"The Canon R5 has been the best camera I have ever used. So I was a little skeptical about purchasing the Canon R3. Could the Canon R3 really outperform the R5?" Nguyen tells PetaPixel.
"When it comes to action sports, there are no second chances. Therefore, you want to be confident in the gear you have. Overall, the Canon R3 felt great! There was no blackout when shooting and the autofocus felt snappier than the R5," he says.
"My hit rate for in-focus shots was extremely high, which allowed me to move around the track more. In the past, I was worried about using the 100-500mm with the R5, but after using it with the R3 at Oakland Supercross I am extremely happy with the photos it produced."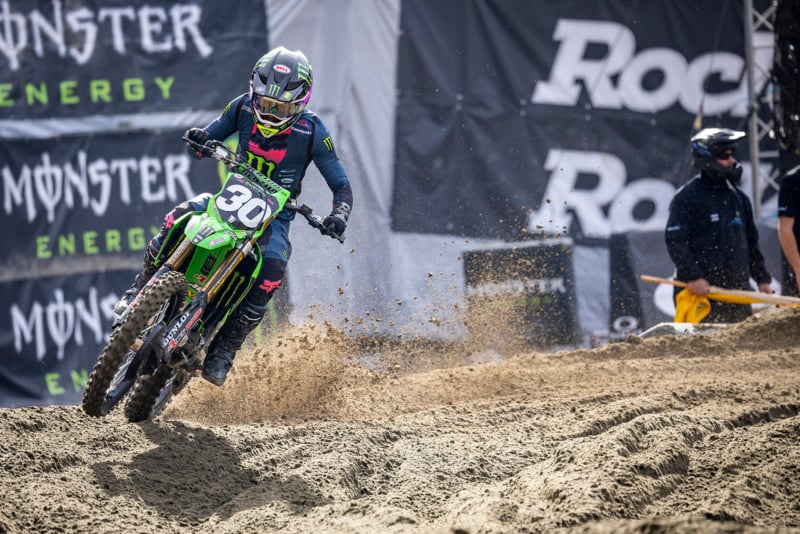 Nguyen says that the Oakland Coliseum isn't known for having the nicest lighting, which is why the colors he was able to get with the R3 surprised him.
"I am so impressed with how vibrant the colors came out with the low light capability. At night, I was constantly at 6400 ISO with the R3, where Garth was at 8000 ISO. The noise and grain were no problem at all and had plenty of details when zoomed in. Even though the R3 is only 24 megapixels (compared to the R5 at 45 megapixels) it is more than enough."
Milan, who also shot the event with Nguyen on an R3, agrees. He tells PetaPixel that the most standout feature on the camera, for him, is the autofocus.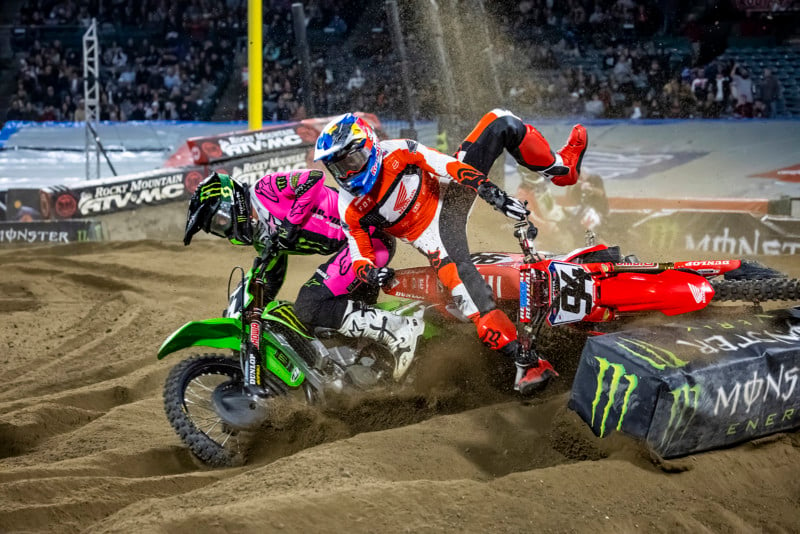 "I walked away quite impressed with the R3, mostly due to its AF system. The focus is simply incredible, and the images look phenomenal right out of camera with very minimal work needed. The frames per second are nice to have as well, but given how good the focus is I feel like that speed is almost overkill for most situations, which is why I actually set my R3 to the slower 15 FPS setting," he says.
"30 FPS is nice for the occasional moment, but if you shoot for 14 hours at a single event like we do at Supercross at 30 FPS and have any kind of realistic deadline at all following the event, you are in for a long editing process afterward," Milan adds. "This is especially true when nearly everything is sharp now with the new AF system; you don't miss shots like you did with previous cameras, meaning you might have 10,000-plus "good" shots to look through after an event at 30 FPS."
Ergonomics of a Full-Size Camera
Nguyen and Milan also agree on the benefits of the camera's ergonomics. Nguyen says that prior to the R3, he was using both the R5 and R6 with attached battery grips, but didn't find them to be particularly comfortable in his hands.
"However, the first time I held the R3, it felt like home," Nguyen says. "There is something special when holding a professional-style body camera like the Canon 1DX or Nikon D series and the Canon R3 is no exception."
"Ergonomically, the camera feels great in your hand, making my R5's exterior with its added vertical grip feel a decade old now," Milan says. "The textured body is gorgeous, is lightweight, and offers the perfect amount of grip."
A Place for Both Systems
Milan says that despite the benefits of the R3, there are reasons to use both it and Canon's R5.
"Of course, we all know it's what inside that counts, and it's hard not to remember that the R5 still offers more megapixels and a similar if not quite-as-quick AF system. Because of this, for commercial work, I will still be reaching for my R5," he explains.
"But for sports and event photography, the R3 is definitely a worthwhile addition and I do not regret purchasing it whatsoever. It's fast, and it will not miss that one-time-only shot that other cameras might."
Nguyen agrees.
"For events where I won't have a second chance to capture the shot, the Canon R3 will be my camera of choice," he says. "However, for commercial shoots where I have more time and multiple runs, the Canon R5 would still be my go-to for the higher megapixel count."
It's not all sunshine and roses, however. Milan says Canon still has room for improvement.
"My main two gripes about the R3 are the smaller MP count and the fact that the image transfer to a smartphone is still way too time-consuming and clunky," he says. "The AF and overall image quality more than make up for any shortcomings, though, and I will be using this camera as my primary body for any upcoming event where I absolutely can't miss that peak moment of action that won't happen again."
For more from Nguyen, make sure to subscribe to his YouTube Channel as well as his website and Instagram. Similarly, more from Milan can be found on his website and Instagram.
---
Image credits: Photos individually credited and provided by Long Nguyen and Garth Milan.