Awesome Race Car Photos Shot with a Modded Game Boy Camera
The Game Boy Camera has been modded countless times over the years, mostly just for nostalgia. But what about putting one into a real-world situation? How would it fare? YouTuber and car enthusiast Conor Merrigan decided to find out.

The Charm of the Game Boy Camera
The original Game Boy Camera was released back in 1998 which had an optional attachment that allowed users to print the images captured with the system and, at the time, was the only way to get a copy of those images from the system. The Game Boy Camera took "color" (four shades of greyscale) images at a whopping 128 x 112 pixels and yet it has developed and amassed an impressive cult following of users over the years.
While the included Game Boy Camera does not have much of a useful range, earlier this year Merrigan changed that. He used a 3D printed adapter to adapt and mount a Canon DSLR lens to the system which allowed for an actual telephoto zoom to be used with the now-ancient camera and expanded the variety of images he could take with it.
The next step was to really test what he could shoot with it. For that, he brought his modded Game Boy Camera out to the race track to capture some automotive content.
Well Beyond the Designer's Original Intent
What Merrigan was able to produce has an inarguable charm to it. While modern photographers are used to seeing tons of resolution, zoom ranges, and color depth, his pixelated snapshots are almost more impressive and eye-catching. Merrigan initially shared the results from his trip to the track on his Instagram (and spotted by The Drive) and was gracious enough to share the images with PetaPixel directly to get a closer look at what he was able to accomplish with his retro camera.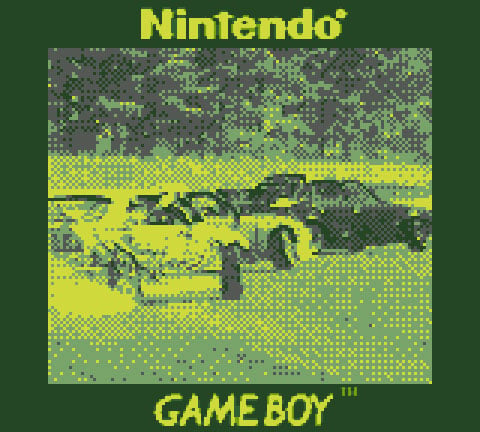 The resulting images are just a tad pixelated when viewed on a larger device, as would be expected given the nature of the sensor, but when viewed on a smaller scale like on the actual Game Boy screen or something of similar size, the low-res images have a nostalgic, almost video-game-like appeal to them that is hard to replicate in any other manner. While touting a Game Boy will likely not get users a press pass to any sort of event for coverage, certainly provides the opportunity to create unique and interesting results.
To see more of Merrigan's work be sure to visit his YouTube Channel and Instagram.
---
Image credits: All photos by Conor Merrigan.