'Nike's World' Photo Series Tells Pop Culture Stories Through Sneakers
Photographer Aldo Chacon has recently completed a personal project that showcases different Nike shoes in various environments with the goal of linking cultural iconography with footwear to tell a story.
Mostly a sports, portraiture, and fashion photographer, Chacon says that he wanted to make a set of unusual or "funky" sets for a portraiture project, but found his original idea difficult to accomplish due to a lack of resources, delayed materials, and the issues brought on by the coronavirus pandemic.
"I thought about how could I still shoot something without getting the least amount of people involved," he tells PetaPixel.
Thus, his "Nike's World" series was born and was inspired by different periods of time in human history, technological advancements, global warming, various subjects in nature, and social and political issues.
"The idea behind the project was to tell stories through materials and objects," Chacon explains. "The reasoning for using Nike shoes as the main subject for the photo series was to include a sense of iconography and pop culture to draw people's attention to specific ideas and have that as a hook for exploration."
Chacon says that he has always been a fan of Nike shoes because of the designs of the company's clothes and shoes and how it mixes fashion, streetwear, and sports.
"I wanted to use sneakers as a way to tell a story and transport a viewer to a world without the pre-judgement of seeing a person as the main subject," he explains. "I decided to go with Nike shoes because of iconography; I wanted to use an icon that everyone knows and that has been used in pop culture to bring attention to the different subjects and make it more of an homage to the swoosh. I really love how the swoosh looks in different types of shoes and how there are many different styles and colors but they are all united by that simple icon.
"I the idea of showcasing different moments in history through sneakers, like the Moon landing or the fall of the Berlin Wall, so I went back to that idea and mixed it with the 'funky' set vision I had."
He started researching Nike's website for different sneakers that would fit his vision, and found that many of the shoes spoke to him in different ways.
"I started imagining those moments in history and sort of thinking what sneakers would the people involved in those events wear. Some styles seemed more retro, some more modern, or futuristic, some spoke to me more in a material or texture way, some in color palette, and some more on an ideology," he says.
"It was hard to choose because there are hundreds of styles, I could have made 100 more sets!"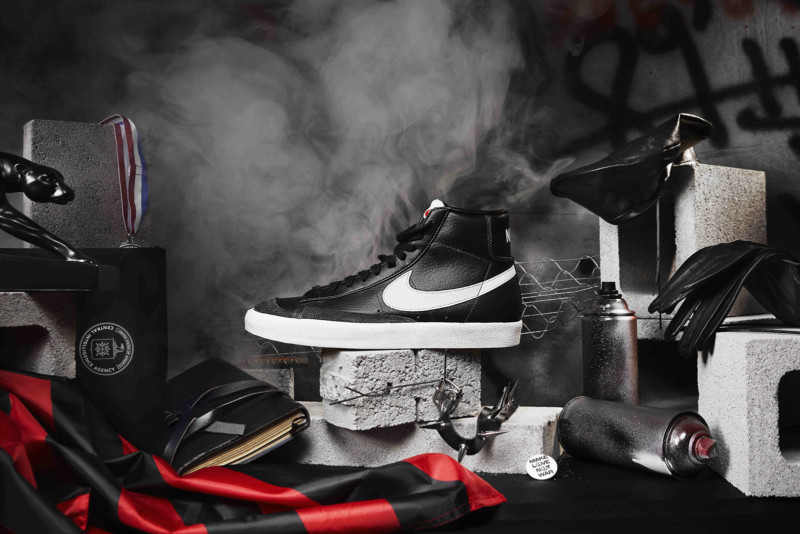 Chacon says that the set design was one of the most important aspect of the project since it was going to be what told the story around the shoe.
"I worked with my creative partner Sal Chacon on this. I had the original vision and the materials I wanted to use for each set, I wanted to use a lot of found objects or things that could be found in our daily lives, and I also wanted to have each set with a color palette that was unique to each shoe," he says.
"We ended up renting some props and sourcing materials from hardware stores, toy stores, and some junkyards. We built, styled, and decorated the sets between the two of us in my backyard. The sets were lit with a combination of Leko lights and strobe lights depending on the vibe of each photo. I also used a fog machine to add some texture to the images. The shoot was produced and funded in partnership with Wild Goats Creative in Los Angeles and retouched by Ahue.Huete in Mexico City."
Chacon says that each photo has an overarching idea behind it, such as the 80s style shoot which was inspired by his birth year of 1986. The "Red Luxury" set was inspired by social media and the intense social pressure to have more, be richer, and be more materialistic.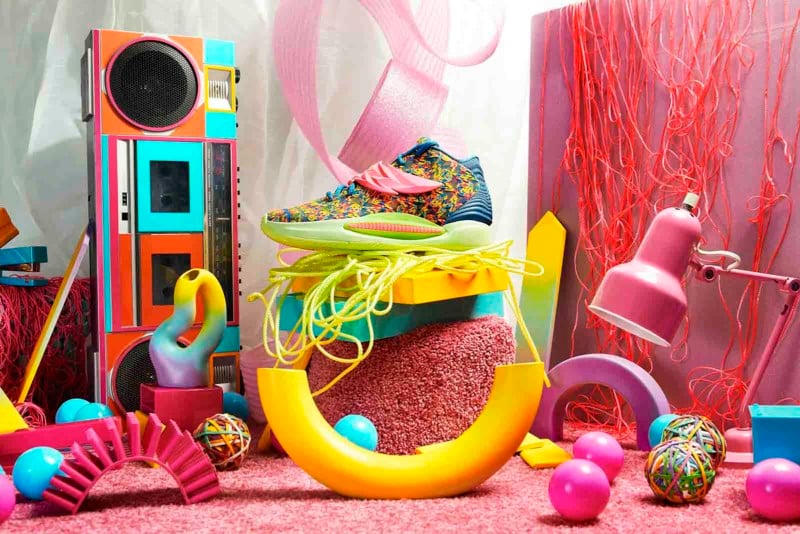 For more from Aldo Chacon, make sure to check out his website.
---
Image credits: Photos by Aldo Chacon.