Photographing Sandstone in the the 'Secret Kingdom' of Northumberland
Northumberland is called the secret kingdom for good reason. Until fairly recently this sparsely populated English county with Scotland to the north and a long stretch of North Sea coastline to the east remained undiscovered by the majority of holidaymakers.
When I first moved to the region it was the spectacular castles and vast sandy bays that were the focus of my photographic aspirations. However, it didn't take me long to look beyond these iconic attractions and discover intimate landscapes that are often overlooked by visitors. The secret kingdom of coastal sandstone continues to fascinate, captivate, and inspire me.
The geology of the Northumbrian coastline is made up of hard basaltic rock and sandstone rock strata. These sedimentary rocks are made up of many layers laid down over millennia. Exposed to the elements, these layers are eroded by time and tide to create wonderful textures, shapes, and patterns. Apply a little imagination and the discoveries are boundless. Rocks look like waves on a choppy sea, low-lying hills, stone platforms that mimic a mountain range, and channels that could be great canyons.
It has taken tens of thousands of years to create these sandstone strata and thousands of tidal cycles to sculpt them into exquisite patterns. They are constantly changing. Inclement weather, tidal rhythms, and the seasons all play their part in the ongoing shaping of the landscape. Boulders that have been buried for many months or years may be revealed following a winter storm. Over time, longshore drift will expose areas previously covered by sand and shingle.
These constant changes mean that there are new discoveries to be made on almost every visit to my favored locations. But some changes aren't always welcome. In the summer months, algae will gradually cover some rocks obscuring patterns and hiding the natural colors. Then there is always the tide to be aware of, not least because of the inherent dangers of being swept off rocks, but also because it deposits flotsam and jetsam along the shoreline. Careful composition can eliminate many distracting elements from the viewfinder but sometimes it might mean returning to the same spot time after time.
All the elements in my images have been arranged by nature alone. It is important to me that I retain this integrity. I won't interfere with what the forces of Mother Nature has presented to me. This means I don't physically declutter a scene and neither will I add anything that was not in the original shot. However, if I feel something extra is needed, I may wait for a piece of seaweed or a pebble to be introduced by the incoming tide. Waiting patiently for the tide to come in to get the shot I'm after can have its own rewards. It means slowing down, lingering longer, and taking in the surroundings. As a result, new compositions previously overlooked may reveal themselves.
Light is always a very important creative component in any photograph. Overcast bright conditions often work best in bringing out a diverse range of shades and textures. Color also plays a very large part in the composition and the relationship between warm highlights and cool shadows has a profound effect on the impact of the image. Bright sunshine can have a bleaching effect on the natural colors of the rocks and creates challenging dark shadows.
Sunrise is a great time to capture the sense of relief in the rock strata and can completely change the mood of an image in a matter of minutes. A good example of this is the image "Contours." I'd planned to arrive at this particular location before sunrise which, coinciding with the retreating tide, revealed a recently uncovered sandstone platform. As the first rays of the rising sun struck the rocks it painted the edges of the strata with a warm golden light. Within seconds, this dramatic effect was over.
To limit myself to seeing these as just rocks would constrain my imagination and close off the endless possibilities for new discoveries. I will often set out with a vision in mind but always prepare for a moment of serendipity. I can also search for hours without finding anything suitable that captures my imagination.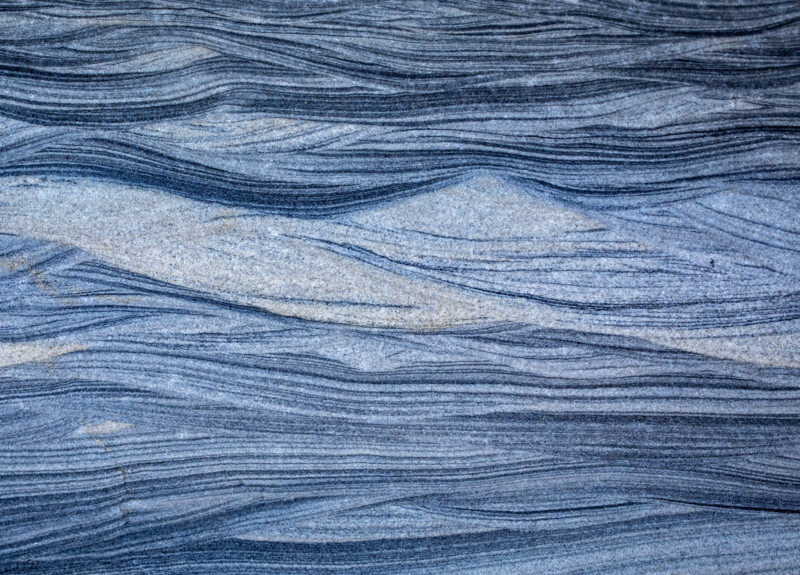 I look for patterns in which there is balance and between shapes and colors, provide clear and cohesive images. Most often it is an exercise in visual subtraction leaving out those items that distract from a strong, clean, and harmonious composition. In many of these sandstone images I deliberately exclude anything that would give a sense of scale. In this way I try to create something that is ambiguous and has a sense of mystery and intrigue.
I want people to have their own interpretation of what they see before them. Of course, these might be seen as just pictures of sandstone and shales but where would the fun be in that? There is playfulness and enjoyment in seeking out a human or animal face in a photograph of a rock. When I put "Rockface" on social media I got comments like "it looks like a sleeping dragon," an Orangutan and "the eye of a humpback whale." I hadn't seen any of these things when I pressed the shutter, but I was so pleased that others had interpreted the image in their own way.
Whatever the season, I always find that time spent exploring a rocky shoreline or a sandy beach is inspiring and fulfilling. No doubt this dramatic coastline with its extraordinary geology will continue to reveal new and often beautiful miniature landscapes that will fascinate and fuel my imagination for many years to come.
---
Header photo caption: The tide sweeps through a channel in coastal sandstone.
---
The article is courtesy of ELEMENTS Magazine. The ELEMENTS is the monthly magazine dedicated to elegant landscape photography, insightful editorials, and fluid, clean design. Inside you will find exclusive and in-depth articles and imagery by the best landscape photographers in the world such as Charles Cramer, Christopher Burkett, Chuck Kimmerle, Christian Fletcher, Charlie Waite, Rachael Talibart, John Sexton, and Freeman Patterson, to name a few. Use the PETAPIXEL10 code for a 10% discount off the annual subscription.
---
About the author: David Southern is an award-winning, full-time photographer based in Northumberland, UK. Having worked with the World Wildlife Fund for many years he is well versed in understanding the threats to our environment. His passion for the natural world is reflected in much of his photography. It is along the coast where he finds his greatest source of inspiration and most often is the smaller details, the intimate landscapes found beside the sea, that capture his imagination most.
His work has been featured in many publications and exhibitions. His book "Shoreline" will be published in 2022. He is an experienced public speaker and a member of the Parhelion Photography Collective.