Asus Unveils More Powerful ROG Zephyrus G14, G15, and M16 Laptops
Asus Republic of Gamers (ROG) has announced an updated trio of its Zephyrus G14, G15, and M16 laptops. The G14 features an all-new display while the G15 and M16 see new CPUs and GPUs.
Asus ROG says the new line of Zephyrus laptops have the latest hardware, display technology, and cooling. Specifically, the G14 and M16 each boast one of the new displays to meet the company's internal "Nebula Display" standard, which it says ensures the best visuals possible in a laptop form factor.
Below are the features most important to photographers, as the Asus Zephyrus is one of the most powerful laptops currently available for creators (and gamers), and the updates appear to make that even more the case.
Updates Across the Board
The Zephyrus G14 is a portable and compact laptop that comes pre-loaded with Windows 11 and can feature up to an AMD Ryzen 9 6900HS processor and AMD Radeon RX 6800S mobile graphics as well as a MUX Switch — which allows the comptuer to prioritize discrete graphics cards at the cost of power efficiency — for the best possible performance. It also sports DDR5 4800Mhz RAM and a 1 TB PCIe SSD for speedy workflows.
Asus says that a custom vapor chamber that spans 48.2% of the mainboard covers the CPU, GPU, and VRAM allows for about 50% more contact with the system components compared to standard heatpipe designs and increases thermal transfer for all the critical components. Additionally, the G14 has what Asus calls "Arc Flow Fans" that have variable thickness to keep airflow high while minimizing turbulence and noise. It features a silent operating mode that promises zero decibel ambient cooling capabilities that allows the fans to be disabled for a "truly silent" experience. This feature very likely is limited to less intensive workflows.
The Zephyrus G15 and Zephyrus M16 also see updates, and come equipped with up to an AMD Ryzen 9 6900HS, and the M16 is equipped with an Intel Core i9-12900H processor. Both models sport up to an NVIDIA GeForce RTX 3080 Ti Laptop GPU, a MUX Switch, DDR5 memory, and WiFi 6E support.
The Nebula Display
Asus says its G14 is the first of its ROG laptops to feature what it calls "Nebula Display" which offers a 120Hz refresh rate at QHD with a three millisecond response time and Adaptive-Sync for a smooth experience. It also supports Dolby Vision HDR with 500 nits of peak brightness and 100% coverage of the DCI-P3 color gamut with Pantone validation. The display has been expanded to a 16:10 aspect ratio, which increases screen real estate without sacrificing portability since its small bezels offer a 91% screen-to-body ratio. There is also a "standard" Full HD 144Hz panel as an option for the new G14 as well.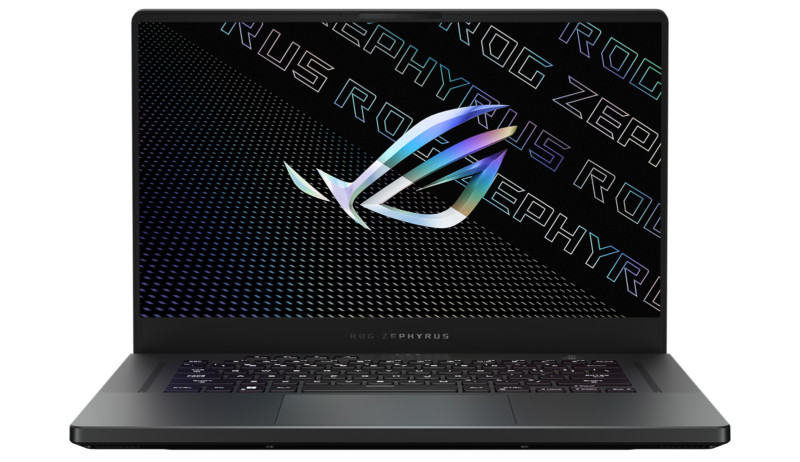 The M16 is also receiving a Nebula Display upgrade and will offer a 165Hz QHD experience. The Zephyrus G15 is the odd man out here though, and will not feature a Nebula Display but will have a QHD 240Hz panel with 100% DCI-P3 coverage and Adaptive-Sync support.
Pricing and Availability
At the time of the announcement, Asus did not provide any pricing for the three laptop models, though the company says it expects to make them available in mid to late Q2 of 2022.