'Mamba Mentality' Photos and Film Feature 10 Rare Kobe Bryant Shoes
Honoring one of the greatest to ever play the game, this video and photo series features ten rare Kobe Bryant Nike shoes. Rather than rely on computer graphics, we chose to shoot the entire project practically by creating hundreds of individual colored Nike Swoosh plexiglass cutouts. Mamba Mentality is visualized as each shoe conquers the chaos of everything that comes its way.
Editor's Note: The below segment is written by Andrei Duman, while the video segment is written by Jonny Zeller.
The Photos
This pandemic has been many things. Tragic, depressing, humbling are just a few of the words that come to mind. When it first hit, I did not want to do anything, did not want to shoot, felt almost paralyzed. However I quickly realized that my coping mechanism was actually to do just that: to continue creating, continue shooting, even if that particular project was never going to see the light of day. Maybe it was my way of taking my mind off the pandemic, even if it was just for a few hours. I was fortunate to have my own custom-built studio where I could go to and experiment. 
I have always been of the mindset that one needs to always push themselves both from a technical perspective and a creative one. Coming up with new concepts is both challenging and rewarding, and I personally spend a great deal of time researching and tinkering with ideas. The Nike Kobe project was one of 10 other concepts that I was working on at the time. From the very outset, I knew that I wanted this to be both a photography as well as a video production, knowing full well that given the pandemic, the video section would have to come later. The focus was on the photography concept and if well-executed, would provide good direction for the video.
Having shot at Nike, I had a good idea of the style, lighting, composition they were used to or looking for. I wanted this project to feel very different from what was shot before. One of the hardest challenges was actually finding the shoes. I wanted a variety of colors and textures and this sometimes meant that I had to wait a little longer for a shoe to be found. I was lucky to have a friend that collects and trades shoes so he had some already to begin with, however, three to four were very elusive. For the green pair, he had to purchase them at a premium (he knew he would sell them for more after the shoot) and I had to meet the seller in some sketchy car park in a very questionable part of Venice; it felt very spy novel/drug dealer sort of meeting.
Once I had all the shoes, next came the unique aspect of the shoot. Given that these are rare Kobe shoes, I had to have a concept that was worthy of the legend himself. This project could not just be a shot of a shoe in the studio. It needed something that would stand them out from the rest of the images out there. 
I had the idea of integrating precision-cut plexiglass in the shape of the iconic Nike swoosh in varying colors throughout the project. I wanted the swooshes to feel part of the shoe, and playfully interact in the frame. After many attempts to find a company that could actually cut them, I had to decide on the colors and if they should be transparent or not. Ultimately I decided on six colors that would work with the varying shoe colors and went with the non-transparent material as I thought it would shoot and light better. Ultimately, ended up with 150 cutouts of each color.
Now that I had the shoes and swooshes, I was ready to actually shoot. Over a 3 day period my assistant and I locked ourselves in the studio and shot way more than we needed to. I guess we really wanted to get it right and do the project justice. Using a Phase One 151 mega pixel camera, each shoe was shot in multiple angles, all focus stacked and with constant tweaking to the light setup for each varying composition. For most of the shoot, a 4 light setup was used, with 3 Broncolor Sirros 800L and Pico being powered by the Broncolor Scoro 3200S Wi-Fi/RFS2. Shooting through diffused paper as well as frosted plexiglass allowed me the flexibility to use both soft and hard light whenever I needed it. To bring out certain aspects of each shoe, the Broncolor Pico was used because it allows such controlled parameters of where the light shines.
Once all shoes were shot, the next section was to focus on the swooshes themselves. A new light setup was done such that we were shooting in a much smaller space. The pack was placed in High Sync mode to allow the Phase One to freeze and capture higher motion items. After a few test shots to check the sharpness and lights, it was all down to repeating the throwing of the swooshes in the air and hitting the trigger remotely. Once we were happy with one color, we moved on to the others to complete the set. This completed the assets in their entirety and then it was off to the retouchers to clean up and comp them all in together.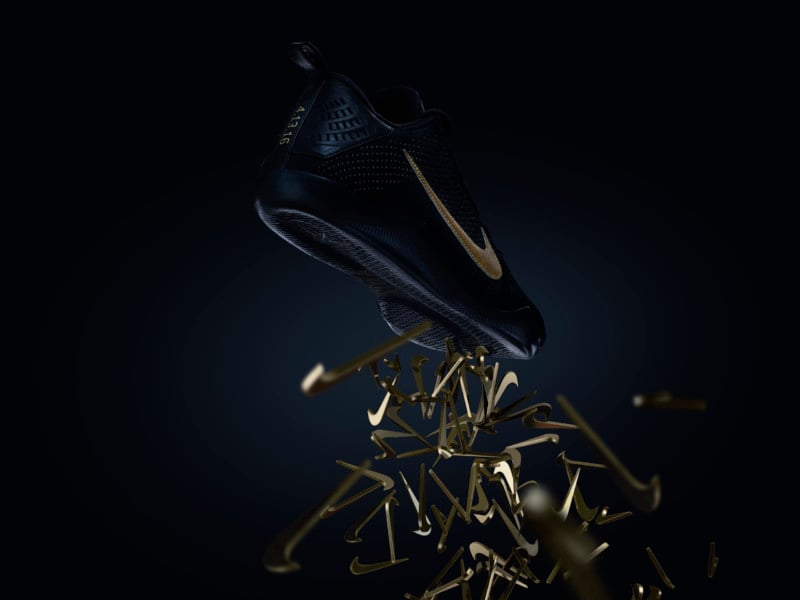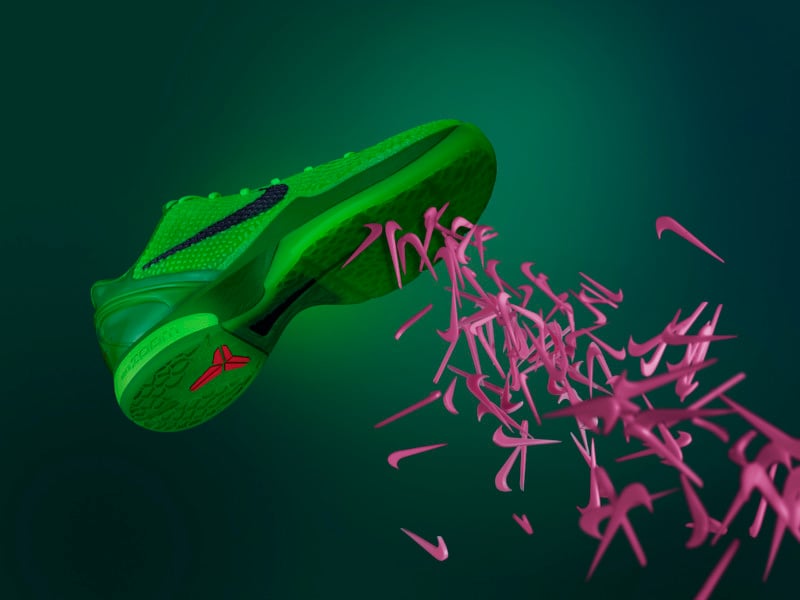 I then spent the next 2 weeks working on an almost daily basis going back and forth with the retouching team discussing creative direction and post-production on the shoes. Numerous sketches were exchanged and amended on the go to get the final result.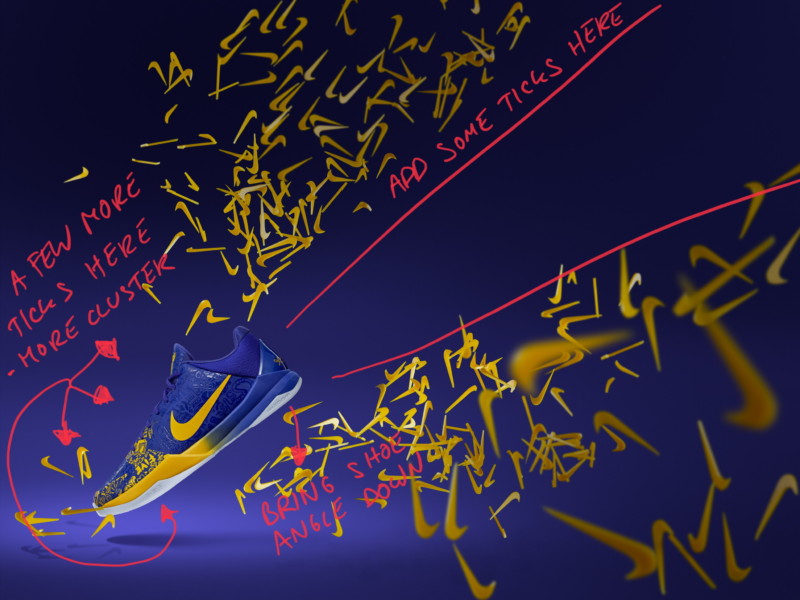 I personally love the way these images turned out. I feel they are a little more unique than a lot of the images out there and have a conceptually creative touch. It was these images that were used for the pre-planning and pre-viz discussion on the video direction. 
The full photo series can be viewed on Andrei Duman's website.
The Film
Mamba Mentality is about a constant quest to try to be better today than you were yesterday. That means breaking through barriers and continually pushing higher despite the chaos and hardships life throws at you. My idea behind this piece stemmed from the desire to not only just visualize Kobe Bryant's Mamba Mentality, but to honor his message and the incredible shoes Nike has designed over the years.
Similar to Andrei's photos, we opted to shoot the video using incredibly rare (and expensive) Nike Kobe Bryant shoes and hundreds of small colored plexiglass Nike swooshes. Each set of colored swooshes was paired with one of the ten unique pairs of shoes.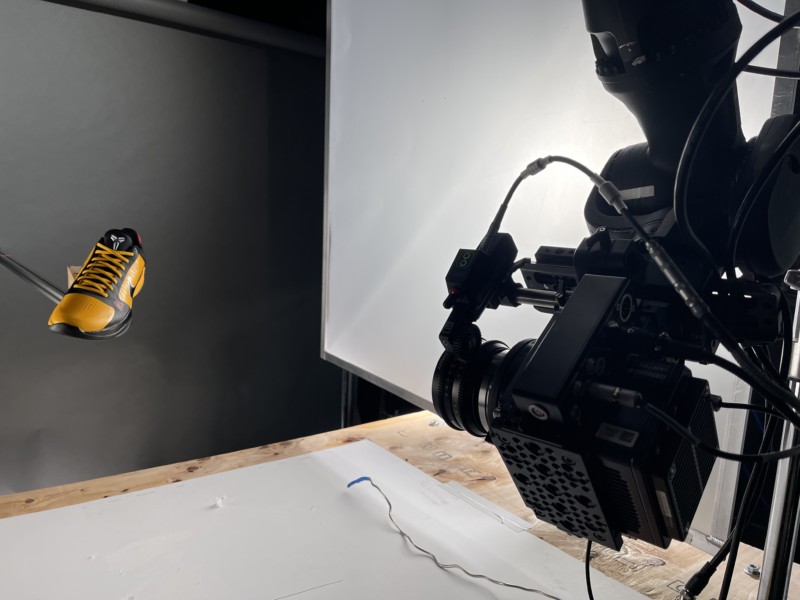 We collaborated with Bubbas.LA and their Sisu Cinema Robot as a way to create the most dynamic camera movement possible. Motion Control is one of my favorite tools because it opens the doors to so much unique creativity. A lot of moving pieces had to come together all in a fleeting moment to capture each shot. Through visual engineering, the timeline in the Sisu Lab software allowed us to sync pneumatics that launched a shoe from below camera, and two trays of plexiglass Nike swooshes from either side all while the Phantom Veo 4k camera mounted with Tokina Cinema Vista Primes recorded at 1,000 frames per second for just under six seconds. Whew!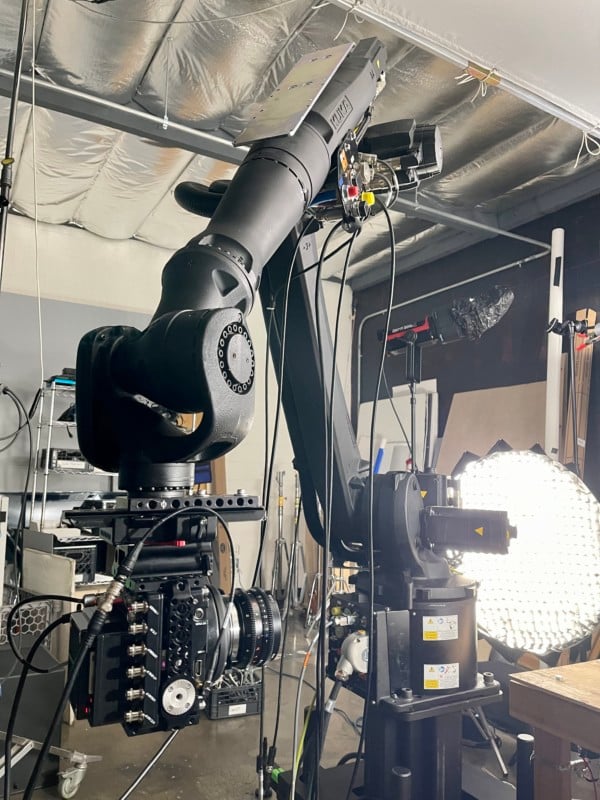 It took a lot of planning and even more sweeping up of the swooshes in between takes, but I believe that the extra effort needed to shoot everything practically was worth it. I think the small imperfections and tactile feeling of the physical swooshes give the piece an authentic soul.
Shooting super slow motion requires an incredible amount of light and extra attention to detail. We needed to not only light the shoes but also create a lighting setup that could handle the swooshes flying sporadically in all directions. Cinematographer Alex Jacobs did an amazing job tackling these challenges and bringing the shoes to life through the use of Arri Sky panels and Bubba's custom water-cooled LED lights. The water-cooled LED lights output 1,500w of light from a small fixture about the size of a traditional 1k light. They were shot through large 4-foot silks to help diffuse and wrap the light around the shoes.
---
About the authors: Andrei Duman is an award-winning commercial, conceptual, travel, and aerial photographer based in Los Angeles, California. His work is disciplined and driven by his passion to push boundaries with regards to what is possible with photography. His shoot concepts are usually complex with incredible attention to detail, all the while staying authentic to his ultimate vision. His photos are clean, technical, powerful, and evocative. They encourage the viewer to look beyond what is right in front of them to the scale and breadth of what surrounds us. More from Duman can be found on his Instagram.
Starting in the camera department before logging countless hours in the editing room, Jonny Zeller eventually found his niche as a director. Zeller has directed prominent works for companies like Google, Microsoft, Panasonic, Toyota, and Adidas, to name just a few. Working as the lead creative for feature film company Tapestry Films, he develops original content and adapts IP with a variety of partners for theatrical and streaming release. Zeller constantly pushes himself to create content of the highest quality that makes a positive impact on people's lives. Whether that goal is accomplished through the strength of a story or the beauty of a single shot, Jonny strives to make the most out of every opportunity.